Arts & Entertainment: Online Museums and Art Exhibits
The best of the worst and some that are just plain fun
One of the great things about the web is that not only can anyone open an oddball museum, but that we can visit them without having to budge from our armchairs. Below is a list of some our favorites, sites that boggled our minds or simply made us smile. However, this is only a fraction of the online museums and art exhibits out there. If we've missed one of your favorites, please tell us about it.
Exhibit Rating System
= Amazing, earthshaking, not to be missed.

= Edifying or otherwise pretty darned good.

= Diverting; worth a visit if you're bored and have nothing else to do.
Kitsch Klassics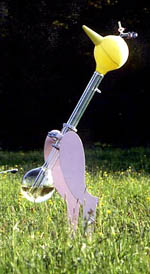 Giant drinking birds
Creepy, wonderful, life size. The world would be a better place if people had these in their front yards.
Happy Drinking Bird
In case the previous site didn't sate your interest in drinking birds, this page offers history, an identification guide and troubleshooting tips.
Etch-A-Sketch art
These are simply amazing, but the real question is how the artist made them without going nuts.
Victoria and Albert Museum of Childhood
Read about the history and construction of the Etch-A-Sketch, Mr. Potato Head, and other childhood toy favorites.
Bad Fads Museum
"The fads you wish would stay forever ... or never come back." Categories involve fashion, collectibles, activities and events, with A-Z listings hitting the highlights in each area. This site is heavy in advertising though, including ads right in the middle of the content!
Bad paintings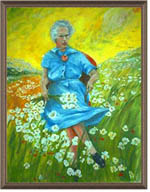 Thrift Store Art
"Trippy" is the word that comes to mind as one looks at these pieces, most of which were acquired from thrift stores or the like. Most are unburdened by conventional notions of composition or good taste, which makes them even more interesting.
Museum of bad art
In the words of the site itself, "The world's only museum dedicated to the collection, preservation, and celebration of bad art in all its forms. .... The pieces in the MOBA collection range from the work of talented artists that have gone awry to works of exuberant, although crude, execution by artists barely in control of the brush. What they all have in common is a special quality that sets them apart in one way or another from the merely incompetent"
Museum of Fred
More thrift store art. The collection is not as comprehensive as that of thriftstoreart.com, but it's nonetheless a nice browse.
Black velvet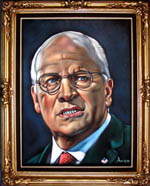 "Limited-Edition Black Velvet Portraiture from Tijuana, Mexico"
This is a sale site, not a museum or gallery, but the paintings are both plentiful and kitschy.
The Museum of Velvet Paintings
This is the website for a brick-and-mortar museum - a great one, judging by the fact that their storefront has a typing paper sign declaring "museum" posted in its front window. Alas, the site doesn't have many photos, but the ones it has are charmingly bad.
Villa Velour
An online museum "featuring the masterpieces of Edgar William Leeteg of Tahiti". Expect lots of paintings of attractive, topless anglicized Tahitians. Leeteg aficionados may find find it a useful resource. However, the site's hard-to-read type and small picture reproductions make it less than pleasurable to browse.
Miscellaneous oddities
Interesting ideas
"Outsider art, roadside art, eccentric culture." The design and layout of this site make it a little hard to wade through, but that's okay; it's reminiscent of an antique store with slanting floors and a labyrinth of display cases. Like such an antique store it's full of oddities that catch your eye, and while it may not be clear what some of them are, they sure are interesting.
Bathtub Art Museum
"A not-for-profit museum dedicated to the bathtub in art." Exhibits primarily consist of postcards dating from the 1900s to the present. The site also includes photos of a tub-shaped cakes and depictions of bathtubs the museum's curator has encountered around the world. Not to be missed: a page of dumb bathtub-related laws and a charming photo of the curator pretending to wash the hair of a wax prisoner at the Inveraray, Scotland, Old Prison. A great site for bathtub and postcard lovers alike.
Fiber arts
Museum of Scientifically Accurate Fabric Brain Art
Quilted brains .. knitted brains ... what will they think of next? (Probably very little if they're dependent on one of the textile brains to do the thinking.) Very nicely offbeat, and a great example of how traditional media don't have to carry traditional messages.
Needlepoint museum
A showcase of some of the most banal pieces of needlework ever conceived.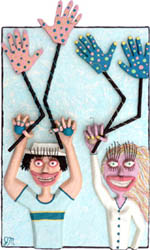 The art of the edible
San Francisco in Jell-O by Liz Hickock
It's edible! It's a city! This is all the more amazing when you realize that Hickock had to make a mold for every darned building depicted. At one time the site included a video of the Jell-O city experiencing a faux earthquake, which was truly something to behold. Sadly, this clip is nowhere to be found now.
Chewed gum art
Works of art created from chewing gum plus great interviews explaining the process. (In a nutshell: chew gum, apply to surface. Repeat.) Kits are available if you'd like to create your own piece but don't feel qualified to choose your own gum.

Buba, by Stuart Wagner
Whimsical, macabre, and disturbing: a pig sculpture formed from pork rinds and wood.
Washington Banana Museum
One single page of banana-related paraphernalia that goes on ... and on ... and on. Still, there are some interesting things on it, such as the banana-shaped records and Chiquita Banana ride-on toy.
Individual artists
Teletubby collages
See Teletubbies in some veeeery unusual situations in this marvelous set of collages.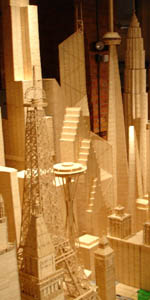 Liza Lou - Kitchen
These photos depict a kitchen entirely covered in beads and are a pale shadow of its genius and complexity. If you ever have a chance to see this piece in person, do! More on Liza Lou and her kitchen: CBS news, Art MoCo
Stan Munro - Toothpick city
An amazing collection of world landmarks constructed from toothpicks. In fact, this piece required more than two million toothpicks, which means that its creator has no darned excuse if he has bits of food stuck in his teeth. The bio of the city's creator is no less interesting than the city itself, which is always gratifying.
The Scatological
Virtual Toilet Paper Museum
The site is a bit difficult to navigate, but the persistent will find many rare toilet paper treasures. Exhibits include contemporary and vintage papers, some dating back to the 1800s.
Caganer figures
Caganer are Catalonian statuettes of defecating people which are placed in manger scenes. Not only are these perversely interesting and a little gross, but you can purchase figurines of some of your favorite present-day personalities in the midst of that very private act, such as the Pope and George Bush. There are even defecating angels and Christmas trees.
Fashion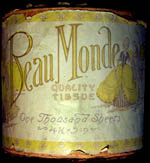 Condom dresses
Although the dresses are amazing, the small photos on this site make it difficult to get a sense of their complexity and workmanship. Those who don't speak Portuguese may find the site challenging to navigate. This blog has an excellent photo of four of the dresses.
Toilet paper wedding dresses
This page displays the results of a toilet paper wedding dress contest, a lovely example of what the motivated can do with unusual materials. The site is very ad-heavy though, so be sure to scroll through the advertising placed right in the middle of the content (!!!) to see all of the dresses.
Toilet paper couture
These boggle the mind. It would be nice if the photos were a little larger, though, so we could see for ourselves that the garments really are made of toilet paper.
Interactive exhibits
This category is a little different from the rest: it's about creating your own artwork.

Doodle - Make a doodle, then have it revolved in space.
JacksonPollock.org - Create your own digital Pollock-like masterpiece with no fumes or mess.