Home & Garden: Leg Lamp
Bring the soft glow of electric sex into your home!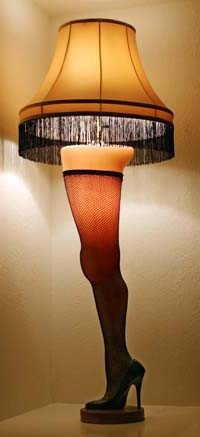 If you've seen the movie A Christmas Story (and if you haven't, what's wrong with you?), you'll remember the side-splitting scene in which a gigantic wood crate is delivered to the narrator's childhood home. Stamped with the immortal words "HIS END UP", the crate is approximately the size of a coffin. The "Old Man", the narrator's father, quickly becomes lost in it as he burrows through wads of excelsior (fine wood shavings) in order to find the "Major Award" he's somehow won -- a lamp shaped like a woman's leg. Sporting a black fishnet stocking and a lampshade with black fringe, the lamp casts the "soft glow of electric sex" up and down the street after it's put in the family's front window. The narrator's mother is not pleased.
We had long desired a lamp like this. The first tickle of lust began after reading Jean Shepherd's original set of short stories, In God We Trust: All Others Pay Cash, which the film was based on. After seeing the lamp in the flesh (so to speak) in the movie, it was only a matter of time before we succumbed and got one for our own front window.
Leg lamps are available from many vendors, some of which offer custom lampshade and shoe options. After reviewing the alternatives, we purchased ours from Red Rider Leg Lamps: what better place to buy a leg lamp than the store whose proceeds benefit the Christmas Story House? Also, they had the cheapest price and threw in a free T-shirt and decoder pin with the purchase of a 50" tall lamp. We at Tacky Living are nothing if not frugal.
Our leg lamp experience began with its arrival in a pair of crisp boxes printed with the words "HIS END UP", just like the crate in the movie. (Red Rider Leg Lamps also offers authentic Christmas Story-style packaging, a wood crate with excelsior, for an additional fee.) FedEx dumped the boxes on our stoop in a cattywampus pile, blithely ignoring the instructions. Happily, the lamp was well packaged and did not suffer.
Upon opening the first box, we found a tasteful beige silk lampshade with alluring black fringe. (According to one source, leg lamps and their fringed shades were inspired by fringed flapper dresses of the 1920s.) The second box contained the star of the lamp, a top-of-the-line plastic leg with a knobby knee, chubby thigh and a bit of visible butt cheek. The leg was tenderly encased in a black fishnet stocking - alas, not an authentic silk stocking with a back seam - and finished off with a wicked-looking black stiletto shoe.
Not being used to handling disembodied bits of anatomy, we grasped the leg gingerly at first. It felt as though we were taking liberties we weren't entitled to. Happily, it wasn't necessary to handle the leg very much: a clearly-illustrated instruction sheet made the very minimal assembly a snap. After inserting a shade support in the leg and attaching the shade, we were ready to plug in the lamp and illuminate our very own street with the "soft glow of electric sex".
We were delighted to find that the lamp holds two bulbs, one inside the leg and one in the socket under the shade. A three-way switch allows these to light up either independently or together. The lamp comes with a 15 Watt leg bulb pre-installed from the factory; we found that it casts a very soft, romantic light suitable for smooching, napping or watching TV. Should one lose the instruction sheet and need to replace the leg bulb, Red Rider Leg Lamps includes complete instructions on their website. (Their website also has a Major Award certificate available for downloading and printing.)
Our Leg Lamp experience was completed by the inclusion of a functioning Little Orphan Annie decoder pin and a T-shirt featuring Ralphie, the kid from the movie; this deal may be a short-term event. The Ralphie T-shirt was of good-quality dark green cotton and featured the Ralphie character looking appropriately goggle-eyed. The decoder pin was made of brass. Its halves swiveled so one could set the decoder to any number/letter combination and write secret messages to one's friends. (Which presumably they wouldn't be able to read, unless they had a decoder pin themselves or were mild cryptography buffs.) The pin would also look fine securing a scarf or on a garment if one's friends aren't interested in secret messages.
If you've been on the fence about purchasing a leg lamp for yourself or as a gift, we highly recommend it. It isn't just a lamp, after all, but a full blown piece of kitsch sculpture. It's simultaneously hideous, tacky and wonderful, perfect with retro decor or anywhere you need a smile brought to your face. It's also probably the only light fixture you'll ever own which has its own shoe size.