Arts & Entertainment: Tackiness in the New Millennium
(Originally published in January, 2000 when the millennium still seemed shiny and new. As is often the case with predictions, the ones about nerd worship now seem dated and campy in light of the stock market meltdown.)
As we embark upon this new millennium we can be grateful for many things, not the least of which is living in an era of unparalleled tackiness.

A Brief History of Tackiness
The Stone Age - It hasn't always been easy to be tacky. During the Stone Age, resources other than the basic ones - dirt, rocks, and animal skins - were nonexistent. It is possible to make do with such materials, as Figure 1, a 4th century Hunan monster head of wood and antlers demonstrates. However, the struggle for survival would ensure that similar efforts were infrequent - certainly not like today, when almost everyone has the means to create "farting poodle" air freshener covers from cheap acrylic yarn and googly eyes.
The Bronze Age - The Bronze Age brought the capability of making hideous objects from metal, many of which have survived to this day. However, possessing large numbers of them would not have been within the means of the average person.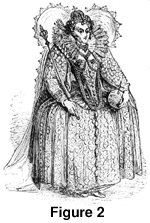 The Middle Ages - The Middle Ages brought a marked increase in tackiness, especially for the upper classes, which had both the leisure and the means to commission tasteless objects. The fashion manifestations were especially striking, including codpieces, long toed shoes and outrageous hairstyles. (Figure 2)
The Industrial Revolution - The true explosion of tackiness came with the turn of the last century and the Industrial Revolution. Machinery (Figure 3), mass production, and the development of synthetic materials brought the acquisition of really awful objects within reach of almost everyone on the planet.
Today we have more opportunities for tackiness than at any other time in history. Moreover, with the miracle of mass communication (TV, magazines, Internet) we can share our tackiness with others!
Future Trends
Where are we headed next? Here are a few ideas: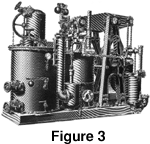 New materials - Sophisticated chemistry research brought us polymer clay and its hideous offshoots during the 1990's. (Figure 4: ugly polymer clay beads) We'll continue to see new synthetic materials developed, both for mass production and for home use. The best of these materials will lend themselves to creating tasteless objects.
Old materials used in new ways - periodically people look at the items around them and come up with new, innovative ways to use them. Witness the development of dryer lint clay from lint, glue, and food coloring. Which materials around you are begging to be used in new ways? Which would shock your neighbors the most?
Updates of old classics - Like mother said, a classic never goes out of style. Look for revivals of kitsch classics, as with our fuzzy dice tutorial. Which odious artifacts of your childhood do you miss? How would you "improve" them?
Retro revival - From time to time, there's a nostalgic interest in things that just weren't that great to begin with, as with people acquiring old outhouses to place in their gardens. Unfortunately, this trend will continue.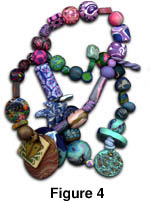 Combinations of fads - If one fad is tiresome, how about combining two or more for an instant overdose? Why not place a birdhouse shaped like an outhouse in the middle of an indoor fountain?
Iconography based on cultural themes - During the 1950's, we saw ballerina, poodle, and circus motifs. The 1990's brought Area 51-style aliens, monster trucks, and wrestling. Look for future creations to feature colorful motifs such as drug paraphernalia, prophylactics, and wino bottles-in-paper-sacks.
Motifs based on era of nerd worship - Silicon Valley high tech IPOs are creating an unprecedented number of nerd millionaires. Expect a cult of nerdiness to spring up as envious Americans try to emulate their success, cargo-cult style, by wearing masking-tape embellished eyeglasses and hot weather T-shirts studded with heat sinks.
.