Travel & Leisure: The Trashcanulator 2000
Photography on a Shoestring
Tanya A. Brown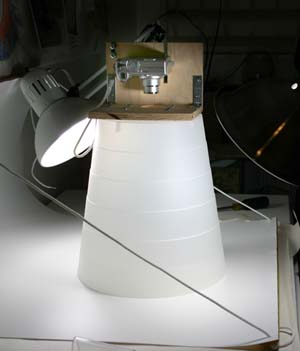 The Trashcanulator 2000 is a macro photography aid based on a translucent white trash can. (I added the 2000 to the name because it sounds more pompous that way. I'm going to call it the T-2000 for short, though, simply because I've only typed the name once and I can already tell that typing it over and over again is going to get very tiresome.)
I was motivated to build the T-2000 when the need to take some close-up photos of small objects arose. I wanted to photograph these objects from directly overhead, which posed a problem as far as the lenses and tripods I currently have. I also wanted nice simple, ambient lighting with no hot spots, which suggested using a diffuser.
There are some very nice readymade systems on the market that will do exactly what I want. For example, there's the Cloud Dome, which consists of a translucent white acrylic dome topped with a camera mounting bracket. As of this writing, prices for basic systems start at $200. That isn't bad as photography equipment goes.
There are also places like GPSI that sell white acrylic domes in a variety of diameters. These aren't horribly expensive either - around $40 for one that's 7" high - and they look like they'd work well if you already had an appropriate camera mount (which I don't). Here's a photo of a GPSI dome in use.
These do look like nice systems. If money was not an issue, I'd run out and buy one tomorrow. However, once I start buying equipment, that's usually exactly what it is - just a start. I find that things don't work quite as I want them to and I "need" to buy more. Furthermore, there's usually a cheaper, simpler way to do things if I just think a bit.
In this case, my gut reaction to some of the equipment - "that's just an upside down salad bowl with a metal bracket bolted on it!" - and a stroll through Ikea got my brain going. In the cookware department, Ikea carried a set of three translucent white plastic mixing bowls (product name: Reda) for $5. Those looked promising: one could turn the biggest bowl upside down, drill a hole through the bottom to accept a lens, and devise a camera mounting bracket.
However, I didn't know the shortest focal length of my lenses. I was concerned that sticking my camera on the bottom of even the biggest mixing bowl would put it too close to the object I was photographing for the camera to focus.
Happily, a stroll through the office supply section yielded another choice: a translucent white plastic wastebasket, the Fniss, which was taller than the mixing bowl. This was almost certainly taller than my shortest focal length, and although it was white it was translucent enough to allow some light in. Even better, it only cost $1.99. This wastebasket became the heart of the T-2000.
Sample photos
Here are some comparison photos taken with and without the T-2000.