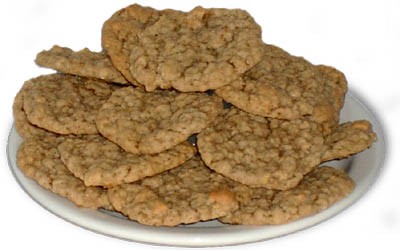 Oatmeal Packet Cookies: If you're like us, you love those huge boxes of flavored instant oatmeal packets from the local membership warehouse. They're fun, convenient, and contain enough pseudo-food to satisfy a small army. If you're in the mood for cake mix cookies, check out here.
Unfortunately, there's always some flavor in the boxes that no one in the household will eat. Packets of the unwanted flavor accumulate endlessly, taking over the kitchen cabinets and eventually sprouting vermin.
Until now, that is. Using our recipe, you can recycle the unloved oatmeal packets into a steaming plate of unhealthy, sugar- and fat-laden cookies.
If your family doesn't like these, tell the lazy ingrates to get off their rumps and make their own darned cookies.
Oatmeal Packet Cookies Recipe
| | | | | | |
| --- | --- | --- | --- | --- | --- |
| Prep Time | Bake Time | Makes | Category | Cuisine | Method |
| 15 Mins | 10 Mins | 24 Cookies | Cookies | American | Baking |
This is the classic Oatmeal Packet cookies recipe for any special occasion!
Ingredients:
Procedure:
Heat oven to 350 degrees.

Mix all ingredients except flour and oatmeal packets.

Stir in flour and oatmeal packets. (The mixture will be sticky due to the milk. If you prefer crisp cookies to chewy ones, eliminate the milk. If you like your cookies chewy and cakey, add an extra tablespoon of milk.)

Roll dough into 1 1/2 inch balls and drop onto an ungreased cookie sheet, about 2 inches apart.

Smash the balls down to a thickness of about half an inch.

Bake until light brown, about 10 minutes.

Allow to cool on cookie sheet briefly, then remove to a rack to finish cooling.
Nutritional Facts:
Servings: 24 Cookies
Amount per serving
Calories:
115
% Daily Value*
Total Fat:
4.6g
– 6%
Saturated Fat:
2.5g
– 13%
Cholesterol:
17mg
– 6%
Sodium:
123mg
– 5%
Total Carbohydrate:
17.1g
– 6%
Dietary Fiber:
0.9g
– 3%
Total Sugars:
8.1g
Protein:
1.8g
Vitamin D: 3mcg – 16%
Calcium: 28mg – 2%
Iron: 1mg – 4%
Potassium: 47mg – 1%
* Percent Daily Values are based on a 2000 calorie diet.