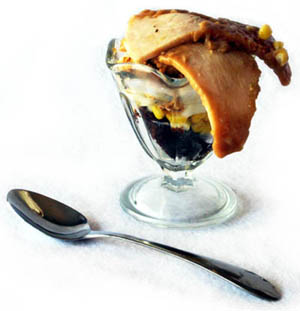 Get Thanksgiving dinner out of the way fast so you can eat the stuff you actually like – the desserts! This clever parfait layers traditional holiday dishes in the order they'll be eaten, and with portion sizes small enough to please the most finicky dieter. It's also a space and dish-saver for large families having dinner in small houses.
Ingredients:
1/2 turkey frozen dinner for each person
or dinner fixin's such as:
Frozen turkey loaf
Gravy mix or canned gravy
Instant mashed potatoes
Boxed macaroni and cheese
Canned green beans
Boxed dressing mix
Canned cranberry sauce, if not included in frozen dinner
Instructions:
Heat the frozen dinners and/or dinner fixin's according to directions.
Into each parfait glass, place ingredients in the following order:
Dessert from frozen dinner, if any. (This may have to be smashed pretty hard to make it conform to the shape of the parfait glass.)
A spoonful or two of cranberry sauce – necessary to transition between the savory flavors of the main course and the sweet flavors of dessert.
Mashed potatoes, green beans, or macaroni and cheese, depending on the contents of the frozen dinner.
Dressing
Turkey
Gravy
Garnish with a whole cranberry or a few kernels of canned corn. Serve with spoon, paper towel napkin, and a big smile.