Dear Tacky Living:
Here it is! The most disgusting recipe known to man! Or woman! Enjoy!
G.B., Greenville, TX
Dear GB:
Thanks! We're always on the lookout for disgusting recipes, especially those which use nutritious household staples such as TicTacs™ or crushed potato chips.
We th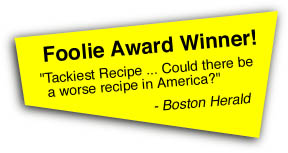 ink this recipe is especially wonderful since it allows one to gain weight AND have fresh breath at the same time.
A word of caution to our readers, though – be sure to use genuine TicTac™ brand candies rather than some cheap imitation. Otherwise, it won't really be TicTac™ pie!
TicTac™ Pie
Ingredients:
1 graham cracker pie crust
2 8 ounce packages of cream cheese – softened
2 eggs
3/4 cup sugar
2 teaspoons vanilla
1/2 teaspoon grated lemon peel
4 boxes of orange TicTac™ candies
Procedure:
Preheat oven to 350. Beat cream cheese slightly.
Add eggs, sugar, vanilla, and lemon peel.
Beat the mixture until it is light and fluffy.
Add TicTac™ candies and mix lightly.
Pour into crust. Bake until firm, about 25 minutes.
Sprinkle TicTac™ candies over the pie and allow it to cool. Refrigerate at least 8 hours.