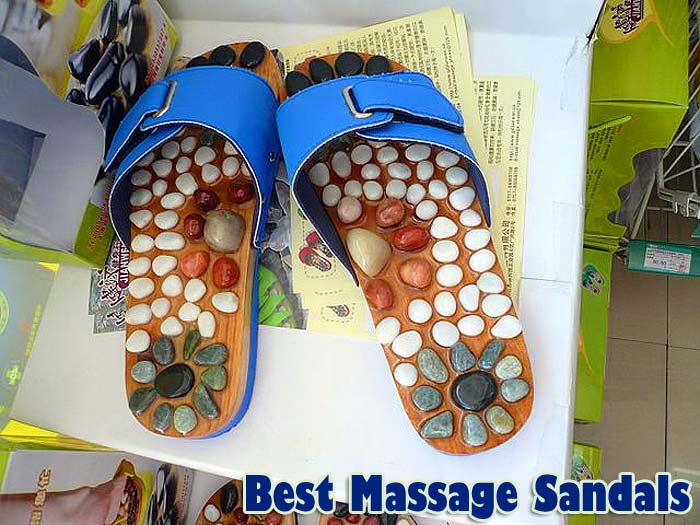 Massage sandals are becoming more popular these days because we tend to have a more hectic schedule, which increases our need for relaxation.
Best Massage Sandals
Our Pick
When it comes to the best massage sandals, it will be hard to find ones that are better than PR Soles Original Sandals. You will most likely wear them at all times once you get used to the increased comfort they offer!
These sandals are based on ancient medicine techniques, such as the ancient Chinese and Japanese acupressure science, better known as Shiatsu.
Because your feet are home for vital nerves terminations and pressure points, using such sandals will stimulate your body and overall health in more than one way.
And if you never invested in such a product, you don't need to worry! This complex guide will tell you everything you need to know about massage sandals and how to end up with the best pair on the market.
What to look for in massage sandals?
Before we get to the list of the best massage sandals that you can find on the market, you should know what to take into account when you invest in such an item. This is especially important if you never used such sandals before and you want to give them a try to help your feet relax better!
So, here are the main factors that make for a great pair of massage sandals!
A) Choose the right size for you
Just like when you are buying any other type of shoes, you need to invest in a size that is good for your feet.
These sandals come in all sizes so you shouldn't worry about finding just what you need.
Plus, you can buy them in the same size you would buy your regular sandals!

B) Find sandals made of a high-quality material
The material used to make massage sandals is also very important.
These sandals can be made of rubber, synthetic material, and different types of the cushion.
Regardless of the materials that you are preferring, you should make sure that they come in the best quality possible.
Pay attention, especially to the footbed and the extra features such as potential small stones that should increase the massage level.
You might have to try out different sandals before you decide which type of material is best for your needs.

C) Get a design that you are comfortable with
Just like any other shoes you might invest in, massage sandals come in different designs and with various features.
It is essential to decide what type of features you want them to have when it comes to the soles of the sandals or different belts or buckles.
The closure type is also significant as what is comfortable for some users might not be suitable for you.

14 Best Massage Sandals
To save precious time when you are searching for the best massage sandals on the market, here are the top products that you can find on the market and why you should choose to invest in them!
1. Acupressure Massage Slippers with Natural Stone
These acupressure massage slippers from New Reflexology Sandals are unique because they are made with natural stones.
These stones help you relax, and they are placed strategically to add pressure to specific points on your feet.
You can choose between different sizes, and they are incredibly comfortable.
These sandals will reduce the stress level as well as improve blood circulation.
Thanks to the velcro straps, you will be able to modify the size of these sandals just the way you need.
And these sandals come at an incredible budget-friendly price as well, making them a real investment.

2. Bumpiez Massage Flip Flops for Men
Men who are looking for massage sandals are lucky to discover these flip flops that can significantly improve the quality of their feet and overall health.
They come in not less than 15 different color combinations, and they cover sizes from 9 to 14-15.
These flip flops will not slip, and they will be very comfortable to wear as well.
They are eco-friendly, which only adds to their entire value.
The bumpy material will offer your feet an intense massage that can do miracles after a long day of being on your feet.
They will increase the blood circulation and help you relax soon after you start wearing them.
Besides all these qualities, the flip flops come with a footbed that allows your feet to breathe and remain dry.

3. Reflexology Massage Sandals with Jade Stones and Tourmalines
Another high-quality pair of massage sandals is this model made with Jade stones and Tourmalines.
You can find these sandals for both men and women, and they come with a beautiful design.
Among the materials used to create these sandals, 5 jade stones have a significant effect on your feet and overall health.
More than that, these stones will keep your feet fresh during those hot summer days.
The velcro strips can make these sandals easy to adjust to accommodate all foot sizes.
These sandals will not slip either, thanks to the EVA material that prohibits such hazards from happening.

4. Revs Classic Reflexology Massage Sandals for Men & Women
Revs Classic can also be an incredibly good choice when you are looking for a pair of massage sandals.
You can choose between four different colors that are looking very attractive.
The sole is made of a comfortable and resistant rubber material as well as an excellent cushion system that will accommodate your feet.
These sandals are high for supporting your feet and align the posture of your body.
Your blood circulation will be significantly improved just by wearing these sandals for 10 minutes each day.
These sandals are a great form of therapy based on reflexology and acupressure.
You should wear these sandals after an intense workout or a long day at the office.
These sandals are adequate for all types of users, including those who have flat feet or fallen arches.
They are also vegan and very lightweight, so you will not feel any discomfort at all while wearing them.

5. PR Soles Original Sandals
These sandals from Gone for a run are a great option for both men and women. They come in all sizes and different colors to choose from according to your preferences.
These PR original sandals are created especially to accommodate the needs of athletes that might need recovery after a long workout session.
But you can use them even if you just spend a long time on your feet as part of your daily life.
The soles follow the ACUPOINT system, which is the original design of massage sandals.
Your feet will breathe just fine as you are wearing these lightweight sandals thanks to the high-quality materials used to make them.
The brand offering these sandals assures the customers about all their support in case they are not satisfied with the purchase.

6. ZEPAN Acupressure Foot Massager Slippers
ZEPAN is a very appreciated brand when it comes to massage sandals, and this particular pair will definitely not disappoint you.
You can choose them in color red or blue, and you can end up with the best sandals to help you relax.
More than just help you relax, these sandals are made to help you heal from arthritis and other health issues.
Plus, they will enhance your blood flow and increase your health state.
If you feel mild pain for the first times you wear these sandals, you can try them on with some thin socks until your feet get used to them.
The materials used to create these sandals are eco-friendly, and they have no smell so you can rely on them 100%.
They also come with a strap that helps you adjust the sizes just the way you need to.

7. Revs Classic Reflexology Massage Sandals for Men & Women
Another interesting massage sandals model from Revs Classic are these ones that come in vibrant colors such as bright yellow, orange, pink, and gold.
The sizes they come in go from 5 to 11 so chances are that you will find just what you need when you want to invest in these sandals.
The soles are based on a comfortable cushion system as well as a shock-absorbing one.
They will support your feet and your entire body, which makes them perfect after a day of standing on your feet, after a workout or long periods of walking.
You should find relief within minutes after wearing these sandals.
Because they stimulate different pressure points on your feet, these sandals can improve blood circulation and even the health of your heart too.
They are created based on reflexology science as well as the acupressure science, and they can be used by all types of people with different foot shapes.

8. US JACLEAN Foot Reflexology Sandals
These black massage sandals come in different sizes that are all adjustable, so they will fit your feet perfectly.
The main material used is a high-quality rubber, and they are based on a magnet and reflexology science that will help your feet relax and gain the mobility you need.
Your feet will be supported at all times as you are wearing these sandals and you will enjoy a better blood circulation and overall health.
The 4 magnets included in the design of these sandals will also be efficient in reducing pain and discomfort significantly.
Take into account that the sizes are based on the Japanese system so you will have to adjust them to your feet.

9. Quiksilver Men's Massage Sandals
Looking for a simple pair of massage sandals for men? You found them at Quiksilver!
These sandals are made of high-quality synthetic material, and rubber sole and they are water-friendly so you can wear them even when you are at the beach or pool.
They have increased comfort and a right level of ventilation thanks to the EVA system that they are based on.
You can choose between a black, gray, or green pair and even if they are considered to be men sandals, they can very well be used by women as well.
The sizes cover all types of feet between size 6 and size 14.

10. Crocs Women's Reviva Flip Flop
For women who are looking for a high-quality pair of massage sandals, these Croc ones might be the best option.
They come at an attractive price and an exceptionally modern design as well.
You can get them in 8 different colors according to your preferences.
They are imported and entirely man-made with a great synthetic sole that will resist a long time.
If you like to wear flip flops, this pair is definitely a healthier and more comfortable alternative.
You can wear them for the entire day and not just when you get home.
The bubbles incorporated in the footbeds of these sandals will massage your feet for hours so you can feel relaxed even when you have a busy day.
The material used to make these sandals is Croslite, and the soft strap is made of excellent leather material.
They are easy to maintain, and the colors stay as vibrant as they are intended to be for a long time.

11. Romonacr Foot Massager Insoles with Gel Cobblestone
These Romonacr massage sandals are an excellent investment not only for your feet and comfort but also for your overall health.
These massage sandals are available in a wide variety of sizes and different designs to choose from.
But if you don't find the size that you need, they can be easily adjusted, which is why it is recommended to invest in a larger size.
These massage sandals are based on Oriental science that claims they are perfect for stimulating blood circulation as well as different body functions.
They will reduce pain and inflammation as well, thanks to the gel cobblestone that is placed on the surface of the sandals.
And the ergonomic design that these sandals have makes them very comfortable and easy to wear.

12. JOINTUP Men`s Massage Slippers in Natural Stone
JOINTUP offer a very appreciated model of massage sandals made, especially for the men's needs.
You can get these sandals in sizes from 6 to 11, and they are easily adjustable to match your feet perfectly.
The simple design, in black color, making them easy to wear with many types of outfits.
The sole of these massage shoes is made of wood, and the strap is made of velcro, which makes them easy to adjust.
The natural stones placed on these sandals are genuine and carefully selected to provide the type of therapy your feet as well as your entire body needs.
By wearing these sandals, you will get a better immune system, improved blood circulation as well as better sleep.
All you need to do to get the benefits of these sandals is wear them for at least 10 minutes each day!

13. Revs Premium Acupressure & Reflexology Massage Trek Sandals
And last but certainly not least, you will enjoy this pair of massage sandals from Revs.
They are premium sandals that can accommodate all users who need to relax and improve the quality of their life.
You can find sandals from size 5to 14, and in different colors, so you end up with the best pair for your needs.
The sole is made of a resistant rubber and a very comfortable footbed that will improve your health and provide you a high level of comfort thanks to the cushion system they come with.
The fact that these sandals are made to massage the essential pressure points on your feet will improve your blood circulation and better heart health as well as reducing inflammation or swelling in the legs.
They make for great recovery sandals after a long day at work or a workout session, but you can also wear them to prevent such effects.

Massage sandals can make a real difference for the well-being of your feet. If you have a lifestyle that keeps you on your feet for several hours a day, such sandals are definitely for you.
To pamper your feet a bit after such a long day, all you have to do is trade your regular shoes with a high-quality pair of massage sandals as soon as you get in the house.
These sandals will apply just the right level of acupressure on the bottom of your feet to help you relax and even heal your body. This acupressure is pressing on important points on your feet that are connected to other parts of your body.
You can choose any model from the list above and be sure that you will end up with a high-quality pair of massage sandals.
And you will become addicted to the difference they make for your life!

Key References
"Alternative Medicine | Shiatsu – Japanese Acupressure Massage Therapy". Accessed August 13, 2019. Link.
"Rounding Up the Top 5 Massaging Sandals for Sore Feet – Foot Therapy". Accessed August 13, 2019. Link.