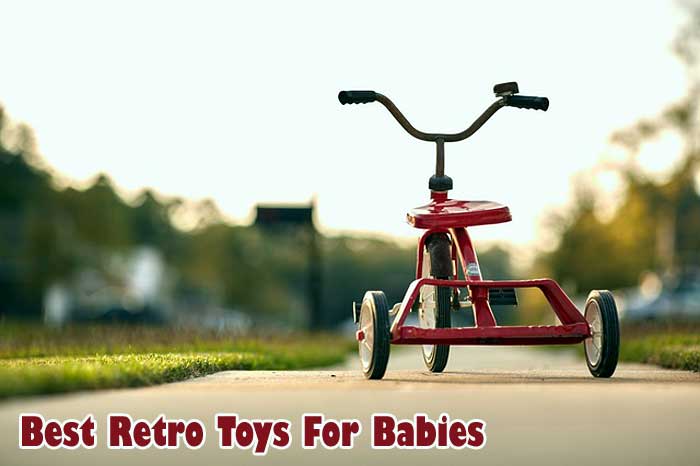 Best Retro Toys for Babies: As the world is growing and changing, more kids are turning to tablets and video games. By purchasing toys that promote fine and gross motor movement and learning skills such as color matching or learning their alphabet, you are better preparing your child for their future.
We ♥ honesty! Tacky Living earns a commission through the following hand-picked links at no extra cost to you.
Luckily enough, the vintage style toy is making a comeback as parents all over the world demand them.
We have compiled a list of retro toys for babies that are reminiscent of days gone by while being attractive enough for your little one that they won't want to stop playing with them once they get them!
Best Retro Toys for Babies
Here are the 13 best vintage or retro toys for babies.
1. Wooden Building Blocks Set
The first vintage toy for babies is the classic wooden building blocks set.
Babies will enjoy building towers for hours with these wooden block set by promoting the hand-eye coordination. The set comes with 100 block pieces in 4 different colors.
This classic educational toy set comes with nine shapes which will enable babies to learn many colors and math shapes at very early ages.
The wooden building block set encourages the social aspects and imagination for babies/kids to make new friends.
From a creative benefits perspective, babies get creative stimulation by forming their own custom designs with these wooden blocks.
Check Price at Amazon

Do you remember spending hours with the Mr. Potato Head when you're young? Well, that's our next retro toy for babies in this list – Mr. Potato Head!
This vintage toy comes with 35 pieces to make your own body and shape for Mr. Potato Head.
Actually, there is no correct or incorrect way for babies to mix & assemble the Mr. Potato Head.
Babies and pre-schoolers can use their own imagination to make different Mr. Potato Head outfit every time.
The best part of this classic toy is super fun and easy to clean up. All 35 pieces come in a big storage container (i.e., Mr. Potato Head itself :))
The babies will have a blast with this toy by making all different characters, faces using colorful mustaches, wacky glasses and other body part accessories.
Check Price at Amazon

3. LINCOLN LOGS – Centennial Edition Tin
The next retro educational toy in our list is America's classic 1920s toy created by John Lloyd Wright. Lincoln logs were originally inspired from a Japanese Imperial Hotel architecture. Fortunately, merchants still make this classic toy for babies and toddlers even today!
This classic American toy comes with 150+ pieces of real high-quality maple tree wood covered with a brown finish to have an authentic look.
Each of the wooden pieces come with pre-built marking or indentation to make the construction of roofs, walls, porches, and fences very easy for babies.
This retro toy set comes with a DIY step-by-step manual for making three different building designs and log houses.
Just like the way you played when you were young, this toy also comes with two cowboy figures and two horses!
With this playset, the clean-up is effortless after playtime as it comes with a reusable tin which helps the toddlers to keep all pieces organized & tidy in one place.
Check Price at Amazon

The next classic toy for babies Wind-up toys where a clockwork motor powers the toy. The history of wind-up toys goes all the way back to the 15th century where the German inventor made the world's first wind-up toys (metal fly and mechanical eagle).
This wind-up toy set comes with 25 assorted animals with various actions like flipping, walking, somersaulting, swimming in the water and much more.
These retro toys are ideal for babies birthday parties and holidays.
From the safety aspect, all wind-up animals in this set are manufactured from high-quality, non-toxic plastic and will withstand child throwing these toys around.
Check Price at Amazon

5. Child Rocking Horse Toy – Pink Unicorn
The next retro toy is the perfect gift for your baby girl princess! Young children need to have toys that promote using their sensory system and what better way than with this adorable unicorn rocking horse.
The back-and-forth motion of a rocker is soothing to all children while allowing them the chance to use their imagination to play!
If the pink unicorn does not fit your child's personality, then do not worry! This company has many other rocking chair characters such as a crocodile, elephant, giraffe, or bear!
This product is high quality and very easy to assemble. Allow the little one in your life to enjoy a toy that you loved when you were their age by giving them this fantastic present!
Check Price at Amazon

6. Spinning Lights Learning Hippo
VTech has brought us a fun, interactive way for your child to learn without knowing the toy is educational!
This classic toy from the 80s teaches your baby one the alphabet, numbers, songs, and can even ask them questions to reinforce their learning.
Parents absolutely love this product because it is affordable, durable, and their kids love it!
The best part is they say it is not loud and obnoxious and the lights are not too bright so you won't feel the need to hide the batteries.
Watch your little one learns and grows with this amazing retro-inspired toy.
Check Price at Amazon

7. Radio Flyer Retro Rocket Ride-On
After 100 years of putting out fantastic products, Radio Flyer is a well-known name in the toy industry.
With this rocket, your baby will be scooting along in no time!
This toy has a vintage look complete with flashing lights and nine different sounds.
The nose cone turns and clicks as your child prepares for take-off and they can easily store their toys in the area underneath the seat!
Customers specifically pointed out that it comes already assembled and is an excellent exercise for their little ones.
Check Price at Amazon

This kitchen set is the perfect gift for the baby girl who loves pretend play! Children of all ages have enjoyed playing in kitchen sets since they first came on the market and with this set, your child will be ecstatic!
With doors that open and close you can easily organize any pots and food, you may purchase to supplement the kitchen.
The removable sink makes for easy cleanup, and your child will love that you can see into the microwave and oven through the plastic.
This retro toy is large enough that a few children can play at the same time which allows for their siblings or friends to share in the fun!
Children love to play in this kitchen set every day and will absolutely love it!
Check Price at Amazon

9. Wooden Retro Pop Up Toy
If you want inexpensive classic wooden baby toys (no batteries required!), that will provide your infant with hours of entertainment with no sounds, flashing lights, or obnoxious music then look no further!
This amazing pop-up toy from Galt allows your child to practice their hand/eye coordination and matching colors.
Each figure bobs up and down on a spring inside the box and can be popped up into the air!
This is a retro wooden product which allows it to be durable and built to last years of fun.
The simple design is so refreshing and a change to toys that may be overstimulating for some children.
Check Price at Amazon

10. Little People See 'N Say Farm Ride On
The See 'N Say has become a staple toy for children since its creation! Fisher Price has now given it a significant upgrade by attaching it to a riding toy that your child won't want to stop playing with.
The See 'N Say on the front allows for an interactive ride complete with the following animal sounds: pig, dog, rooster, horse, cow, and duck.
When the arrow stops spinning it plays the sound of the animal that it lands on. It is easy to ride without frustration for smaller children.
Have your baby riding around and exercising while simultaneously enjoying the toy that you played with when you were their age.
Check Price at Amazon

11. Retro Classic Xylophone
This vintage-inspired toy is perfect for the child (6 months to 1-year-old) who loves music. Allow them to create their own and discover rhythm with this classic toy!
This can be easily pulled by your baby, and the attached mallet makes sure it will never be lost.
This vintage toy helps build hand/eye coordination as well as excellent motor skills. The different colored keys allow for the discovery of colors of the rainbow as well.
Customers loved that their child can have a toy very similar to the one they had when they were growing up, and it has quickly become a staple in households with young children!
Check Price at Amazon

12. Classics Retro Cash Register
Children love to pretend play and what better way to promote that natural curiosity than by giving them this retro cash register toy from Fisher-Price!
This next retro toy comes with six coins of different colors to teach color matching as well as counting skills.
Just put the coins in, turn the crank, and hear the bell ring and watch the drawer open!
Parents will have a blast reminiscing about their own cash register they had when they were young while playing with their children with this one!
Check Price at Amazon

13. Vintage Teaching Clock
This classic, timeless retro toy design has been remade to provide fun and to learn to a new generation.
This clock plays the song "Grandfather's Clock" while the hands move around the clock face.
As the hands move, pictures of preschoolers for each hour begin to show while the clock ticks and plays the song.
This clock toy is designed as a red schoolhouse and will have your newborn interested in learning to tell time!
This retro toy looks identical to the classic while having a new lightweight design comfortable for your child to tote around.
Check Price at Amazon

All these retro toys for baby will provide your child with entertainment and develop skills for their future.
While they play, you can relive memories of your childhood and make new ones simultaneously.
The hardest part of this decision isn't whether to buy a vintage-inspired toy, it's which one should you buy first?