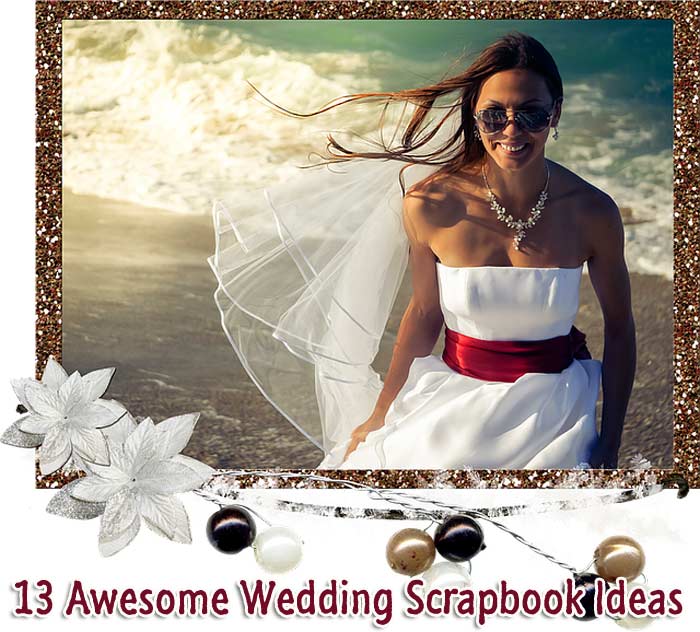 With marriage comes memories, the most cherishing ones and what better way of preserving those than some unique and brilliant wedding scrapbook ideas?
We ♥ honesty! Tacky Living earns a commission through the following hand-picked links at no extra cost to you.
Sale
Best Wedding Scrapbook
Best Choice
You will love this wedding scrapbook for sure. It comes in a box and plastic wrap. It includes a 'Thank You' note that requested to write them any suggestions or complaints first. This wedding scrapbook is very sturdy and you love the all black!
Is a wedding album quintessential? A silly question I believe. Of course, it is! It is natural for all human beings to turn grey-haired and aging means slackening of memory. Only a wedding scrapbook helps you relive the moments of your D-day when you were young, brimming with energy and glowing with love.
'The vows are spoken, the gown is worn, rings exchanged, lips touched and you've uttered the shortest and the most divine two words "I DO" – congratulations you are married now!'
We ♥ honesty! Tacky Living earns a commission through the following hand-picked links at no extra cost to you.
If you are a bride-to-be anytime soon, it's high time you should focus on getting a personalized wedding scrapbook for yourself. What better way to chronicle each and every precious moment of your matrimonial ceremony. They are once in a lifetime after all!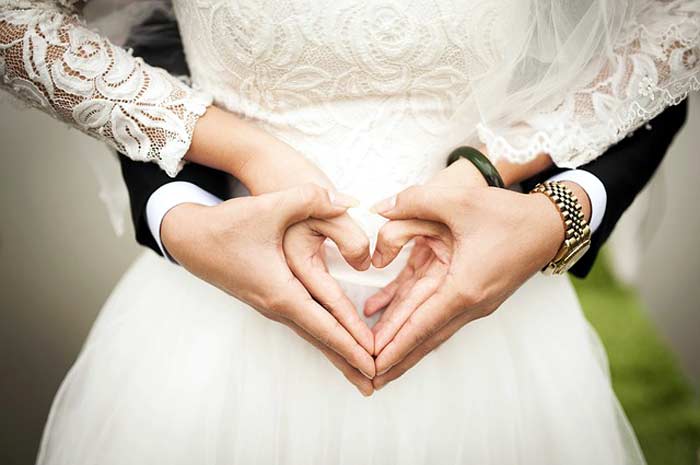 People are smart these days. Be it a baby shower, a usual birthday party or a grand wedding reception, every occasion is captured in the lens of a camera and secured in a good scrapbook.
So what your D-day is just around the corner? Don't panic. Instead, think of some exclusive wedding scrapbook ideas. This is certainly not a hard nut to crack, especially for the veterans who have been making scrapbooks since long. No worries for the greenhorns too!
I am sure everyone has been a scrap-booker once in life, during the schooldays at-least. It is all about putting those skills into use. Only this time, you ought to be a bit more refined and creative since it is your wedding in question.
Beautiful modern wedding scrapbook ideas are the deal breakers. Wondering how to catch up on some impressive and contemporary scrapbook ideas? Well, just for your assistance I have jotted down a selection of ways you could choose from. However, before forging ahead, it is imperative to have a clear plan first.
What are the memories you are looking to rack up? Is it just the D-day you wish to capture or every event, from your engagement to honeymoon needs to be preserved? Once you have successfully figured out the events you wish to seize for a lifetime, the entire task of preparing a custom wedding scrapbook album is very much manageable and a plain sailing.
Here are some 13 amazing wedding scrapbook ideas that have inspired me in a big way. I am sure it shall make all the creative buds pop in your brain.
Best Wedding Scrapbook Ideas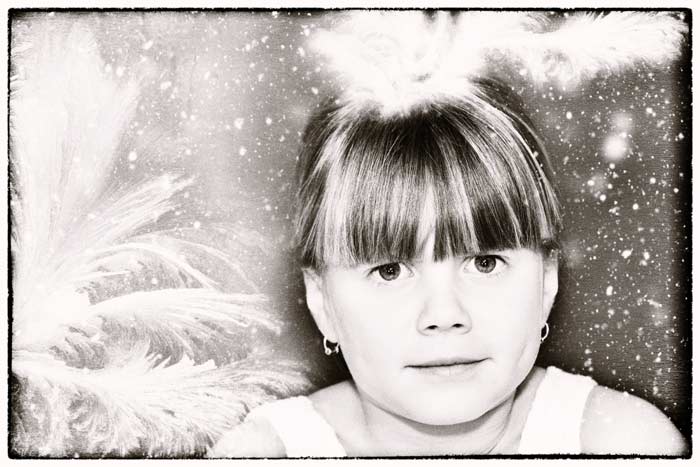 One way to commemorate both the bride and groom as well as how far they have come is by then and now pictures.
For this page, on one side will be a photo of the groom when he was younger. On the other side will be a photo of the bride when she was younger.
Then each page will have a photo of the bride and groom in their wedding attire. Part of getting married is reminiscing on each person's life story.
This will allow the bride and groom to reflect on who they were and how they have now become joined for the rest of their lives.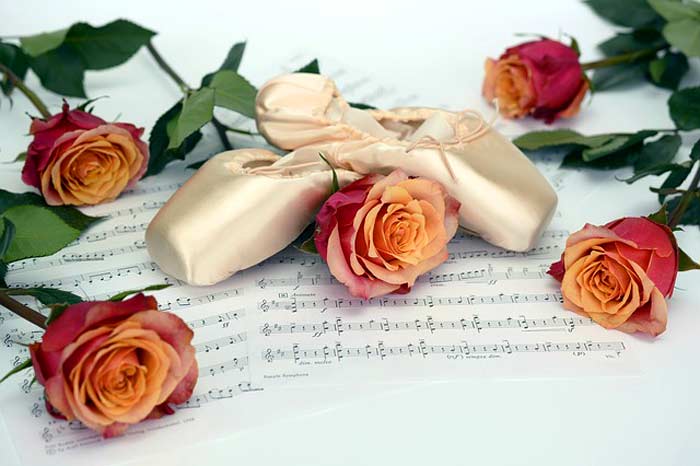 As a way to remember the songs played at the wedding, whether it be the song the bride walked in the ceremony to or the first dance of the newly married couple, is to use the sheet music for the song as a background for pictures of the special moment.
By having this as the backdrop for the pictures, the couple will be able to commemorate an important moment of their wedding day.

3. "She" and "He" Couple Information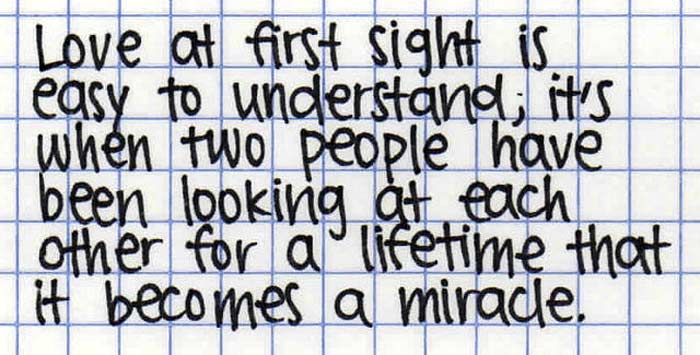 With a wedding picture as the center of the page, one side of the page will be dedicated to information about the bride, "she", and the other side of the page will be for information about the groom, "he. ".
This information could include how old the bride and groom were when they met, their first impressions of each other, what their favorite thing about each other is, etc.
This allows for a more personal touch to the album that will give insight to future generations about the relationship.

4. Personal Vows Envelopes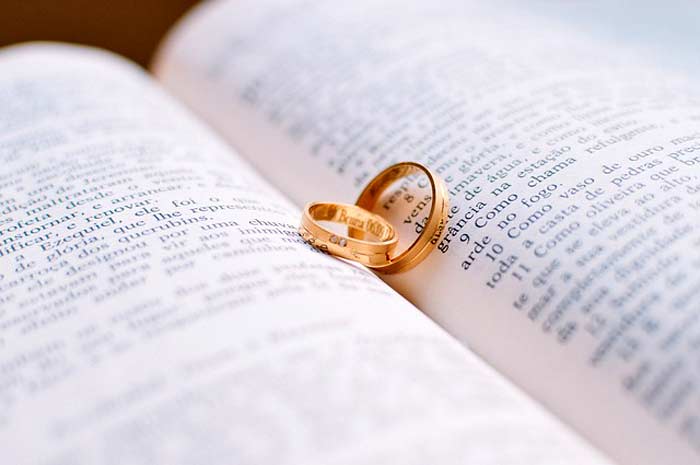 If the couple wrote their own personal vows this is a special way to commemorate them forever in a beautiful space.
The envelopes should be higher quality and can be decorated with borders, embellishments, etc.
Each envelope should be labeled as "His" or "Hers. " Inside the envelopes should be a copy of the vows the couple said to each other as they became man and wife.
These do not have to be handwritten but it is a nice touch to allow others to see the vows written in each party's own hand.

5. Wedding Dress Handkerchief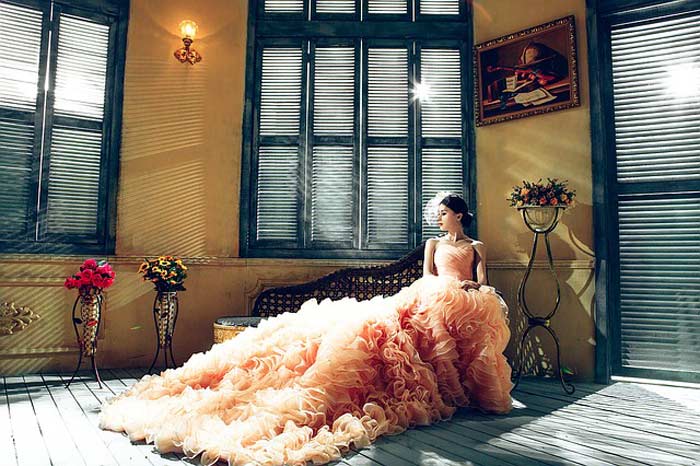 One way to showcase pictures of the bride putting on her wedding dress for the first time is by creating a wedding dress out of a white handkerchief, particularly if this is a handkerchief that was used on the wedding day.
This can easily be done by cinching the handkerchief with ribbon so the lace end is trailing.
Then adding pearl embellishments to resemble buttons. This is the center of the page while photos of the bride in her dress surround it.
This adds a unique addition to the scrapbooking page.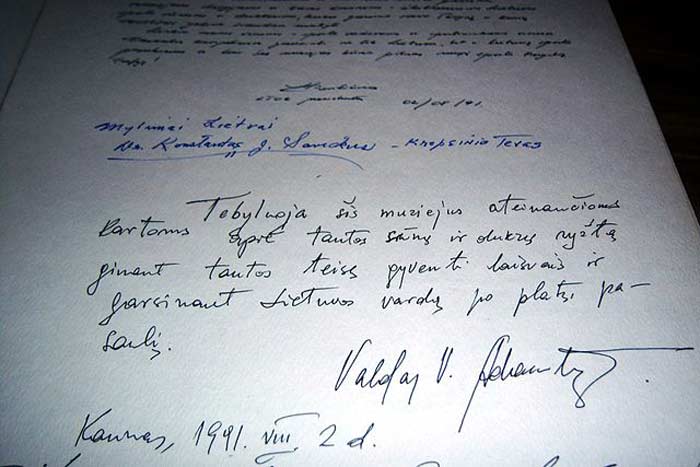 If the wedding party knows they will be creating a scrapbook of their special day prior to the wedding, they can have their guests sign stationary that will be placed in their book afterward.
This paper could be their wedding colors or have a picture of the couple in the center. By placing your guestbook into your scrapbook, you will be able to remember all those who attended your special day.
If you have a photo booth at your wedding this would be the perfect way to display these photos as well without them having their own separate scrapbook.

7. Something Old, Something New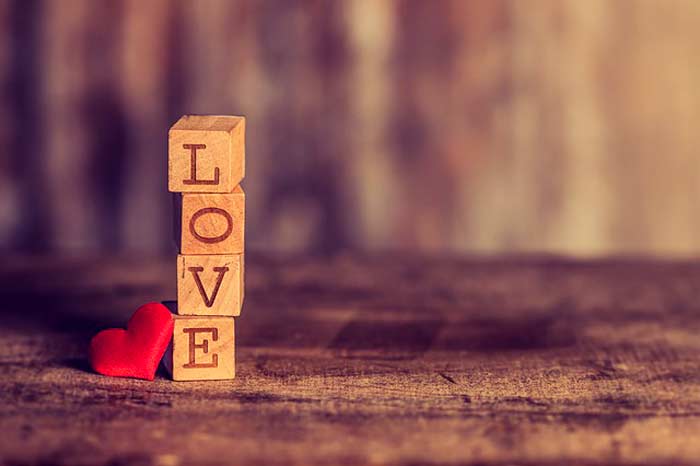 If the bride is more traditional and has decided to do the custom of "Something Old, Something New, Something Borrowed, and Something Blue," then this page is perfect to showcase that.
Each item can be photographed or if it is small enough put on the page to cherish these memories for a lifetime.
Under each item or picture, the scrapbooker can write what it is and why it was significant. This will allow a way for these small details to be captured forever.

8. Reception Decor Layout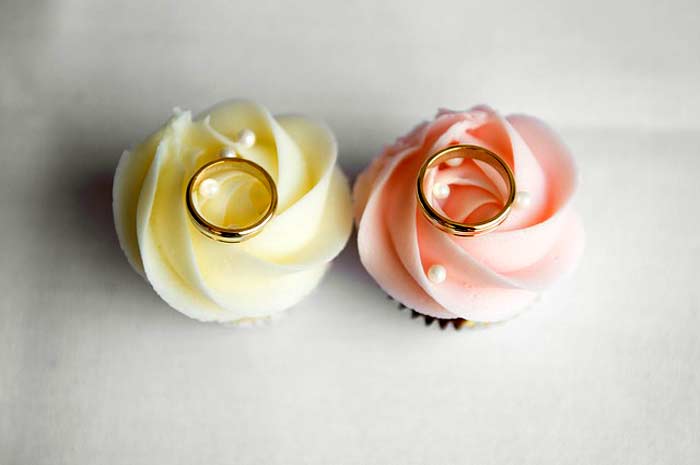 Couples spend months or even years planning their wedding down to the smallest detail.
It is important to make sure the time you spent planning the decor of your reception is remembered through a special page in your wedding scrapbook.
This can be achieved by having the bride and groom's entrance as the focus to one side.
This allows a peek into the reception venue. On the side of the entrance photo in a photo strip style layout, there will be three reception details highlighted.
This could be the place settings, the centerpieces, wedding cake, or any decoration that the couple would like to be viewed in the scrapbook. This allows for a special memory of every detail of the reception.

9. The Kiss with Wedding Flowers Border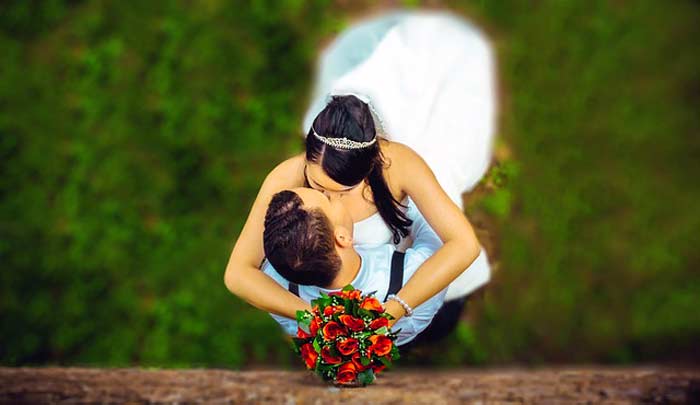 Picking out the flowers for the wedding takes time and is a large focus in wedding portraits.
One way to include your wedding flowers into your scrapbook is by finding photos of them, cutting them out, and using them as borders for single photo pages.
One example would be doing this with the photo of the first kiss as man and wife.
This allows for the photo to be surrounded by a beautiful border and also incorporate the flowers that are special to your special day.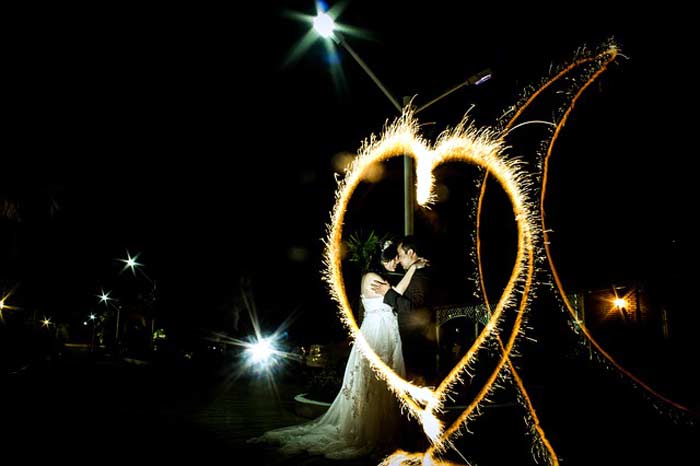 The final page of the scrapbook is the perfect place to showcase a photo of your grand exit from your wedding reception.
The added embellishments can match whatever was used in the send-off. For example, if the guests waved sparklers you can use sparkle or firework embellishments.
If lavender was thrown then glue lavender on to the page or have it in a bag with a nice ribbon border.
You can complete this page with a quote like "They lived happily ever after," or "The Story Continues".
This ends the scrapbook in a gradually rather than an abrupt blank page.

11. More Wedding Scrapbook Ideas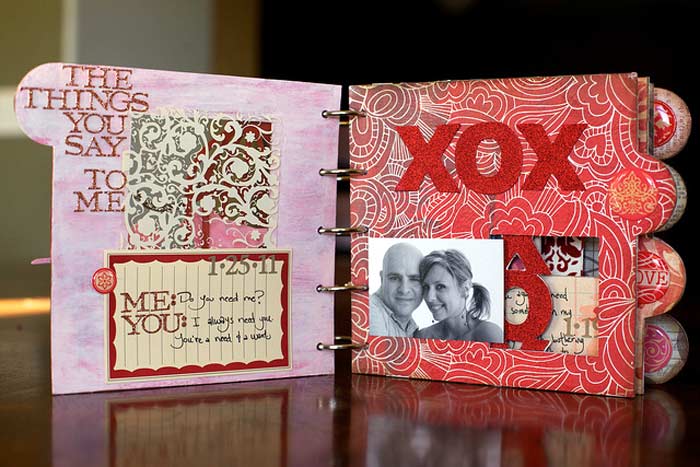 What is an album or more precisely, a wedding album? It is a journal of all events and happenings so that whenever you wish to walk down the memory lane sometime later in life, you can always revive the experience you've had before.
The more unique and creative you get in crafting a personalized scrapbook, the better you feel once the ceremony has wrapped up.
Putting down snaps from the event is old school. How about jotting down a few lines alongside the images? Statements that your beau made, something funny that happened, the vows you took, the feeling of tasting each other's flavors and many more.
I am sure that weddings are chock-full of weird happenings, statements, and memories. Write them down. It is very new my friend!

12. Wedding Scrapbook Pages
Walking down the aisle would have felt less special if your close knit family or your dear friends were missing, isn't it?
So, time to celebrate the company you are gifted with. Wedding scrapbook ideas with the picture of newlyweds locking lips or looking upon each other is run-of-the-mill.
However, snap of a bride feeling ecstatic with her gorgeous bridesmaids on the cover page is very different and trendy too.
Go sober and choose light, elegant tints like lavender for the lilac card-stock.

13. Digital Wedding Scrapbooks
If you wish to save the effort of crafting one and yet have memories of the day you pledged your life and love to your beau, going digital is the best solution.
Digital wedding scrapbook ideas are very cutting-edge. All you need to do is gather images of the events you wish to cover and upload it.
Thankfully, there are plenary of layouts to choose from. Call shots for the one you feel work the best.
You can always customize it by adding journals. The good part of doing a digital album is that you get to work less, spend less and of course have the freedom to customize, print and share it with the world using social media platforms.

Wedding scrapbooks allow couples to relive their special day and share that day with those who were not there.
These scrapbooks will be passed down for generations and be treasured by all who come into contact with them.
This makes the perfect gift for a newly married couple or a great project for the bride herself!