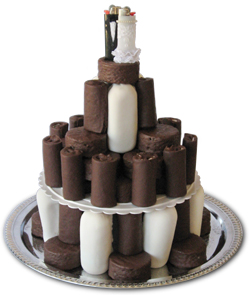 When Phil Delaplane married, his colleagues at the Culinary Institute of America told him "a substantial wedding cake for 150 guests would cost $1,200." Instead, Delaplane told the Christian Science Monitor, he decided to construct a cake based on snack cakes. For this longtime Twinkie aficionado with tony connections in the culinary world, fun and nostalgia were greater factors than cost.
Delaplane's wedding is only one example of how wedding cakes based on snack foods have become mainstream. One need only glance at the wedding section of the New York Times, the cover of Readymade Magazine, or watch TV to see examples of this genre. Unsurprisingly Hostess, a major purveyor of miniature baked delights, has also hopped on the bandwagon by featuring a Twinkie-based wedding cake on its site and in its Twinkies cookbook.
Snack cakes in the mainstream: Snack food wedding cakes aren't for everyone, of course. Just because something is mainstream doesn't mean it's not tacky, and making a cake out of Ding Dongs or Twinkies will always be innately tacky just because of the materials. To go this route means risking snarky or deprecating comments from those who find a nontraditional cake in poor taste. Some, it seems, find eating an expensive slice of cake more important than wishing the couple well, as demonstrated by this SlashFood.com reader:
"I am planning my daughter's wedding in March '07 and I was appalled at her suggestion of cupcakes instead of a wedding cake!! She said that she just wants her cake to be different and memorable. Well, they will remember it all right, but for all the wrong reasons. I have to stand my ground on this one. We will have the traditional wedding cake … the guests expect to have cake … some come just for the small slice of heaven!!"
So why would a couple want a snack cake wedding cake? It's more than just hipsters making an ironic commentary on the commercial wedding industry, although surely some of them are doing exactly that.
A Twinkie cake at the rehearsal dinner, standing in for the groom's cake, or even towering high at the main event might be just the thing to take the edge off what can be a very stressful time for a couple. Sentimentality is another factor: perhaps the bride and groom shared Ho Hos in kindergarten or met at a bakery thrift outlet. One internet author recounts this story: "I made a 'junk food' cake for the rehearsal dinner for my son's wedding. Sort of a reminder of his childhood. I used Ding Dongs, Ho Hos, Twinkies, Snowballs, cupcakes, etc. It was a huge hit at the rehearsal dinner."
Cost can also be a powerful motivator. Once the adjective "wedding" is attached to something, expect its cost to quadruple, at least. Multi-tiered wedding cakes are no exception, and for good reason: they're very time-consuming to make, decorate, and set up. That can translate into costs per serving that range between $3-7 or more. When Twinkies and their brethren are 30 for $6 at the local Hostess outlet, a tower of snack cakes adds up to considerable savings. If a fancy cake isn't that important to you, buy a few boxes of Ho Hos or a sheet cake at your local CostCo and save the extra money for the honeymoon.
Make no mistake, doing a good job on a snack food cake isn't necessarily fast or easy. Yes, anyone can pile some Ding Dongs on a plate and throw on a few sprigs of baby's breath, but the result can end up resembling the dessert plate at a frat party. If you're hoping for an attractive centerpiece at your wedding, some care is in order.
Tips and tricks: Our example cake, shown on this page, was constructed using fondant and a few boxes of Twinkies, Ding Dongs, and Ho Hos. We rolled the Twinkies in white fondant which, when contrasted with the Ho Hos and Ding Dongs, resulted in a cake with a formal black-and-white flair. This is a good example of what can be done with a fair amount of time but minimal skill.
Pretty examples of the genre are shown in The Twinkies Cookbook and on the Hostess site. For these cakes Twinkies were rolled in pastel fondant, arrayed in tiered columns, and embellished with fondant ribbons and flowers. Alas, the cakes are probably nicer to look at than to eat and for no fault of the Twinkies: fondant is very sweet stuff and more akin to a modeling material than food. (Its texture will be hauntingly familiar to anyone who has worked with polymer clay.)
If you're thinking of making your own snack cake masterpiece, consider these tips:
Get somebody else to do it.

If you're the bride or groom, your wedding day is likely to be busy and stressful. Delegate this part of the operation to a trusted lieutenant, a friend or relative with a whimsical crafty bent.

Learn from the pros.

Wedding cake artists have all kinds of sneaky little tricks, such as substituting one or more blocks of iced styrofoam for the layers in a tiered cake. You don't have to become an expert on the subject, just thumb through a few books to get some ideas. Your local crafts store will have books which show the dirty secrets behind making the stacked behemoths that people pay big bucks for. Soon you, like the chef in The Twinkies Cookbook, will be anchoring Twinkies to iced bricks of styrofoam with aplomb.

Make a sketch or do a dry run.

You can wing it on the big day, but you'll probably get better results if you do a little planning. Snack cakes are cheap.

Think architecturally.

You're building a tower and snack cakes are your building blocks. How are you going to stack them to make them look nice? What type of blocks will you use? Keep in mind that snack cakes can be given a different appearance by dipping them in white or dark chocolate or rolling them in fondant. Use marshmallow creme or icing as "glue", and pipe on coordinating icing to hide boo-boos in the finished cake.

Visit the local bakery outlet.

You're going to need building materials and you're going to need a lot of them. Why pay full price? This website will help you locate the nearest Hostess outlet.

Shop around.

Your local crafts store will have handy goodies like plastic or cardboard cake circles, doilies, fondant, plastic columns, and icing. You're not confined to traditional cake decorating supplies, though. Candies and certain flowers can make a nice embellishment for your cake too.

Use a really stunning cake topper to give the cake more height and drama.

If you want to give obnoxious relatives something to gripe about other than the cake, crown it with our wedding lighters. You can also follow our instructions and personalize a traditional topper.

Keep extra boxes of snack cakes on hand

.

Traditionally, a cheaper sheet cake is hidden in the kitchen and doled out to reinforce servings of the more expensive tiered cake. Give this tradition a new and tacky spin by artfully arranging boxes of snacks right on the cake table. Hungry guests can help themselves.

Hide the boo-boos.

When you're all done, take a frank look at your cake and decide which side is worst. Turn it toward the wall. Cover any minor mistakes with piped on icing.