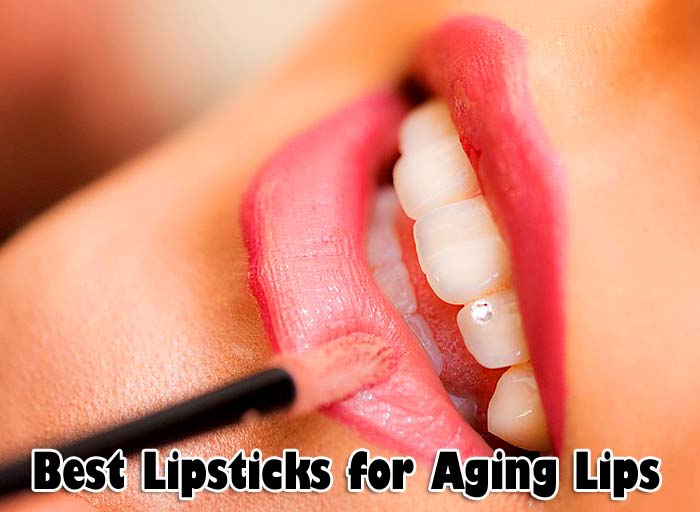 Best Lipstick for Aging Lips: One way women with aging lips can boost their confidence is to wear a bright pop of color on their lips. Colorful lipsticks can instantly brighten and lift your complexion. So, what are the best lipsticks for aging lips?
We ♥ honesty! Tacky Living earns a commission through the following hand-picked links at no extra cost to you.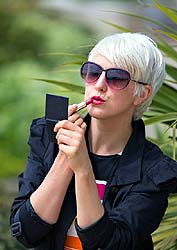 Choosing the perfect color can be quite a challenge especially lipstick colors for over 60. You might feel like wearing a muted berry lipstick on some days while on another you are looking for a bright ruby red. There are tons of guides to find the best lipstick for your skin tone, but it is essential to wear the shade you love best. So, if your skin tone is said to look better in bright pink, but you are in love with oranges – go for it.
Finding the hue that best matches the undertone of your complexion is the general rule of thumb here. This helps to avoid you looking ruddy, washed out, or sallow.
Best Lipsticks for Aging Lips
Lipsticks with blue, silver and purple bases are an excellent choice for those with cooler undertones. Hot colored lipstick bases such as oranges and reds are lovely options for those with warmer undertones. However, ladies with neutral undertones can rock almost any shade of lipstick. Here are our favorite lipstick brands and colors for aging lips.
1. Dose of Colors Matte Liquid Lipstick
This lipstick for wrinkled lips comes out as a creamy, soft onto the lips at first but it turns into a beautiful matte finish after a minute.
This best lipstick for older women is available in 35 different shades, so you can easily find the one that best suits your preference. Matte lipsticks dry out the skin after application, so it is important to exfoliate beforehand.
This best lipstick for over 50 helps to remove the dead skin so you can have a smooth base to apply the lipstick. Mixing something as basic as honey and granulated sugar to use as lip scrub can work wonders for your lips.

2. LAWLESS Soft Matte Liquid
Just like the previous product, ensure you prime your lips with coconut butter or shea before applying the lipstick.
This moisturizing ingredient will help to ensure your lips won't dry out or flake and the lipstick doesn't smudge or crack. The LAWLESS Soft Matte lipstick is cruelty-free and formulated with no mineral oil and silicone or comedogenic ingredients.
This lipstick is perfect for those looking for a formula with a touch of more shimmer as it has a metallic finish that gives you that ultimate shine.

3. Wild With Desire Lipsticks by RMS Beauty
This is a perfect everyday lipstick every woman with older lips should definitely have in their purse.
It has a soft, creamy texture that will not only make your lips feeling moisturized but with a gorgeous opaque hue.
They also pack this product with antioxidants which help to fight free radicals responsible for aging skin.
This best lipstick over 50 also comes with special RMS beauty oil so you won't have to bother about the color flaking, feathering, or bleeding.

4. Juice Beauty's Phyto-Pigments Luminous Lip Cream
This is a hydrating, soft, and creamy lipstick that makes it easy to achieve that perfect pout.
This best lipstick for older women has fat and pointed tip tube that makes getting all your detail lines easy. They also fill the tube out so you won't need to look in the mirror.
They derive the phytopigments used in this product from plants. The Juice Beauty Lip Crayon retains moisture and helps to display bold colors.
When you use it with shea butter and jojoba oil, your lips will never feel chapped at the slightest.

5. ILIA Tinted Lip Conditioner
The focus of this company is to keep harmful ingredients out of their products while also emphasizing the importance of including some healing components.
There are no petrochemicals, gluten, nanoparticles, and mineral oil in this product. Instead, it has a soothing mix of cocoa butter, vitamin E, and antioxidants from sesame and olive fruit.
This lip liner for older lips allows you to determine the intensity of the color you want.
It has a buildable formula that takes you from a touch of color to a rich pigmented look after adding more layers.

6. 100% Pure Cocoa Butter Lipstick
This product has a smooth buttery texture that doesn't sink into cracked lips or fine line.
The fruit pigments in this product help to give the lipstick a gorgeous color. The pure cocoa butter lipstick works very hard to nourish and moisturize the lips for that extra love.
Dry skin sometimes comes with age, and a hydration boost is exactly what your skin needs.
There are six shades you can choose from, ranging from a deep purple-red aubergine to a bright citrusy orange.

7. Lilah B Divine Duo Lip & Cheek
This is a pretty yet convenient lipstick for women with wrinkled lips. You can use this product as a tint or blush on your cheeks as a lipstick.
If you want to simplify your routine even further, you can use this product as eyeliner to give you an elegant look.
They also formulate the Lilah B Lip & Cheek with sulfates, gluten, and paraben but it contains healthy botanicals like agar and aloe.
The plant-derived ingredients in this product are ideal for healing, moisturizing, and hydrating your skin.
The Lilah B Divine Duo Lip & Cheek is one of those products that can do it all.

8. Benecos Natural Lipstick
One shade that will never go out of style is the deep shade. It is a sophisticated twist that works for nearly any occasion or season.
This lipstick for wrinkled lips works for any skin tone, and it is worth mentioning that it contains none toxic ingredient.
The avocado oil and organic castor seed in this product can help to moisturize your lips while the vitamins C and E, and babassu oil serves as preventative protection.
This product is available in toffee and pink honey that will surely make any woman shine.

The coconut, avocado, and jojoba oils in this product help to provide natural sun protection for your lips.
With the EVXO Organic lipstick, you need none lip balm to keep your pout healthy. This is a healing lipstick that helps to banish dry skin, improve your lip's elasticity, provide long-lasting wear, and it contains none synthetic chemicals or preservatives.
The organic capuacu, cocoa, and mango butter in this anti-aging lipstick help to provide extra nourishment, and it erases any connection between dry lips, peeling, and lipstick.
The EVXO organic lipstick comes with a glossy finish that will give you the shine you need.

10. Axiology Natural Lip Crayon
A good red lipstick is equivalent to a good pair of jeans in the beauty world.
They are timeless and can make you feel fabulous when you find the one that suits you.
This lip liner for aged lips is available in Toasted Rose, Marsala, or Keen and they all can give you that classic look.
This velvety soft product can glide smoothly across the skin while also leaving it with a non-drying matte finish.
It is made of only organic, vegan, and cruelty-free ingredients. It also contains moringa and avocado oils that can penetrate down to the skin's deepest layers to soften and hydrate it.

11. Honeybee Gardens Truly Natural Lipstick
This is another lipstick that is filled with organic oils from castor seed, sunflower seed, and sesame seed.
It also contains organic cocoa butter that helps to soothe, hydrate, and rejuvenate your lips. With a healthy mouth, the lipstick will last longer.
This lipstick gives your lips similar nourishment like a lip balm. The South Beach and Bermuda hues can give you a punchy tropical shade to wear in the summer and in the winter when you are missing the warm weather.

12. Burt's Bees Matte Lip
There are only a few drugstores that carry organic, and natural makeup and the products that meet these guidelines are sometimes very expensive.
Luckily, this lipstick from Burt Bee fits the bill both health-wise and price-wise.
It is made with natural ingredients like shea butter, omega-3 kendi oil, and jojoba oil that help to smooth the lips texture in style. It is available in a wide variety of colors.

13. Fitglow Beauty Lip Color Serum
Not only does this lipstick give you a radiant color but its glossy gel can help to boost plumpness and hydration in the lips without irritating them.
It has natural vegetable micro-collagen that helps to fill the fine lines on the lips and soften them in the process.
It is available in gorgeous metallic colors that help to make taking care of your lip's fun.

The best lipstick for aging lips depends on your preference and what matters most is to love what you are wearing. All these lipsticks don't fall into the fine lines often found in aging lips, and they are long-lasting and hydrating.