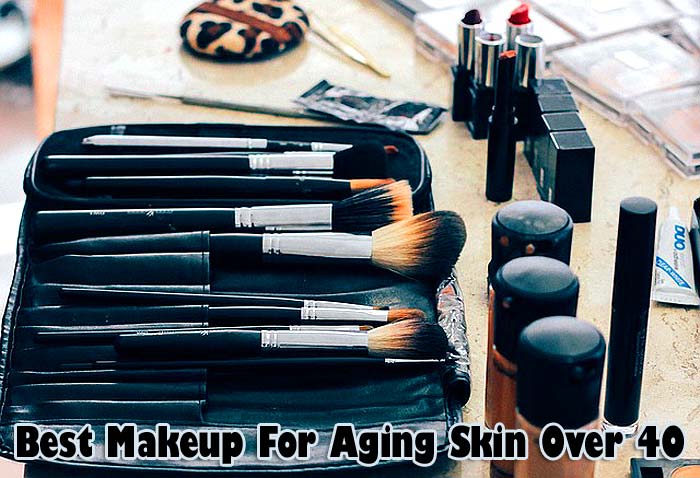 Best Makeup for Aging Skin Over 40: As we age, our skin becomes drier losing the tone and lift where the bouncy supple skin used to lie. Just as you are no longer using the night cream you were using as a teenager; your makeup choice must also change.
We ♥ honesty! Tacky Living earns a commission through the following hand-picked links at no extra cost to you.
The good news is the market is full of different makeup for aging skin over 40, from dry skin makeup to full coverage products.
Designers are now using technology to concoct different makeup formulas which help to reduce and flatter the signs of aging. They design these products especially to moisturize and fill in fine lines while also giving a flawless complexion.
10 Best Makeup for Aging Skin Over 40
Designers craft those products to work with aging skin to improve its tone and texture. Here are some of the best makeup products for aging skin over 40 on the market.
1. It Cosmetics Your Skin But Better CC+ Cream with SPF 50+
This foundation is ideal for those looking for a full coverage foundation.
It is available in seven different shades so you can choose the one that best suits your skin tone.
This foundation for mature skin covers your face like a heavy-duty concealer, and it doesn't look like a dried-out mask.
This multi-tasking formula is creamy and dense, and it is easy to spread over wrinkles and crow's feet.
It helps to hide all the imperfections from acne scars, hyperpigmentation, enlarged pores, and many more.
It is perfect for all skin types, and they infuse it with an anti-aging serum that helps to treat the skin.
Some ingredients in this product include peptides, antioxidants, hydrolyzed collagen, hyaluronic acid, and vitamin A, B, C, and E.

2. Diorskin Nude Air Serum Foundation
This serum foundation is available in 8 different shades. It can help to blur imperfections while also leaving the skin with an airbrushed finish.
This makeup for mature skin has a built-in anti-aging serum that is a blend of cranberry oil, hyper-oxygenated oil, minerals, and vitamins.
They also formulate it with glazed pigments and soft focus agents that can produce an even complexion.
This foundation is so fluid and thin that you need a glass dropper to dispense it. It would feel so lightweight on the skin you would quickly forget something was there.

3. L'Oreal Paris Infallible Pro Glow Foundation
Although long wear foundations are often uncomfortable and drying and they may stress wrinkles and laugh lines, this product is an exception.
This creamy and lightweight foundation helps to absorb oil, so your skin is free from shine all day.
It can help to hide imperfections to give mature skin a clear complexion. It also helps to add glow in all the necessary places. It is available in different shades you can choose from.
It last long for up to 24 hours, so your makeup will still look good at cocktails and dinners like it was when you applied it in the morning.
This foundation for mature skin is comparatively cheaper, making it ideal for those on a budget.

4. Maybelline New York Fit Me Matte Plus Poreless Foundation
This is a mattifying foundation perfect for those with oily, aging skin. They designed this ultra-lightweight foundation especially to match normal to oily skin texture.
It has micro-powders that help to blur the look of pores and control unwanted shine. It has a soft, powdery finish that is long-lasting, so you don't have to degrease with oil blotting sheets or extra powder.
This formula is also non-comedogenic and oil-free so you can put this in if you are prone to occasional breakout with no worries about clogging the pores.
With over 40 shades to choose from this product has something for everyone.

5. Laura Mercier Candleglow Soft Luminous Foundation
This is a liquid foundation that helps to buff away age spots and discoloration.
It provides buildable coverage, blurs the appearance of wrinkles and pores while also delivering a perfect balance of color and glow.
This foundation for mature skin is excellent for all skin types. It contains a blend of radiant pearl mica that helps to boost lackluster, aging skin to give you a soft, candlelit glow.
This formula easily disappears into the skin the moment you blend it. You will love how this product feels weightless on the face.
It is available in 24 different shades so you can choose from a fresh, warm, or neutral undertone.

6. L'Oreal Paris True Match Super Blendable Powder
It can be a struggle to find a face powder for aging skin as most of the products settle into creases and fine lines.
Apart from this, powders are known to be dry which can exacerbate the skin's texture. Fortunately, this formula from L'Oreal is entirely different.
This is a silky-smooth powder that doesn't sink into wrinkles and fine lines on the face.
This powered smooths over the face leaving you with a flawless yet natural finish.
The pearl pigments in this product help to add a soft, luminous quality to the skin, so it doesn't look chalky or dry.
It is also non-comedogenic and oil free. If you want full coverage, use a dense brush to buff the powder onto the skin. However, you can apply with a fluffy face brush or face sponge if you prefer lighter coverage.
This product has something for every undertone and skin tone as it is available in 34 different shades. It comes with a mirror and sponge, making it perfect for on the go touch-ups.

7. Neutrogena Hydro Boost Hydrating Tint
Consider this product to be a big gulp of water if you have a thirsty aging skin.
This foundation is oil-free, and it has a hydrating ingredient known as hyaluronic acid which is sometimes used in anti-aging creams and serums to drench the skin with moisture.
This makeup for mature skin sinks into the skin like a moisturizer helping to plump wrinkles and fine lines instantly. It also helps to even out the skin tone to give you a healthy glow.
It is available in 10 different shades. The oversized application that comes with this product makes it quick and easy to apply.

8. Wet n' Wild Photo Focus Foundation
This foundation has a skin perfecting formula that is light diffusing and matte.
It helps to keep aging skin matte without clinging to dry patches, ensuring your complexion does not turn into an oil slick.
This is your go-to formula if you want to take photos since they tested it under 7 different lighting conditions to ensure the skin looks camera ready in all situations.
You need not to use your fingers to transfer this product from the bottle to your face since it comes with a spatula style applicator.

9. Makeup for Ever Water Blend Face & Body Foundation
This is a lightweight and hydrating product that doesn't do much of anything but really delivers.
A pea-sized drop of this product is enough to even out the skin tone and buff away imperfections on aging skin while also allowing the natural radiance of the skin to peek through.
This product is so lightweight you can use it on the body. You can use it to cover dark circles and pimples as well as leg bruises and veins.
This is a non-comedogenic and oil-free formula that comprises 80 percent water.
It has an easy to blend texture that gives natural looking and streak free finish.

10. Maybelline Instant Age Rewind Treatment Makeup
For those with larger pores choosing the best foundation can be challenging.
You want a product that smooth the skin's texture rather than highlight it. Fortunately, this drugstore foundation for mature skin from Maybelline fit the bill.
This formula blurs pores, smooth over the skin, fills fine lines, and it does not settle into creases.
This foundation contains collagen and antioxidant-rich Joji berries which helps to improve the skin's elasticity, and it tightens pores.
The SPF 18 in this product protects against the sun. It comes with a micro-corrector sponge applicator that allows for even application of the formula without it smudging or streaking.
The sponge doesn't harbor bacteria as it is made from an anti-microbial material. To ensure this foundation seamlessly melts into your skin, use a dabbing motion when applying it.

Each of the products we have highlighted offers women with aging skin over 40 a unique blend of benefits for their skin, whether it is dullness, age spots, wrinkles, or enlarged pores.

References
What is non-comedogenic makeup and how does it differ from other makeup? – Last accessed on March 16, 2019. Link.