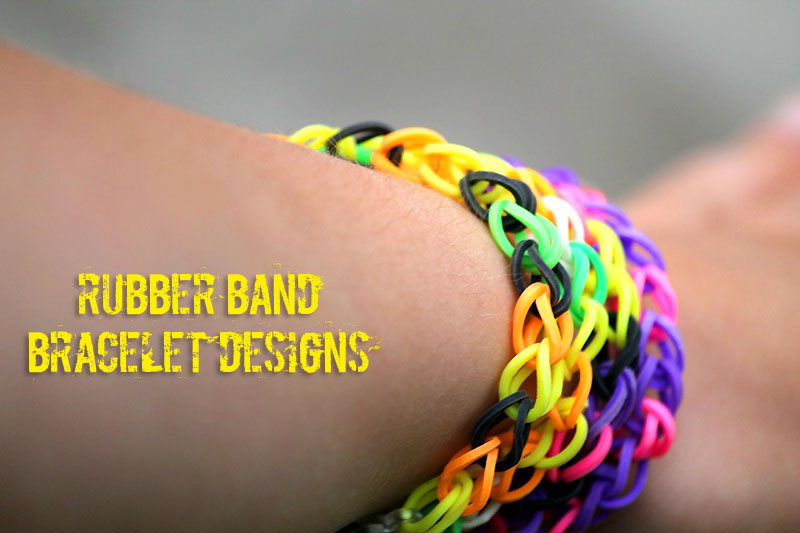 Christmas is just around the corner guys! I slip into a phase of metamorphosis this season. Strangely, I become hyperactive and super-happy somehow. Even challenges at work fail to stir me up. Weird but true! Anyway, with thanksgiving and greetings all over, happiness and spirits of joy are bound to spring in, isn't it? Other than baking cookies, bars and setting-up a tall and beautiful Christmas tree, I best enjoy my moments of shopping presents for my adorable son. This year, I am very much appealed by the stunning rubber band bracelet designs available all over. Check out the mens beaded bracelets for exciting gift ideas!
I think it looks pretty cool on youngsters. As far as what I have observed, wristbands are the only accessories kids love flaunting off. So yeah, it won't just be a set of gorgeous apparel from Sweet William or Lester's or a fancy pair of boots. I am looking to add funky and colorful rubber band bracelets to his wardrobe too.
Thank Goodness I am spoilt for choice here. Cool rubber bracelet designs are like wildfire these days. Whether you go shopping at an exclusive accessory store or simply drop in at Walmart, you can always find a section full of funky rubber band bracelets, mostly crowded by kids and their mommies. Too lazy to hop out? Don't worry! Myriads of websites allow you to take pleasure in shopping online.


Purchasing ready-made rubber wristbands are surely easy but I feel it's much more fun to make one. Buy a loom kit instead. The internet is flooded with tutorials and instructions on how to craft these stunning pieces of accessories from rubber bands. There are hundreds of rubber band bracelets designs you could choose to make. Think about it!
As I said, Christmas is knocking and I didn't waste any-time to shortlist my pick of the top five rubber band bracelet designs:
Firecracker Bracelet
I am not too impressed by a simple crossed-braid design. However, what did steal my attention is a stunning piece of firecracker bracelet. Rubber wristband designs are plenty in number but this one is a little extraordinary. Wondering why? Well because a firecracker bracelet is a combination of both solid rubber bands and the jelly ones. These spectacular jelly bands give it a glossier finish and a funkier look. Here's the picture of firecracker bracelet done by my 9-year old: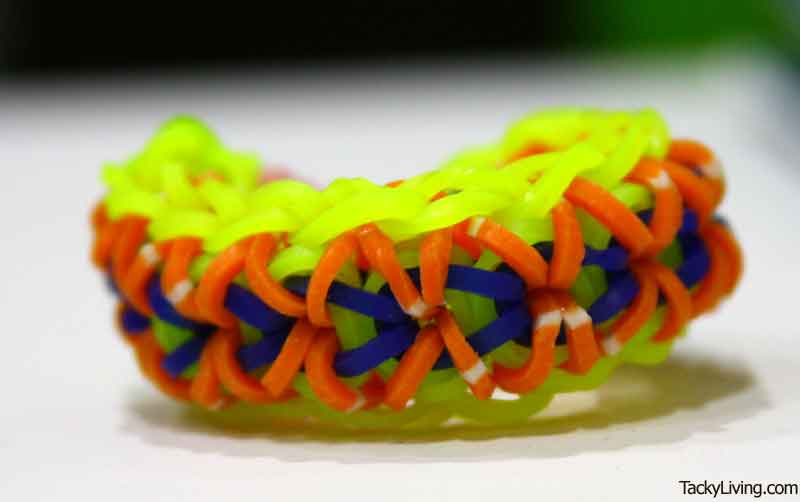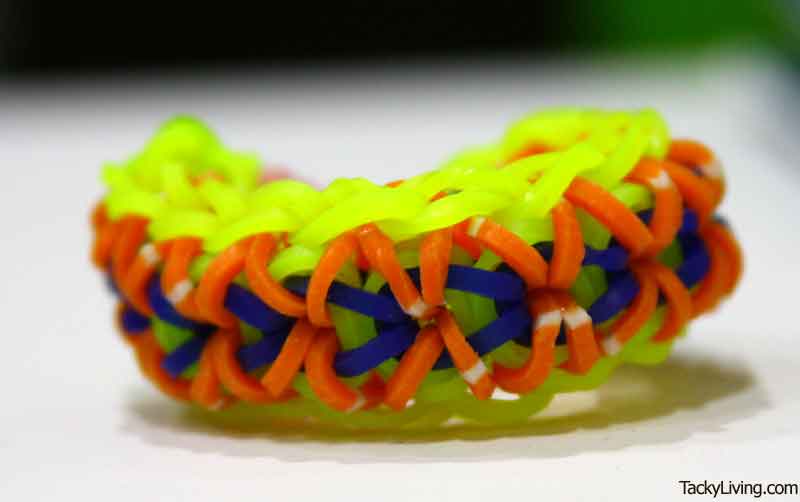 Here's the step-by-step video for making this rubber band bracelet:

Rock Candy Bracelets
Rainbow loom rock candy bracelet is a cool accessory. It is readily available or can be handmade without any fuss. This is undoubtedly one of the best rubber band bracelet designs. It is more like an amalgam of colors, all roped in a single ornament. Vibrant colors displayed on a young kid's wrist are truly beautiful to watch, isn't it?
Frozen Bracelets
My son is crazy about Disney flicks and 'Frozen' is definitely a favorite of his. So, he made a monster tail frozen bracelet, very much inspired by the movie. If you know how to craft a single band tri fish bracelet and quad fish bracelet, you are good to go. All you need is a couple of clear rubber bands and solid ones (approximately 80 and 40 in counts).

Cool Rubber Band Bracelet With Pumpkin Charm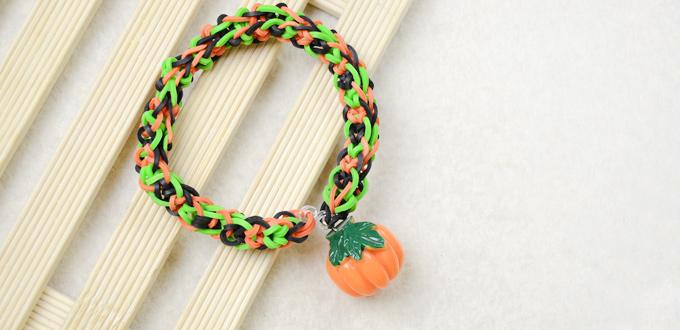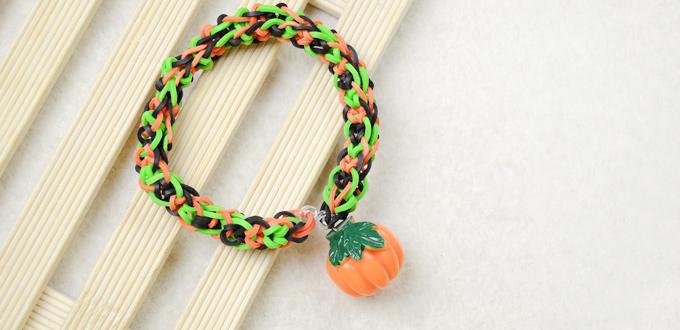 Best of loom band designs are not always complicated to make. Sometimes simple yet fancy item like a regular rubber band bracelet with a hanging pumpkin charm is very chic too. All you need to grab is a couple of rubber bands, preferably of three different colors. Using tools, hooks, and clips you get in a pack, create a usual bracelet of a desirable length. Focus on placing the most vibrant color in the center. It pops-up better! Now loop in a pumpkin charm at the end of the bracelet and clip it. That's it! You now own a very trendy accessory – a
pumpkin charm rubber band bracelet
.
Rainbow Ladder Bracelets
Do you think kids are fond of stars? This Christmas, why just accessorize a Christmas tree with a star when you can also gift your daughter one of the most striking rubber band bracelet designs available. Wondering what is it? Well, a jazzy and pretty colorful starburst wristband. You certainly need to get hands on quite a number of rubber bands in variable colors along-with regular black bands, hooks and of course looms. However, these efforts are definitely worth the innocent smile on the little one's face – don't you agree more?
Here is the rainbow ladder bracelet done by my son using the rainbow loom video instructions: