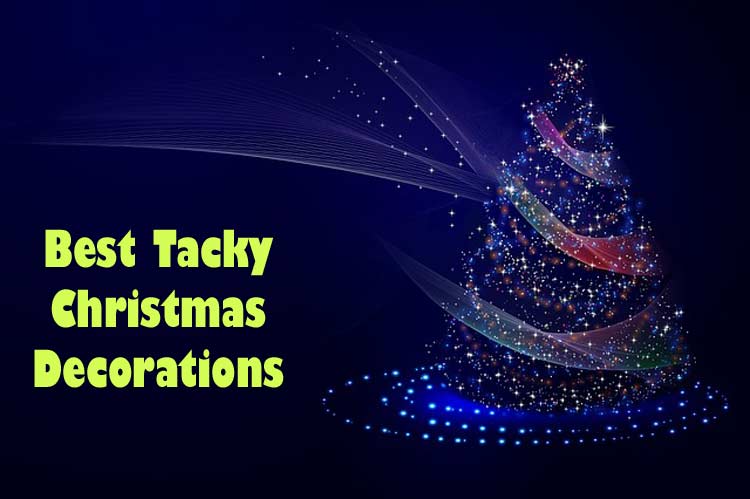 Tacky Christmas Decoration Ideas: Christmas is around the corner and winter weather is upon us. What Christmas decorations this year could bring more joy to the season?
We ♥ honesty! Tacky Living earns a commission through the following hand-picked links at no extra cost to you.
Well, we have gathered the 10 best tacky Christmas decoration ideas that you could find inspirational to bring tackiness and festive mood to this Christmas.
These decorations are appreciated because of their creativity and as you'll see in the images, you'll see why. Most of them will carry the theme from Christmas Décor "revamped" yet you can improvise and make some tweaks on any one of them as you see fit.
Find a variety of ways this Christmas for you and your family to celebrate Christmas with these DIY tacky Christmas Décor. They will sure spread the cheers and laughs during the holiday season!
26 Tacky Christmas Decoration Ideas
Here are the tacky or ugly Christmas decoration ideas starting with:
1) Festive Can Coolers
Tell your friends to "Ho-Ho-Hold" your adult beverage with these sassy and hilarious can coolers! Perfect for any Christmas party they will highlight your humor and deck the halls with boughs of "jolly!" These can coolers are perfect to use as prizes for games at your next Christmas party or for gifts for your friends. With sayings perfect for all the people on your Christmas list you will be so glad you bought these can coolers. With each purchase, you receive a variety of styles and colors with quotes such as "Let's get lit!" and "Festive AF!" With the perfect combination of cuteness for the ladies and hilarity for the guys, everyone you give these can coolers to will love them and definitely use them.
Check Price at Amazon

2) Ugly Sweater Party Supplies Pack
Christmas is coming soon and boy is it going to be ugly…ugly sweaters that is! It's not the Christmas season without an ugly sweater party! Take your party to the next level by purchasing the ultimate ugly Christmas sweater party supplies pack. Each set includes one six foot garland, small plates, napkins, and an ugliest sweater award sticker: all accented with ugly sweaters in green, red, and black. Show your friends and family that your sweater (and house) is U-G-L-Y with these awesome party accents!
Check Price at Amazon

3) Santa Bathroom Set
Spread your Christmas cheer to every room in the house…including the bathroom! This set features a toilet seat cover, rug, and tank cover with tissue box all with a Santa Claus theme. The three-dimensional accents allow for a unique and festive design. The premium quality materials along with the anti-slip design make these products a must have for anyone who loves Christmas! Take the hassle out of decorating with the easy to install and remove products that make cleaning a breeze. Looking at this product will have you saying "All I want for Christmas is this bathroom set!"
Check Price at Amazon

4) Naughty Gingerbread Man Ornament
If crude humor and adult-themed ornaments are your styles then look no further! This naughty gingerbread man will have your friends cracking up with his sayings that include "Wanna lick?" and "Oh yeah? Well, eat me!" From his surprised face to his dangling gumdrops this ornament will keep you laughing every time you see it. Batteries are included which means this ornament is ready for your tree as soon as you get it! You won't be disappointed in this gingerbread man ornament who is guaranteed to make you giggle.
Check Price at Amazon

5) Merry F*cking Christmas Banner
Don't let your Christmas party banner make it into a "Silent Night". Instead, spice up your event by putting up this banner fit for your friends who enjoy sentence-enhancing curse words! Tell everyone "Merry F*cking Christmas!" with this banner that looks classy enough to hide the fact that it is blatantly cursing your guests. With the silk material and the gold accents, this banner will look great and become a talking piece of the entire event. Hang your banner from anywhere as it is 15 feet long with excess ribbon to ensure putting it up is a piece of cake!
Check Price at Amazon

6) "If You Can Read This" Socks
There is nothing more relaxing than curling up on the couch next to a fireplace and putting your feet up. Wouldn't it be perfect if you could send a message to your family of exactly what you want, be it wine, chocolate, or coffee? Well, now you can! With these comfortable and affordable socks, you will delight everyone who reads them and maybe get what you want as well! The bottom of the socks read "If You Can Read This Bring Me Wine". These socks are also available in ones that ask for chocolate and coffee. Everyone who receives a pair of these socks will be delighted while being comfortable and cozy!
Check Price at Amazon

7) Santa's Reinbeer Hallmark Ornament
Look no further for the perfect gift for the beer enthusiast in your life! This Hallmark ornament will have them singing "Jingle Bottles" in no time! Hallmark is well known for their high-quality products and iconic designs and this ornament is no different! Santa drives his Pilsner crate with his trusty reinbeer bottles! Sitting just 2 ½ inches high this adorable little ornament is the perfect addition to any Christmas tree for the avid beer drinker!
Check Price at Amazon

8) Christmas Tree LED Party Hat
Show off your quirky side and have your friends singing "Oh Christmas Tree!" with this amazing Christmas Hat. The spring style Christmas tree will make your hat the talk of your next Christmas event. The LED lighting brings the tree and ornaments to life and showcases your Christmas spirit. The batteries are included and the tree can be turned on or off to help preserve battery life and to stop it from becoming obnoxious.
Check Price at Amazon

9) Christmas Tree Party Hat
Be the life of your next Christmas party with this three-dimensional Christmas tree hat! This hat lets you spread your Christmas cheer no matter where you go! Party guests and coworkers alike will delight in the many layers this hat offers. From the star on top to the ornaments themselves, this hat will provide you with a festive look without needing any batteries or wires. The slim design is perfect for women or youngsters to show everyone how much they love the Christmas holiday.
Check Price at Amazon

10) Retro Christmas Elves Ornaments
Bring the joy of having Santa's little helpers as part of your Christmas tree to your home! These vintage-inspired Christmas elves are perfect as accents to a tree whether it is big or small. The elves are available in two sets, with one red elf and one green elf. Have your elves "Rockin' Around the Christmas Tree", by bending their flexible arms and legs into different positions. Your elves will also have gripping velcro hands to allow for some Christmas time cuddles between the two of them. Measuring eight inches high, these elves are absolutely adorable and perfect for yourself or to give as a gift.
Check Price at Amazon

11) Donald Trump Christmas Ornament
What better way to commemorate #45 than by having this ornament on your Christmas tree! No matter where you stand on his policies, you and your guests will agree that this ornament will make your tree great again! The top quality materials in this ornament allow for it to be heavy without bending your tree and a unique durability to keep your ornament looking great for years to come. The hand-painted details will add a layer of uniqueness and quality to your ornament and your Christmas tree as a whole.
Check Price at Amazon

12) Wine Bottle Glass
Show your Christmas spirit the best way you know how…by drinking tons of spirits! Wine lovers rejoice! You can finally have a glass that fits your needs with this one that holds an entire bottle at once. The saying on the side says "Finally! A wine glass that fits my needs!" This is a great gift for the wine enthusiast on your list or for a White Elephant gift exchange. This patented design is sure to be a hit at your next party!
Check Price at Amazon

13) Snowman Magnet Set
Bring the love of Frost the Snowman to your own home with this perfect snowman magnet set! This magnet set brings the fun of building a snowman inside without worrying about him melting. Each set includes a hat, a carrot nose, scarf, pipe, and buttons for eyes, nose, and mouth. The easy cling magnets make for easy application while maintaining durability thanks to heavy-duty materials. Whether you decide to put your snowman on your garage, fridge, or another spot he will be sure to make your Christmas merry and bright!
Check Price at Amazon

14) Burlap Merry Christmas Banner
There's nothing quite like a down-home country style Christmas. If you aren't able to go home for the holidays this banner will make you feel like you're by the fire back home! The thick burlap combined with the deep red printing of the letters that spell out "Merry Christmas" allows for this banner to be seen all around the house. This can be used in the house or as an accent on your Christmas tree. The fourteen flags span over a meter long and can cover any space in the house. Bring a special kind of decoration to your home to reflect on a simpler time.
Check Price at Amazon

15) Christmas Story Lamp Ornament
"What a great lamp!" This ornament is a high-quality representation of the classic movie A Christmas Story. Any tree would benefit from this hilarious accent that will have family and friends alike quoting the movie and telling you "You'll shoot your eye out!" Hallmark provides customers with the most pristine materials that will last for years to come. The light up ability of this ornament makes it a focal point of any tree.
Check Price at Amazon

16) The Christmas Bow Slippers
This unique Christmas decoration is really a tacky Holiday fashion statement. In fact, when you see how easy it is to decorate these shoes, you'll run to your closet and begin decorating your house slippers or your slip-on shoes as soon as you see how easy it is. Here is the video that shows how easy but tacky they look which makes it easy to follow.
You'll need a bag of Christmas bows.
You'll also need house slippers or your tennis shoes you haven't worn in years.
Begin sticking bows on each shoe from front to back until both shoes are filled with bows.
Here's your tacky Christmas Décor you can wear.
Check Price at Amazon

17) The Grinch in the Tree
The Grinch sticking his head into a Christmas tree is a favorite for Tacky Christmas Décor.
Have your tree decorated before you begin.
Fill green or red tights with pillow stuffing.
Then, shove hang the two leggings on the tree in the center. His bottom should be facing out.
Check Price at Amazon

18) Saran Wrap Tacky Christmas Tree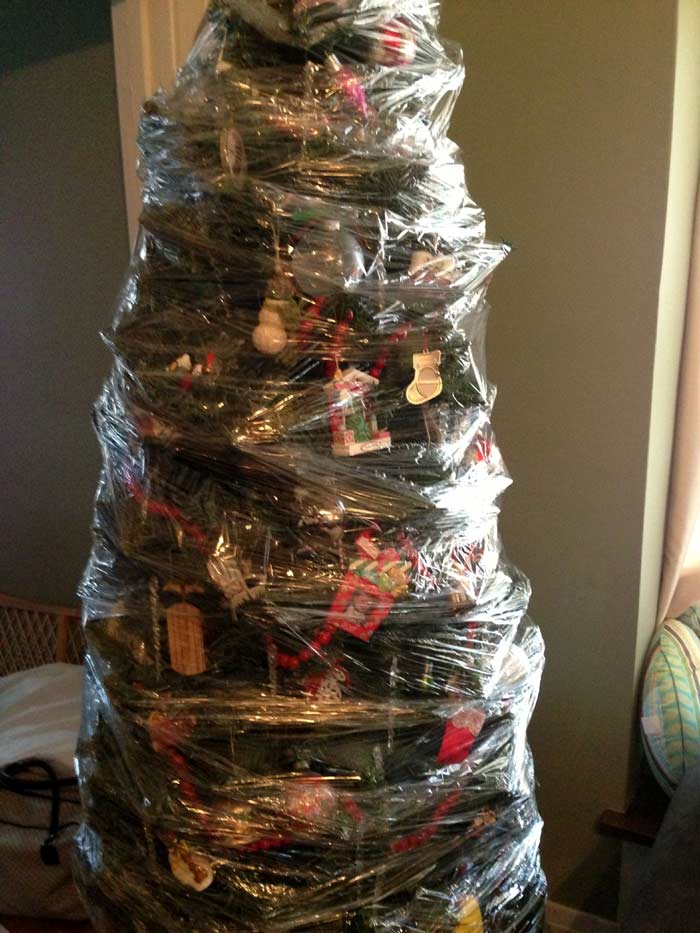 When Tara Perry decided to do this one for her tacky Christmas tree Decor, she did it with class.
Buy bundles of Cellophane or Saran Wrap.
Decorate your family's tree as usual.
Wrap the tree with Saran Wrap or the Cellophane from top to bottom.
Place it where you normally would place.
Wha-La! Your tacky Christmas tree is ready to enjoy by family and friends and it's easy to put away in storage.

19) Christmas poop ornament
This is a great tacky Christmas decoration ornament. It is already pre-built and ready to hang on your Christmas tree.
You'll need about 6 fake "dog poops" from your local "gag gift shop" or online gag gift shop.
Get white paint spray plus super glue and ribbon.
Lay newspaper out on a table. Set each one, side by side, on the paper.
Spray lightly on the "fake poop" to make it look like snow.
Make a loop out of the ribbon; it's best with wide ribbon. (You want it to hang, not fall. ).
Next, dab on a little super glue on the tip of it so you can place the ribbon, but do this step quickly.
Check Price at Amazon

20) Blow up Outdoor Christmas Inflatables
This one is so tacky–it'll make you sick when you look at it! Although, this is the point for creating Tacky Christmas Decorations since it's so tacky.
Get a hold of at least a dozen or more Christmas blow-ups or inflatables.
If you have an air pump, it would really help and lots of rope or heavy string (i.e. for tying them down).
Blow up all the inflatable's and begin tying them down, one by one, onto your roof top, your tree, your porch, even the window. Everywhere you can possibly tie down your holiday inflatable, do it with passion!.
Have them ready to go while they're tied down because you may need to deflate every so often until Christmas Day. The people who did this one didn't hold back!.
Check Price at Amazon

21) The Elf on the Shelf Legs
This one is cute because you're basically using the theme of the Elf on the Shelf for your dining room table where you'll be eating on as well as you family and friends this holiday season.
You'll need long, red-striped socks or get them from an actual Elf on the Shelf doll.
You can cut out red-felt material and make the shoes yourself. Then put a bell on the tip with super glue or simply buy the elf shoes, ready-made.
Do not sew the shoes on stockings or socks. You want to put each stocking on each table's leg first.
Last, place the elf shoes.
Check Price at Amazon

22) Boney Santa Claus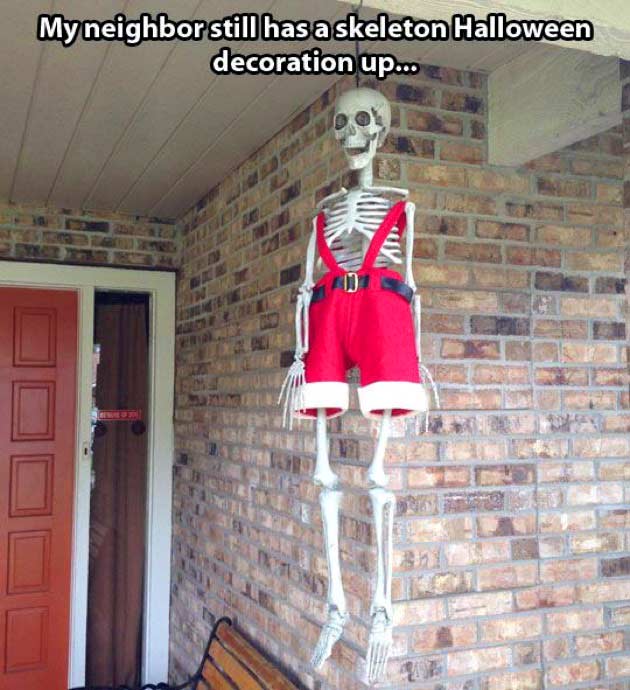 Here is a good one for those who like Halloween and Christmas. Not only it is funny, since Santa Claus is normally overweight and jolly, but this Santa is actually an easy way to display Ol' Saint Nick.
You'll need a Skeleton (Halloween Décor) which you can get at any department store (Wal-Mart, Target, etc).
Put a Santa suit on it.
Tie it up on the ceiling of your front porch with a ceiling hook and piece of string/rope. You can also add it to a tree if you have one in front of your house.
Check Price at Amazon

23) Standing Reindeer doing the unthinkable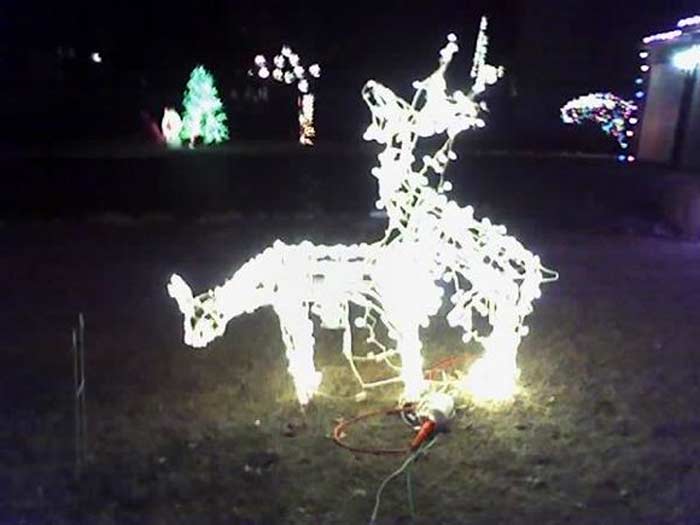 This tacky Christmas Décor is funny because it's easy and doable. Hence, when your neighbors see it in your front lawn, hope they don't have any kids.
Get a hold of two "standing reindeer" and they don't have to have lights just as long as they can stand on their own.
Basically, you put one behind the other.
Tie them down so they're secured.
You know what they are doing once you've finished.
Hence, look at the following link. It's one of the most popular ones of the 10 tacky Christmas Décor this year.
Check Price at Amazon

24) He sees you when you're sleeping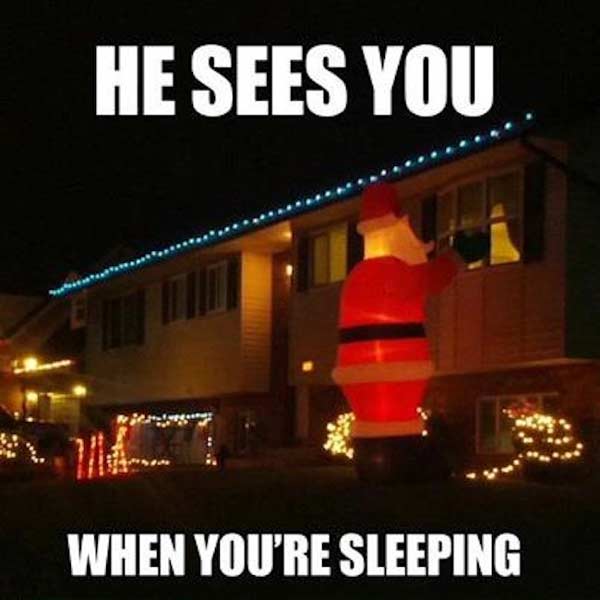 Santa is great as we all know. This is a great one that is so simple your child can do it.
Blow up a huge Santa Claus inflatable.
Tie it down in front of one your windows in the front of the house.
Make him look into a window instead of out to the street or road. (Santa "peeking inside" of your home is strange, yet funny!).
Check Price at Amazon

25) Santa got hit by your Car!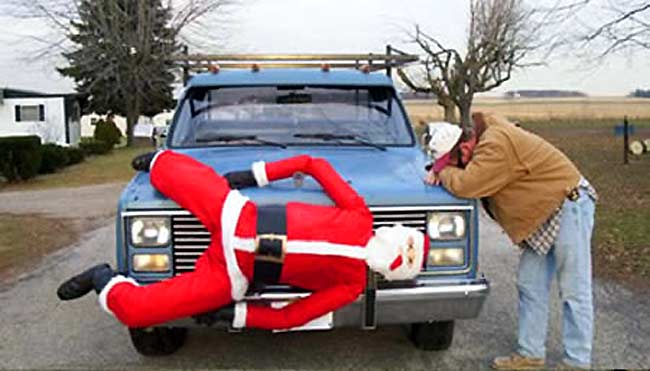 Here is another tacky Christmas decoration with showcasing 'Santa Claus is hit by your car or truck' and it shows.
First get a Santa Claus outfit and stuff it with a bunch of pillow stuffing.
Tie him sideways on the front of your vehicle.
If you get a blow up or inflatable one, it already has the boots.

Having fun with your family and friends will be unforgettable this year with these suggested Tacky Christmas Décors.
Happy Holidays!
If you have even tackier Christmas decorations, please share them in the comments below.