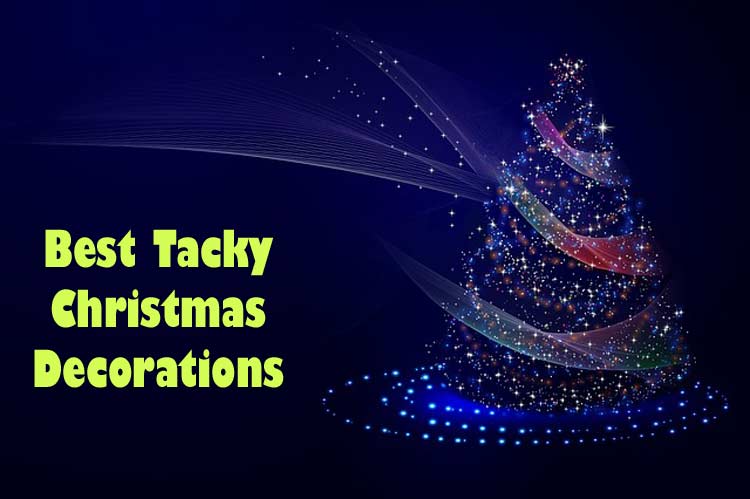 Tacky Christmas Decoration Ideas: Christmas is around the corner and winter weather is upon us. What Christmas decorations this year could bring more joy to the season?
Well, we have gathered the 10 best tacky Christmas decoration ideas that you could find inspirational to bring tackiness and festive mood to this Christmas.
These decorations are appreciated because of their creativity and as you'll see in the images, you'll see why.
Most of them will carry the theme from Christmas Décor "revamped" yet you can improvise and make some tweaks on any one of them as you see fit.
Find a variety of ways this Christmas for you and your family to celebrate Christmas with these DIY tacky Christmas Décor. They will sure spread the cheers and laughs during the holiday season!
11 Tacky Christmas Decoration Ideas
Here are the tacky or ugly Christmas decoration ideas starting with:
The Christmas Bow Slippers
This unique Christmas decoration is really a tacky Holiday fashion statement. In fact, when you see how easy it is to decorate these shoes, you'll run to your closet and begin decorating your house slippers or your slip-on shoes as soon as you see how easy it is. Here is the video that shows how easy but tacky they look which makes it easy to follow.
You'll need a bag of Christmas bows.
You'll also need house slippers or your tennis shoes you haven't worn in years.
Begin sticking bows on each shoe from front to back until both shoes are filled with bows.
Here's your tacky Christmas Décor you can wear.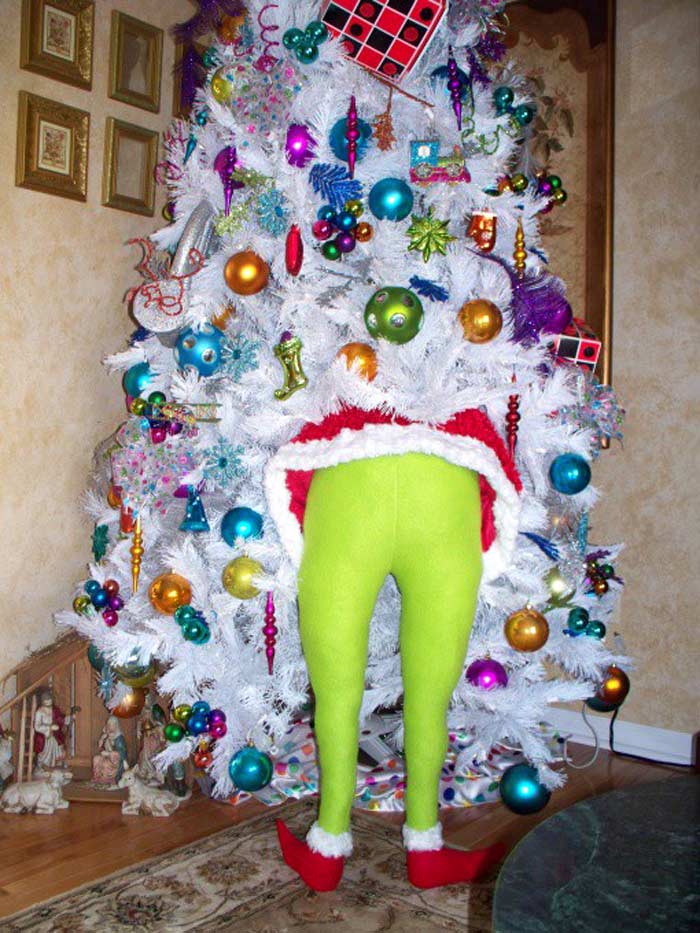 The Grinch sticking his head into a Christmas tree is a favorite for Tacky Christmas Décor. Lauren Wernel didn't have a problem posting this idea on her Pinterest account.
Have your tree decorated before you begin.
Fill green or red tights with pillow stuffing.
You can add red pointy shoes to make it look more realistic like in Wernel's picture (see link).
Then, shove hang the two leggings on the tree in the center. His bottom should be facing out.

Saran Wrap Tacky Christmas Tree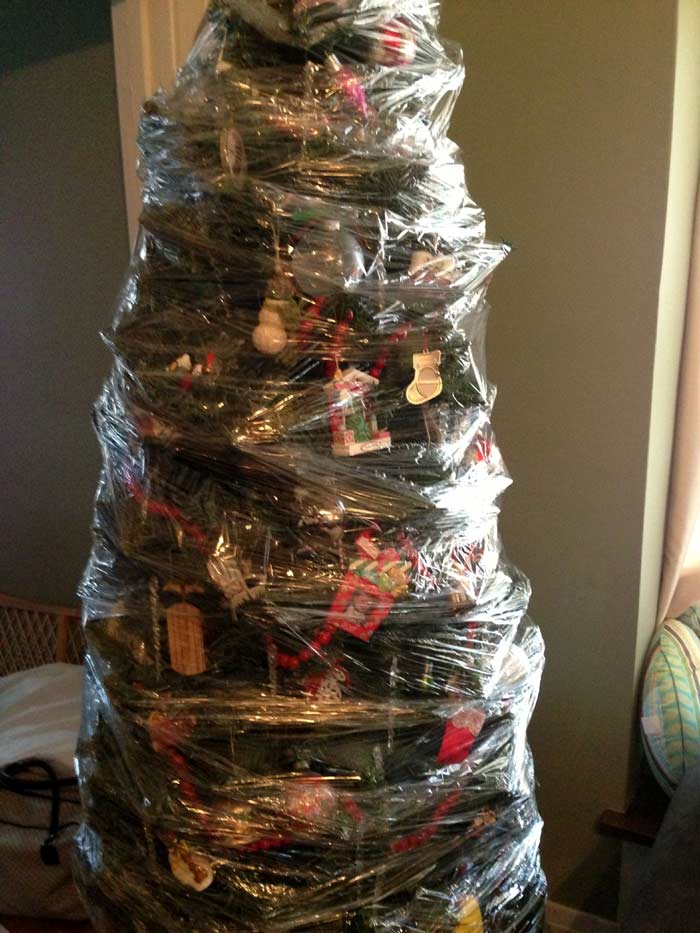 When Tara Perry decided to do this one for her tacky Christmas tree Decor, she did it with class.
Buy bundles of Cellophane or Saran Wrap.
Decorate your family's tree as usual.
Wrap the tree with Saran Wrap or the Cellophane from top to bottom.
Place it where you normally would place.
Wha-La! Your tacky Christmas tree is ready to enjoy by family and friends and it's easy to put away in storage.
Go to this link to see how well Perry did it: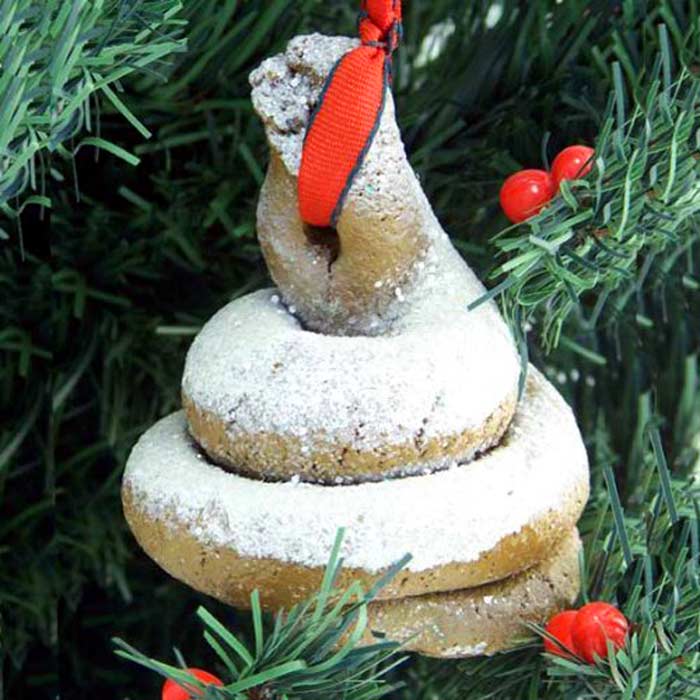 Dodai Stewart did a great job with this Christmas ornament. It was easy to make and doesn't smell. Here are the DIY steps to easily make them.
You'll need about 6 fake "dog poops" from your local "gag gift shop" or online gag gift shop.
Get white paint spray plus super glue and ribbon.
Lay newspaper out on a table. Set each one, side by side, on the paper.
Spray lightly on the "fake poop" to make it look like snow.
Make a loop out of the ribbon; it's best with wide ribbon. (You want it to hang, not fall. ).
Next, dab on a little super glue on the tip of it so you can place the ribbon, but do this step quickly.
Go to the Jezebel website and take a look on how it should look; you can't miss it once you scroll down a little to the center of the page here at this link:

Blow up Outdoor Christmas Inflatable's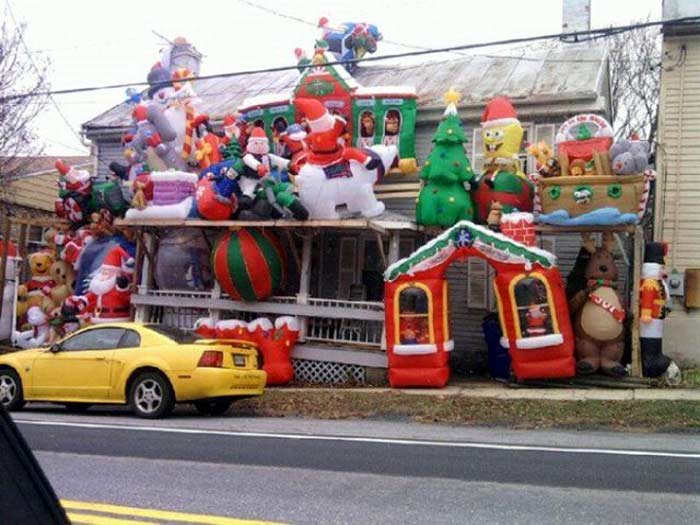 This one is so tacky–it'll make you sick when you look at it! Although, this is the point for creating Tacky Christmas Decorations since it's so tacky.
Get a hold of at least a dozen or more Christmas blow-ups or inflatables.
If you have an air pump, it would really help and lots of rope or heavy string (i.e. for tying them down).
Blow up all the inflatable's and begin tying them down, one by one, onto your roof top, your tree, your porch, even the window. Everywhere you can possibly tie down your holiday inflatable, do it with passion!.
Have them ready to go while they're tied down because you may need to deflate every so often until Christmas Day. The people who did this one didn't hold back!.

The Elf on the Shelf Legs for the Dining Table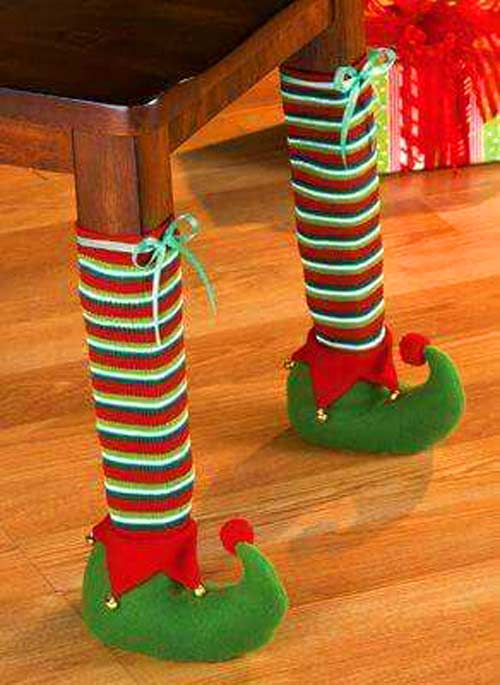 This one is cute because you're basically using the theme of the Elf on the Shelf for your dining room table where you'll be eating on as well as you family and friends this holiday season.
You'll need long, red-striped socks or get them from an actual Elf on the Shelf doll.
You can cut out red-felt material and make the shoes yourself. Then put a bell on the tip with super glue or simply buy the elf shoes, ready-made.
Do not sew the shoes on stockings or socks. You want to put each stocking on each table's leg first.
Last, place the elf shoes.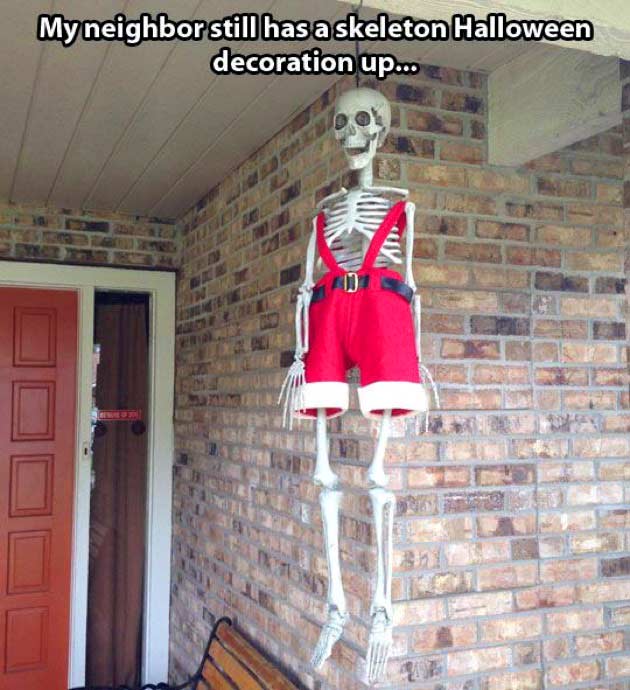 Here is a good one for those who like Halloween and Christmas. Not only it is funny, since Santa Claus is normally overweight and jolly, but this Santa is actually an easy way to display Ol' Saint Nick.
You'll need a Skeleton (Halloween Décor) which you can get at any department store (Wal-Mart, Target, etc).
Put a Santa suit on it.
Tie it up on the ceiling of your front porch with a ceiling hook and piece of string/rope. You can also add it to a tree if you have one in front of your house.

Standing Reindeer doing the unthinkable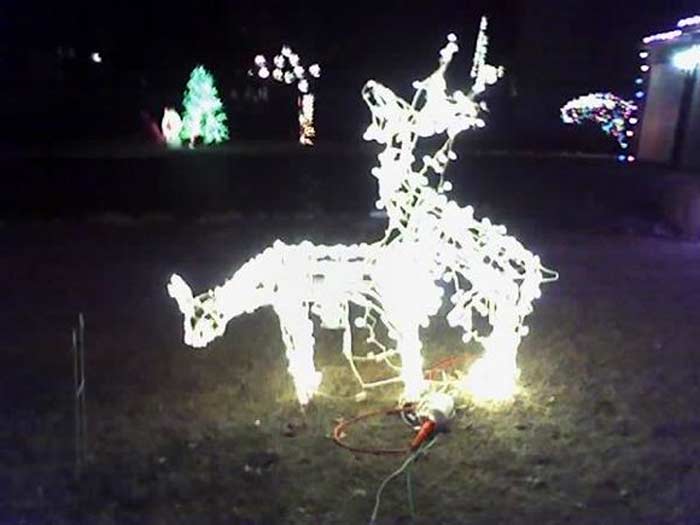 This tacky Christmas Décor is funny because it's easy and doable. Hence, when your neighbors see it in your front lawn, hope they don't have any kids.
Get a hold of two "standing reindeer" and they don't have to have lights just as long as they can stand on their own.
Basically, you put one behind the other.
Tie them down so they're secured.
You know what they are doing once you've finished.
Hence, look at the following link. It's one of the most popular ones of the 10 tacky Christmas Décor this year.

He sees you when you're sleeping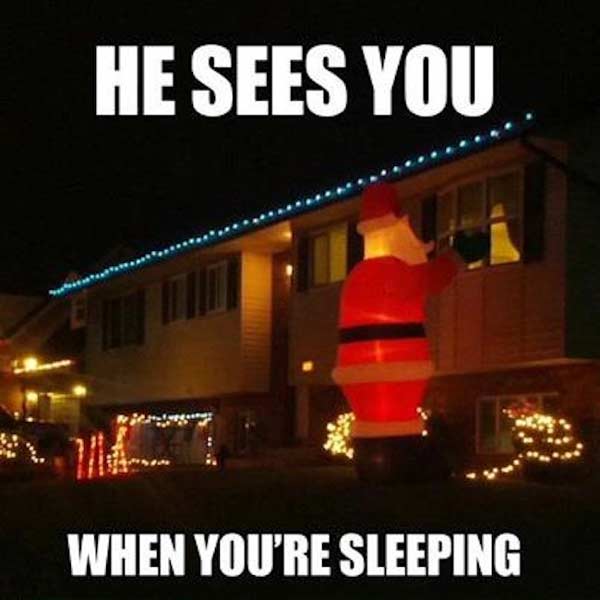 Santa is great as we all know. This is a great one that is so simple your child can do it.
Blow up a huge Santa Claus inflatable.
Tie it down in front of one your windows in the front of the house.
Make him look into a window instead of out to the street or road. (Santa "peeking inside" of your home is strange, yet funny. ).

Santa got hit by your Car!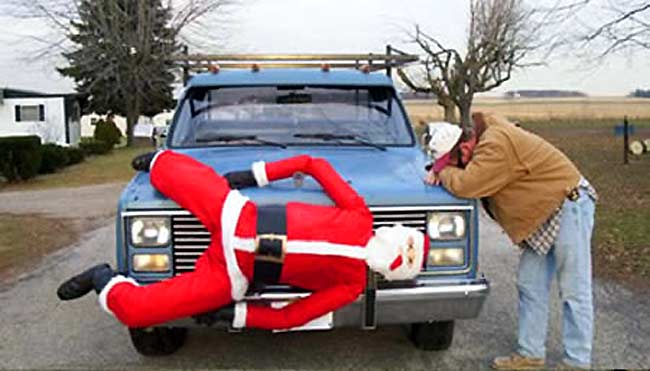 Here is another tacky Christmas decoration with showcasing 'Santa Claus is hit by your car or truck' and it shows.
First get a Santa Claus outfit and stuff it with a bunch of pillow stuffing.
Tie him sideways on the front of your vehicle.
If you get a blow up or inflatable one, it already has the boots.

Finally, none of these people or families had trouble doing this because they did it with ease and had fun doing decorating it. It's all in the name of Tacky Christmas Décor.
Having fun with your family and friends will be unforgettable this year with these suggested Tacky Christmas Décors.
Happy Holidays!
If you have even tackier Christmas decorations, please share them in the comments below.