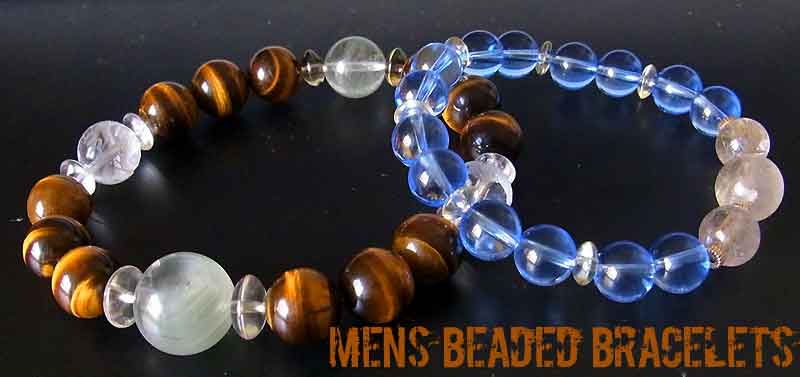 What Goodie to Gift the Gentleman in Your Life?
These days a lot of men are noticed getting modish by wearing accessories like ear studs, bracelets, rings and chains. However, the most popular ornaments are mens beaded bracelets. They are very much in vogue and tend to pep-up the whole appeal factor in a man. Speaking of men's ornaments especially bracelets, it is worth knowing that other than the beaded ones, bracelets are up for grabs in numerous kinds and varieties. Don't miss out the handmade jewelry ideas for women or rubber band bracelets for kids.
While the magnetic bracelets, also known as therapy bracelets are worn for the purpose of experiencing relief from excruciating pain and aches in the body, beaded bracelets are an inexpensive option to go with.
Are you trying to lure your man but not sure whether you could afford shelling out riches at the moment? No problem! The markets are stock-full with classy beaded bracelets for men. These are unique economic options and can be bought in bunches without drilling a hole in your pockets.
Do you know what makes these stunning accessories such a popular buy? Well, men's beaded bracelets are proper examples of 'versatile ornaments' that can be matched and worn with any attire. So whether your boy is slipping into a pair of casual denims or dressed semi-formal, a beaded bracelet will give him that much-needed perfect finishing.
Rakish beaded bracelets – Buy them or Make them?
Obviously dropping into a store to shop beaded bracelets is an easy option. However is there really a personal touch it? Also, what's genuinely special about a ready-made bracelet when you are gifting it to a man of your dreams or someone who is closest to your heart? Making these accessories on the other hand could beef up the value of a simple bracelet to something invaluable. Wondering why? Because then the beaded bracelet would be woven or tailored with love. Where do you get that in a hi-fi accessory store?
Are you troubled with time issue? Wondering how you could save some time up your sleeves to craft these stunning and customized jewelries? Well, I don't about others but making mens beaded bracelets is a piece of pie that can be done in just a couple of minutes or an hour max.
Still doubtful? Cool, I've got all your confusions covered. Here is my favorite list of the easiest 3 DIY ideas to make pretty beaded bracelets for men.
Making Bracelets for Men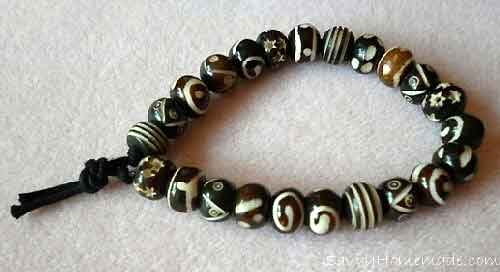 Beads are not favored by women only. Men too love it, especially when worn on the wrists. These are both sassy and casual, a perfect combination preferred by most men around the globe. Gather some jewelry making beads of your choice, could be the simple colorful ones or the tea-dyed bone beads, anything would work just fine. Now, rope these beads in a proper alignment into a piece of elastic jewelry making threads. Having an idea about the wrist measurements is a plus. Now tie the ends in a knot and glue it for an even safer finish. A customized beaded bracelet is ready to be gifted. Isn't this a cakewalk?

Masculine Beaded Men's Bracelet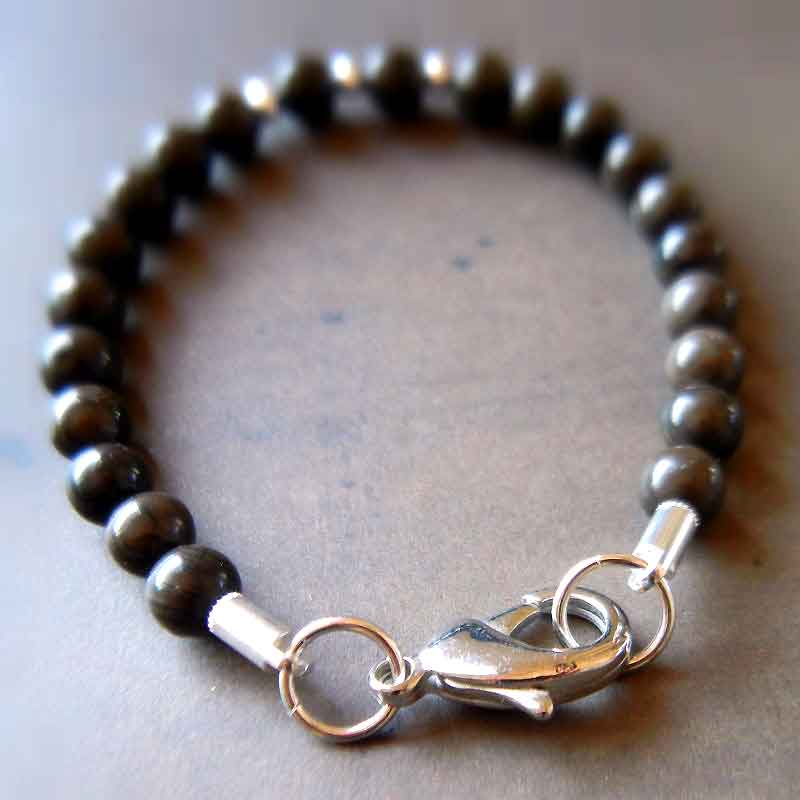 Is your beau more attracted to the masculine stuffs? Great! A broader and bigger beads bracelet will take him by a spell then. This time, a stronger thread is required to hold the beads together. Try not to choose pink, red or the flashy colors since it spoils the whole masculine appeal. Hazelnut brown or just black is a safer option to go with. However, the prime part of such types of mens beaded bracelets is the 'Bead Bandits'. These are readily available online and are durable, patent-protected metals.

Multistrand Cool Beaded Bracelet for Men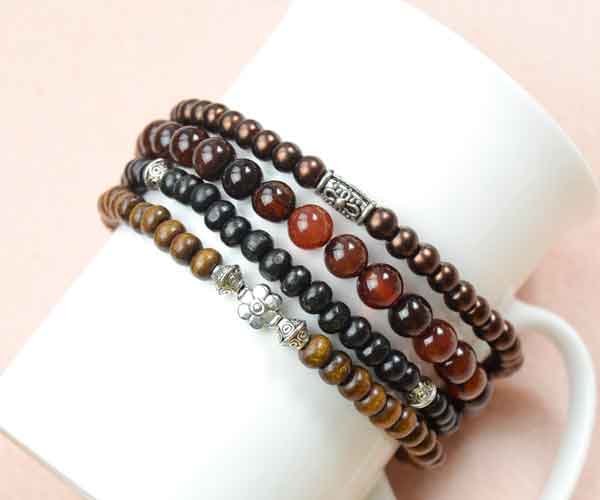 Are you planning to go beach-trotting with your beau anytime soon? Wonderful! How about gifting him a trendy multi-strand beaded bracelet for a perfect summery look? I am sure he will be enthralled as well. Even if it sounds a bit challenging, making mens beaded bracelets and that too, a multi-strand one is not quite backbreaking. Preferably, gather seven different kinds of beads that are mostly complimentary to each other in terms of color and finish. Once you have bought things like a slide lock clasp, a bead spacer, some flat pliers and tiger tails, you are good to go. Making these stunning and classic men's ornaments is just a matter of minutes.
Video: DIY Mens Braided Adjustable Bracelets