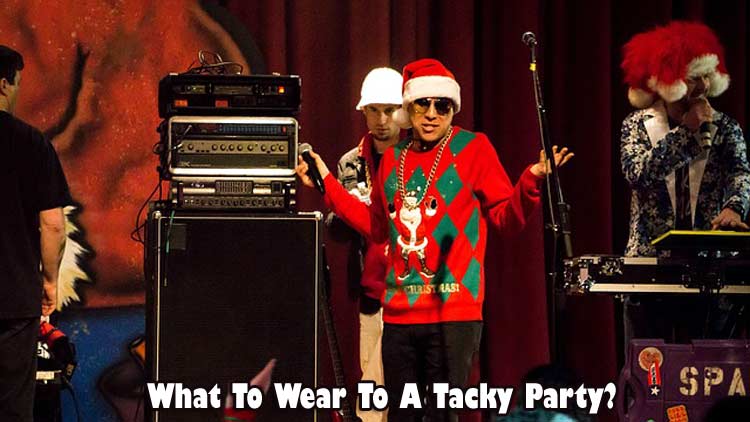 What To Wear To A Tacky Party? Tacky Christmas parties have now become a staple of the holidays! Remember when you would get the most atrocious sweater from your grandmother and be forced to wear it?
We ♥ honesty! Tacky Living earns a commission through the following hand-picked links at no extra cost to you.
Now it is rare to see a Christmas party where everyone isn't decked out in their tackiest attire! Offices are now starting Ugly Christmas contests, and everyone's competing to look the best (or worst).
If you don't know what you're going to wear to your next Tacky Christmas event, have no fear!
So What To Wear To A Tacky Party?
Well, we have compiled the best and tackiest sweaters, shirts, and pants for you to wear that will have you saying "All I want for Christmas is this outfit!"
1. Men's Green Happy Birthday Jesus Sweater
A Christmas Jesus sweater is sure to bring the laughs at your next Tacky Christmas party!
Show your friends that your kind of Jesus is one who is ready to party! This sweater will bring comfort as well as being made of the highest-quality materials.
While this is made in sizes for men, the design can easily be worn by women as well. The slim-fit style will keep you warm and draw the eye of everyone you encounter!
Check Price at Amazon

2. Light-Up Ugly Christmas Sweater
This fantastic sweater will have your guests saying they "Fa-la-la-LOVE" your shirt! This sweater has a repeating design of round ornaments, candy canes, and assorted Christmas lights that actually light up!
Forum Novelties provides you with batteries that allows you just to put on the sweater and go as soon as you receive it.
The soft material offers amazing comfort and warmth, so you do not have to hide it with a bulky coat.
You will shine bright and look perfect at your next Tacky Christmas party!
Check Price at Amazon

3. Women's Christmas Tree Sweater with Suspenders
Tipsy Elves gives you the chance to be warm and comfortable with this soft sweater that provides a three-dimensional design.
The tree is set on a blue backdrop with shiny tinsel and round ornaments as accents.
The sweater is also accented with the suspender design also complemented by the three-dimensional yellow shiny ornaments.
The back of this sweater also includes the suspender design with the ornaments to let guests know you're in the Christmas spirit whether you're coming or going!
Check Price at Amazon

4. Women's Wrapping Paper Christmas Sweater
The eclectic design of this sweater allows you to show off your tacky Christmas spirit and let yourself to be the "gift" for the party!
The mismatched green and red design with royal blue elbow patches bring attention to this sweater and its creativity.
Complete with a tacky gold bow and a gift tag that you can personalize you are sure to stand out!
The fabric is thick, yet breathable, and soft that allows you to enjoy your party without feeling itchy or uncomfortable.
Get everyone into the Christmas spirit and win your costume contest with this great top!
Check Price at Amazon

5. Unisex Buff Santa Shirt
Show everyone at your party that Santa has been hitting the gym this year! Featuring an open Santa coat with a candy cane and snowflake tie draped over a body that Santa wishes he had.
The eye-catching design is perfect to wear to a Tacky Christmas party without feeling underdressed.
With the glitter details on the back of the shirt, guests will be begging you to turn around to show off the front.
This comfortable, tacky shirt with its vivid colors will have guests wondering if they've been naughty or nice!
Check Price at Amazon

6. Unisex Ugly Christmas Hairy Tattooed Body Sweatshirt
On the other end of the body spectrum is this hilarious sweatshirt that features a hairy body decked out in Christmas themed tattoos with ornament piercings from the chest.
This sweatshirt is perfect for anyone who loves to make their friends laugh and will keep their eyes on you as they discover more and more details about the shirt.
The front and back design will provide you with all the attention you want at your next party.
The crew-neck design will allow for comfort and keep your warm while "baring it all. " Crack up your friends as you enjoy being the life of the party in this sweatshirt!

7. "I'm On The Naughty List" Long Sleeve T-shirt
Tell your friends exactly where you stand on Santa's list by showcasing it on this long sleeve t-shirt!
Available in red, green, black, or gray this shirt has the classic tacky Christmas sweater design on a comfortable and light long sleeve shirt made of t-shirt material.
While this shirt is plainer than others featured on this list, it can easily be dressed up if you would like by adding garland around your neck or tacky Christmas jewelry.
The high-quality materials and hilarious quote allow you to look great and feel cozy at your next Christmas party!
Check Price at Amazon

8. Women's Digital Print Elf Leggings
Show your friends that you're Santa's favorite helper by adding these leggings to your tacky Christmas party ensemble!
These leggings allow for ultimate comfort as they are lightweight, breathable, and super stretchy.
By featuring the elf shorts design with red and green striped tights underneath you are instantly transformed and can just throw on a shirt and elf hat and go out the door to your party!
Your friends will love this timeless design, and you will enjoy how comfortable you are while wearing them!
Check Price at Amazon

9. Women's Digital Print Sexy Mrs.Claus Leggings
All women love to feel sexy, and Mrs.Claus is no different! These leggings feature a short Santa style skirt with high socks that will make you feel sexy without feeling like a "ho-ho-ho"!
You will love that these leggings are so stretchy and comfortable while looking adorable and being of great quality.
Pair these with a Mrs. Claus jacket or shirt, and you will be sure to turn heads. Show off your legs while keeping yourself warm at your next Christmas party!
Check Price at Amazon

10. Women's Winter Reindeer Leggings
Feel free to play all the reindeer games at your next Christmas party in these adorable leggings!
Featuring a repeating reindeer pattern that is styled to resemble a tacky Christmas sweater, these leggings are the perfect accent to any Christmas or Winter themed shirt.
The silky material that is simultaneously breathable will make everyone jealous of your comfort and style! While these leggings will be ideal for a Christmas party, they can easily be worn all winter which allows them to give you more bang for your buck!
Look adorable and festive at your next Christmas party with these flattering leggings.
Check Price at Amazon

Tacky Christmas parties are so much fun and allow you to show off your style and creativity!
By choosing any of the items on this list, you will be sure to be the center of attention while being comfortable and warm.
It's impossible to have a "Blue Christmas" when you're wearing your tackiest Christmas attire!