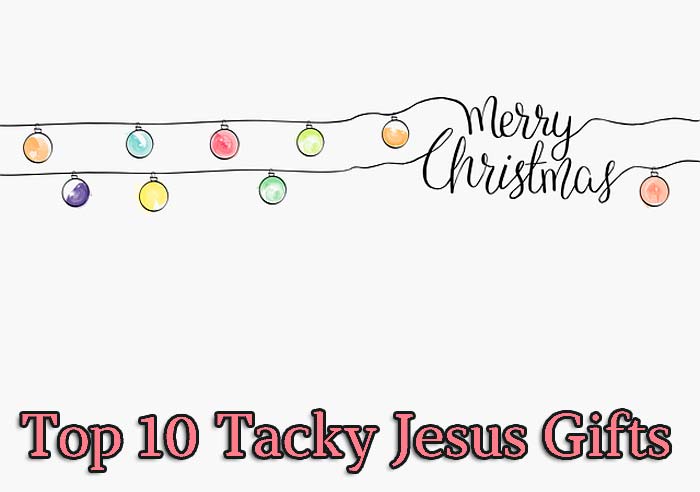 Tacky Jesus Gifts: There is no more excellent gift than one that mixes the perfect blend of tackiness, hilarity, and Jesus. If you're looking for a Tacky Jesus gift that will bring all of these, then look no further!
We ♥ honesty! Tacky Living earns a commission through the following hand-picked links at no extra cost to you.
Top 10 Tacky Jesus Gifts
This list compiles the greatest tacky Jesus gifts that are made from high-quality materials and will last! Whether you're buying these for yourself or others, you will love the way they make you laugh, smile, and feel comforted all at the same time!
1. Jesus Disappearing Beard Mug
The first tacky Jesus gift in our list is a mug! Enjoy the power of a clean-shaven Messiah with this hilarious mug that quite poetically lets others know that "
Jesus Shaves
".
Watch as you pour hot liquid into the mug and Jesus' beard remarkably disappears!
This 12 oz. mug is even microwave-safe and allows you to heat up cold liquids easily. Give your guests a laugh while they enjoy their coffee or tea with this hilarious mug.

2. Jesus Buddies Drink Markers
While Jesus approved of turning water into wine he surely wouldn't want those wine glasses mixed up! Never worry about swapping spit with your guests with these hilarious drink markers.
Each package includes a set of four markers with different names on the back such as "Chris T., J.C., J-Dawg, and Kanye."
Entertain your friends while keeping track of whose drink is whose. Never drink alone again with these handy drink markers!

3. Santa vs. Jesus Party Game
Decide once and for all who is the king of Christmas:
Jesus
or
Santa
with this epic party game.
This game needs at least 4 players and can include up to 16 which makes it perfect for your next adult Christmas party.
This game does have mature themes so keep the kids at home while you play! Players form two teams to complete Christmas themed puzzles to win the game. Fight it out with your friends to decide who will be on top: Jesus or Santa!

4. Go Jesus Birthday T-Shirt
"
Ain't no party like a Jesus birthday party!
" Remind others of the reason for the season with this comical t-shirt guaranteed to bring a smile.
Designed as an ugly Christmas sweater without the itchy material and long sleeves this t-shirt is perfect for those who want to be in holiday mood without feeling hot or confined.
The 100% cotton material and pristine printing allows for this material and print to last without worry through washes. This shirt allows you to party with your main man Jesus on his birthday.

5. Dancing Jesus Bobble Figure
Get your groove on with this hilarious dancing Jesus bobble figure.
The suction cup on the bottom makes it easily attachable to any surface.
Whether you're using it for relaxation or to put you in a great mood, this bobble figure is assured to put a smile on your face.
Standing 3 inches, it's the perfect accent piece to your dashboard, desk, etc.

6. Dashboard Jesus Figure
Bring your main man Jesus on your many travels with this figure that perfectly compliments any dashboard.
The metal spring allows for optimal movement to catch the eye and will make your passengers laugh and bob along with your Jesus figure.
The 4.5-inch figure will help any commute seem more relaxed and take away the stress of traffic.
This tacky Jesus gift makes the perfect gift for anyone on your list!

7. Last Supper After Dinner Mints
Don't want to keep tasting the last supper you ate? Never fear with these delicious Last Supper after dinner mints!
Guaranteed to bring a laugh from anyone you offer them to, these mints are practical and humorous.
The collectible tin featuring the Last Supper provides you with 100 mints to keep for yourself or share with others.
These are perfect for stocking stuffers or a small gift for friends.

8. Jesus Christ Bobblehead
The next tacky Jesus gift for the avid bobblehead collector, this Jesus Christ model, will add a little holiness to their collection.
Standing 8 inches tall the bobblehead is hand painted and made from the highest quality material to ensure long lasting products.
The uniqueness of each product allows for a one of a kind creation to accent any household and bring smiles and laughs from guests.
Each product comes with a serial number to showcase its authenticity.

9. WWJD Trump Birthday Card
We are constantly asking ourselves "
What would Jesus do?
" and with this card, you can show your friends and family exactly what he would do with our Commander in Chief!
The huge 8.5 x 11 card showcases a bare-bottomed President Trump getting an over-the-knee spanking from Jesus.
The inside reads "Hope your birthday is a hit!" and is sure to bring the hilarity to your friend's birthday party.
Showcase this divine intervention, and your card will be a hit for your next birthday!

10. Jesus LED Night Light
Have Jesus bring comfort and light to your bedside table with this LED nightlight. Not only does this tacky Jesus gift provide you with the glow of the lights, but it rotates and changes color as it does.
The changing colors include blue, purple, yellow, red, white, and orange.
The customer will also receive a royal blue gift box with a satin wrap to take away the trouble of wrapping!
And don't worry about buying batteries, this light comes with a power cord, so you do not have to worry about replacing batteries every month.
Adults and children alike will love this light and the comfort it brings to their bedroom.

Buying any of these gifts would make Jesus himself laugh and smile. Whether you're buying these for yourself or others, you will not be disappointed in the tacky and funny style of these gifts that feature Jesus Christ himself!