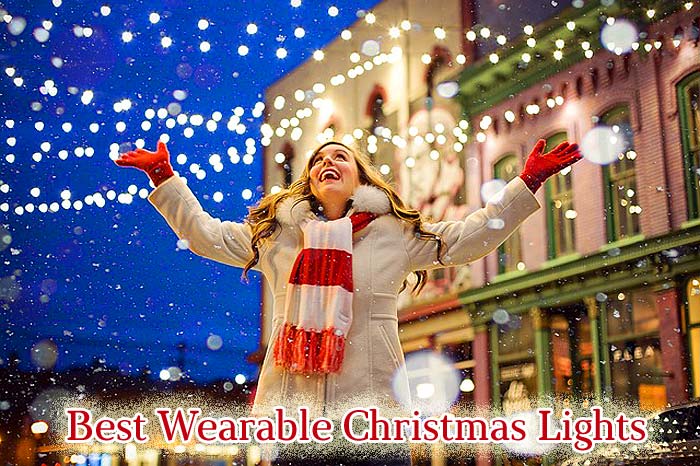 What an excellent way to show off your Christmas spirit than by bringing the magic of Christmas lights with you wherever you go with these beautiful wearable Christmas lights!
Sale
Best Wearable Christmas Lights
Our Pick
Our top pick for this Christmas season is Beardaments (Shark Tank fame). This unisex Christmas lights is perfect for everyone.
Surprise all your friends & families with this unique tacky no-brainer gift set this season. You can't go wrong on this perfect gift!
We ♥ honesty! Tacky Living earns a commission through the following hand-picked links at no extra cost to you.
This page lists the best lights that can be worn for any occasion, whether it be a Christmas party or a trip to the store!
Be sure to make people smile no matter where you go with these affordable and festive wearable Christmas lights!
Best Wearable Christmas Lights
1. Shark Tank Fame Beardaments
The first wearable Christmas lights is the one from the Shark Tank USA where Kevin O'Leary made a deal with this business.
These Christmas lights are unisex, so both men with a beard or mustache & ladies can wear them on their hair.
These 4 Pcs Light Up Beard Bauble Ornaments have 3 colors in each light that are easily operated. Press the light on and continue to press to turn the light off.
The next 16 Pcs Colorful Jingle bells are made with copper, which makes charming Christmassy sound. You will definitely enjoy putting on these beard ornaments, and they can give you a fantastic Christmas themed look.
Every Bells in these beads have 8 different colors, red, gold, silver, blue or green, and more.
These wearable lights come with mini Clips which are easy to attach. These clips are perfect for all lights of hair.
Most importantly, this gift comes in a beautiful gift box, which is amazingly decorated.

2. Windy City LED Christmas Bulb Necklace
Make your last days before Christmas merry and bright with this fantastic LED Christmas bulb necklace! Whether you're buying these wearable safety lights for yourself or your family, you will find this necklace affordable and easy to operate.
Choose between six modes of lights, from flashing to all on and turning the necklace off or on is easy with the click of a button!
The large bulbs immediately catch the eye with the bright colors of red, blue, yellow, and green that will fit anyone comfortably.
Never worry about your light going out with the free replacement batteries included in every order.
Bring your Christmas spirit with you whether you may go with this fantastic necklace!

3. Karlling Battery Operated LED Fairy Light String
Bring a twinkle to Old Saint Nick's eye by adding these battery-operated LED string lights to any Christmas sweater or decoration.
The lights are attached to a clear wire and come in various colors depending on any need: blue, green, pink, purple, red, warm white, white, and multicolor.
Adjusting the flashing of the lights or turning them on or off is simple with the control switch attached to the battery pack.
The brightness of the LED lights combined with the delicate fairy bulb design creates the perfect accent to any sweater or decoration.

4. LED Holiday Jingle Bell Necklace
Jingle all the way into your next Christmas party with this fabulous LED Jingle Bell necklace.
Complete with seven colorful bell designs that light up and flash and ring in the traditional sleigh bell fashion.
The LED lights inside the bells can be switched from six different flashing settings depending on your mood. No need to buy batteries since they are conveniently included in every purchase.
This necklace is ready-to-wear as soon as it is delivered making it affordable, easy to use, and festive!

5. Biggerhigh Christmas Disco LED Necklace
Have everyone at your next Christmas party rocking around the Christmas tree with this Disco LED necklace!
The brightly colored bulbs featuring blue, green, red, gold, and purple will make the perfect addition to any holiday outfit.
Just choose your favorite light setting from the strobe, flashing, glow, and shine-on to brighten any room!
With each purchase, batteries are included and easy to replace. This necklace is perfect for adults and children alike!

6. Rhode Island Novelty Christmas Lights Necklace
Show everyone you aren't a Grinch with this ultra-bright traditional Christmas light bulb necklace.
The lime green necklace will catch anyone's eye along with the bright blue, yellow, green, and pink lights that accent it.
With light settings from stay-on to fade, you will be able to find the perfect way to accent your Christmas outfit.
Whether you are wearing this yourself or giving it as a gift, it is destined to be a hit!

7. LED Christmas Tree Necklace
Have your friends saying "Oh Christmas tree!" when you wear this LED necklace! Check out the best tacky Christmas decorations here.
The battery-operated Christmas tree pendant is accented with green LED lights that can be set to three different light settings: flash, blink, or steady light.
The clear necklace allows the lights to run up it and give a glow stick look that accents any outfit.
Low mercury batteries are included which makes this necklace ready to wear as soon as it arrives.
This LED Christmas tree necklace is perfect for stockings or gift add-ons!

8. San Tokra 12 Piece Christmas Flashing Necklaces
With these necklaces, you will have one for each of the "Twelve Days of Christmas!" The designs include Santas, Christmas trees, snowmen, and wreaths.
The soft flashing of the pendant brings attention to your festive necklace without being overwhelming.
With batteries included these are the perfect gift for anyone on your list to brighten their next Christmas party.
These wearable Christmas lights necklaces are great for adults and kids alike!

9. Lotsa Lites Flashing Light Bulbs Necklace
Showcase your Christmas spirit with this flashing light bulb necklace!
The LED lights allow for a bright and colorful design in jade and red to perfectly compliment the colors of the season.
Decide between two light settings, flash or steady-on, with the ease of hitting a button to accent any outfit.
You will be the highlight of your next Christmas party with this festive and straightforward designed necklace.

Sale
Best Wearable Christmas Lights
Our Pick
Tacky Living's top suggestion for this Christmas season is Beardaments. This colorful Christmas lights is wearable and perfect for everyone. Wow all your friends & families with this tacky super-hit gift set this season. You can't go wrong on this beautiful wearable lights!
Don't be a Scrooge! Share in the holiday spirit with these wearable Christmas lights and bring the magic of Christmas lights to everyone you meet!