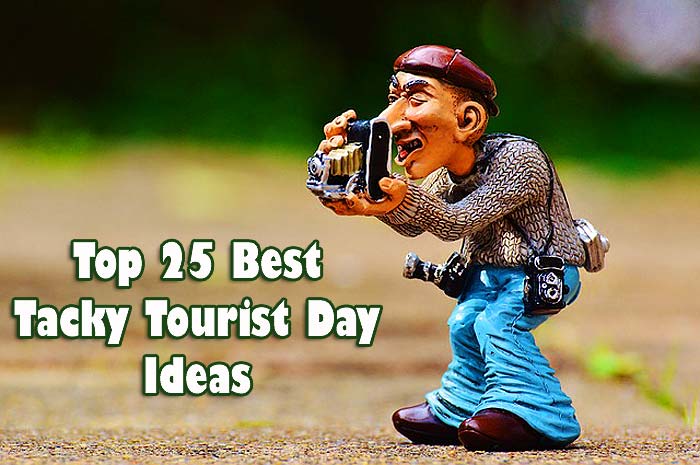 Tacky Tourist Ideas: Whether you are dropping anchors at the golden Hawaiian beaches or visiting Disney world with family, spotting a tacky tourist is no big challenge! Wondering what defines a tacky tourist in the first place?
We ♥ honesty! Tacky Living earns a commission through the following hand-picked links at no extra cost to you.
Well, it is about the sightseeing gears and the whole tacky tourist costume that describes the label in a nutshell.
Although a very inappropriate wardrobe and sense of fashion, tacky tourists stand out from regular locals. Dressed in vibrant and colorful outfits, particularly florals teamed with unattractive slippers, the idea of adopting a casual approach is more like celebrating a break from the boring 9-5 suit driven white-collar life.
Apart from a dress code that's hilarious, it's all about slipping into the most comfortable apparels and enjoy globetrotting. So, with long vacations knocking around the corners, wondering what tacky tourist ideas to choose from? Take a look!
Top 25 Best Tacky Tourist Day Ideas

























Don't dramatize your brains and think hard about spotting the weirdest and best appealing tacky tourist ideas. It's easier than you think. Icing on the cake – shabby and messy tourist fashion crosses the gender lines. So whether you are a hunky man, a flamboyant woman or just a kid, if you've got some cool Hawaiian shirts, khaki shorts, long crew socks, sandals, fanny packs, sun-glass, camera, tote bag, white sneakers, binocular and floppy straw hats in store – you are more than ready to make a big hit entry.
Buying online is indeed the best option but if you are running short of time, there are second-hand thrift stores at service, offering these crucial items at dirt-cheap prices.