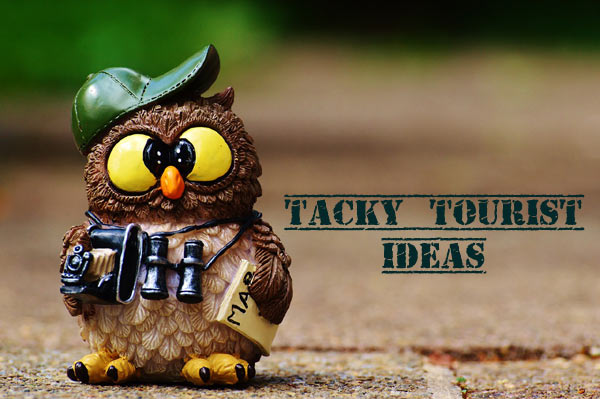 Tacky Tourist Ideas: Whether you are dropping anchors at the golden Hawaiian beaches or visiting Disney world with family, spotting a tacky tourist is no big challenge! Wondering what defines a tacky tourist in the first place?
Well, it is about the sightseeing gears and the whole tacky tourist costume that describes the label in a nutshell.
Although a very inappropriate wardrobe and sense of fashion, tacky tourists stand out from regular locals. Dressed in vibrant and colorful outfits, particularly florals teamed with unattractive slippers, the idea of adopting a casual approach is more like celebrating a break from the boring 9-5 suit driven white-collar life.
Apart from a dress code that's hilarious, it's all about slipping into the most comfortable apparels and enjoy globetrotting.
So, with long vacations knocking around the corners, wondering what tacky tourist ideas to choose from? Take a look!
The Cupcake Costume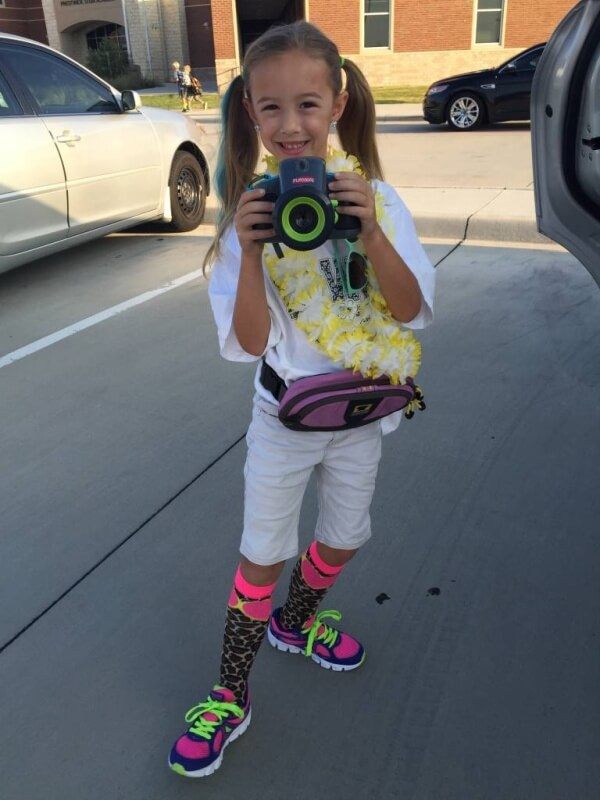 Get your girl all decked for the jovial tacky tourist day. It's no hard nut to crack, believe it! Begin by selecting a shirt that resembles a cool Hawaiian style. Something with long horizontal stripes will do just as good. Team it up with long shorts. However, if you could get your hands on those old-school mom style high-waist bottoms, it peps up the tacky tourist costume even better. For footwear, you can make a pick between sandals or a pair of white tennis shoes. Just don't forget to pair up your shoes with bold printed knee-high socks. For a cupcake tacky tourist costume, a vibrant duo of giraffe print socks is both sassy and appropriate.
Girls don't forget, accessories are a must when tacky tourist outfit ideas are in question. Strap on those fanny packs and don't you dare skip donning one of those over-sized safari hats. Sunglasses are of course primary!
Bold and Sassy Girl's Costume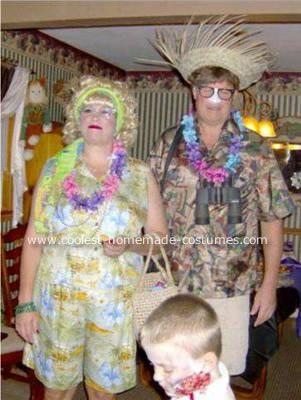 Don't you ever bother about shelling out riches for a couple of tacky tourist outfits. Crafting it at home is an easy option and if time is a constraint, getting hands on them at any local thrift store is easier done than thought. It's all about making your costume pop. So, go ahead and try hands at making doodads like a sparkly ball and chain and some weird head gears. Array of unusual looking fabric and accessories are up for grabs. Just go get them and start doing yourself up right-away!
Scintillating Fancy Dress
How to dress like a tacky tourist and yet be sober? It's impossible! Repulsive khaki shorts, loud-colored oversized t-shirts or tees with city names printed on it, garden shoes, weird knee-high socks, headgears, large cameras and not to forget, those overwhelmingly large sunglasses – without these items, tacky tourist costumes are undoubtedly a big flop. Don't shy away from pulling off the costume in the most convincing way possible. To do yet more justice, trot around, click pictures of everything possible, ask for directions and do everything that a traveler does.
Tacky Man Look – Tacky Tourist Ideas

One of the popular things often missed when talking about the tacky tourist day ideas is the sunscreen nose. How can you possibly forget painting the bridge of your nose white when doing up a proper outfit on a tacky tourist day? Get clothed in the most attractive and bright tropical shirt available. Compliment the same with the usual khaki shorts. Having a straw hat is like a cherry on the cake. Throw in a couple of maps, a fanny pack and yes the age-old camera. To pose a perfect finish to this whole look, wrap it up with a rimmed over-sized glare!
The Girl Scout Approach
Got it! Everyone's going to laugh their lungs out but hey it's a tacky tourist day in the end, who cares? Get dressed in an old green jumper with a basic white t-shirt underneath. Now, a neckerchief is a must when pulling off this weird green scout look. Pop in a sash and an attractive green cap. That's it! You are ready to trot the streets!
Ideal Tacky Tourists Costume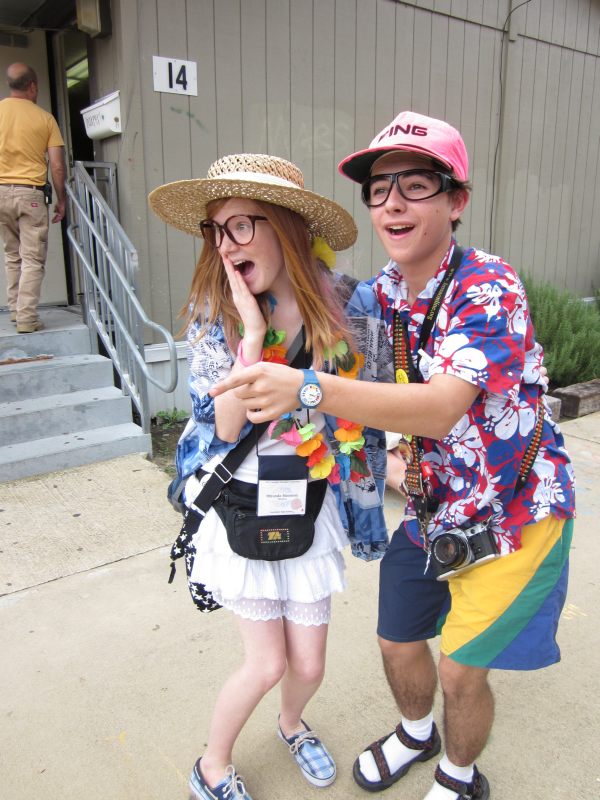 Never dump those crazy and loud Hawaiian shirts. They are big savers on happening tacky tourist events. Once you are done picking an outfit of your choice, remember wrapping that clunky camera around your neck. Going for cartoon head gears add pink feathers to the hat. Fanny packs, on the contrary, are absolute winners. After all, it bags in all your goodies. From sunscreens to mini-brush, sewing kits, mirrors, and other what-nots, a fanny pack holds it all!
Plug and Socket Couple's Costume
If you are a couple trying to win big eyes in a crazy Halloween party that also includes tacky tourist outfit ideas, this annoyingly entertaining and unique plug and socket dress code could surely work wonders.
Body Paint is Rightly a Clothing Alternative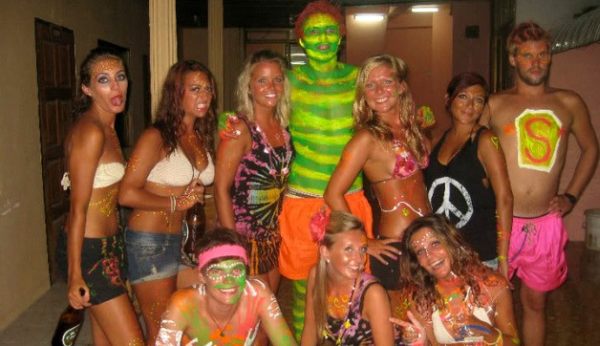 Are you not very eager about doing up much clothing? Well, thumbs up to the idea of body painting then! Tacky tourist outfits couldn't be more exciting. It's like eggs in beer. Thinking why? Well first, it's cut-throat cheap and second, showcases a creative side of yours. Just make sure you have access to skin-friendly paints that can easily be applied on your body. Do chose a character that people are nuts about, including you. It gives you the much needed brownie points.
Tacky American Road Trip Outlook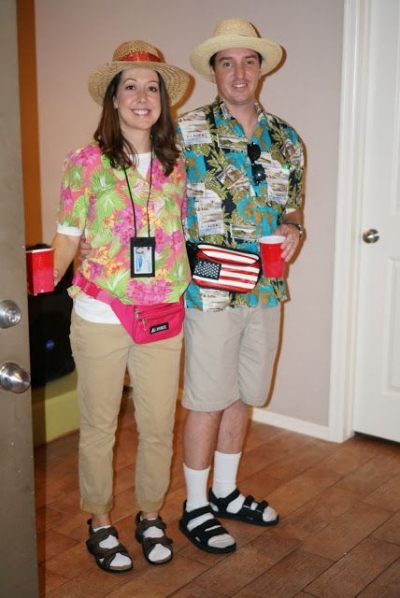 What's a traveler if there's no set of maps in hands? Agreed that navigation tools are way more cutting-edge now but come-on, tacky tourists need a set of maps to follow. Slip into the most brightly colored blue floral shirt. Go for the loose-fitting ones please, a size or two extra is just perfect. Team it up with long high-waisted shorts, khaki obviously. This time you can do with a cross bag instead of a fanny pack just in case you fail to get hands on one. A straw hat and sun glass is still compulsory. Finish this typical tacky tourist costume with a camera and you are all set.
Flower garlands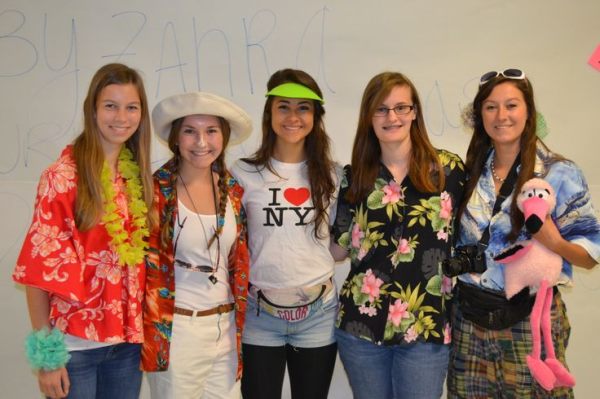 So, are you scratching your heads thinking how to dress like a tacky tourist and pep it up effortlessly? Well having a flower garland as an accessory could amplify the appeal for sure. If floral shirts seems a bit too old-school, you can always bank upon the cheesy t-shirts imprinted with popular city names. Have a hat ready and artificial floral embellishments are always a hit. So try it!
The Multi-Color Attire
Are you ready to set the venue on fire? Well, here's a whole new dimension to traditional tacky tourist day ideas. Go purple this season. Team it up with multi-colored floral printed vest and bow tie. Hey wait! The look isn't complete yet. To heap on that wow factor, use accessories like a mask, baton, gloves, long hat and of course a relevant pair of footwear.
Fever Male Hawaiian Costume

When talking about tacky tourist, Hawaiian outfit is the first thing that pops up in your brain, right? So how about creating a picture-perfect look without overdoing it? To wrap up this crazy tacky tourist costume, you will need a beach bum wig. Instead of putting on those usual khaki shorts, try donning wrap style skirts for men. Loud floral prints in multi color are welcome. Having a lei is imperative. Headband lei is even better! To finish this look and yet stand out impressive in a crowd, go for grass fringe leg cuffs.
This look is sure to spellbind a couple others. Feel elated when people start greeting you saying 'Aloha'. Welcome to Hawaii my friend!
Mexican Fancy Dress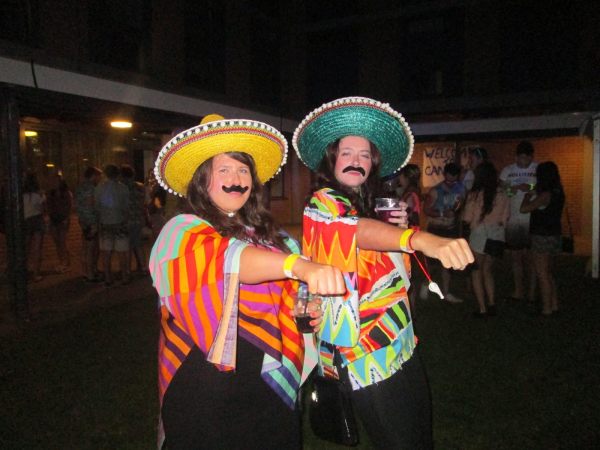 With all this craze about Hawaii, how about teaming up a cool and funky Mexican inspired outfit? If you have a hand-knitted jumper in store, now is the right time to put it into use. If it resembles a poncho, nothing better! Do you know what sombreros are? Don't think much, it's only a broad-brimmed straw hat. Drop in at any tacky tourist shop and you can easily find these up for grabs. Sombreros are a crucial addition to the ensemble. If being totally feminine does not sound adventurous and impressive, then sure draw up a mustache. The look is funky, new and very bold.
Don't dramatize your brains and think hard about spotting the weirdest and best appealing tacky tourist ideas. It's easier than you think. Icing on the cake – shabby and messy tourist fashion crosses the gender lines. So whether you are a hunky man, a flamboyant woman or just a kid, if you've got some cool Hawaiian shirts, khaki shorts, long crew socks, sandals, fanny packs, sun-glass, camera, tote bag, white sneakers, binocular and floppy straw hats in store – you are more than ready to make a big hit entry.
Buying online is indeed the best option but if you are running short of time, there are second-hand thrift stores at service, offering these crucial items at dirt-cheap prices.