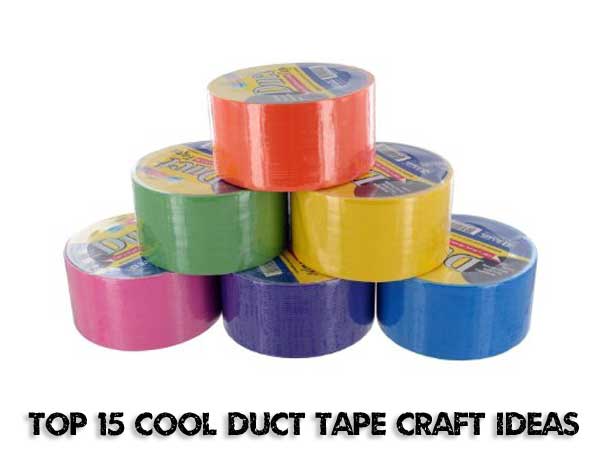 Duct Tape Ideas: Doing craft is not always an expensive affair. Even the cheapest of things like duct tapes can work wonders. Since craft is all about putting those crackerjack skills of yours into use, make sure you've invested a little time pondering about the ideas first. A very commendable list of top 15 tacky & crafty duct tape ideas is enlisted below for your assistance.
1. Duct Tape Flower Ring
Most accessories these days charge riches, right? This is when a little knowledge on how to design and craft jewelry out a simple duct tape really proves befitting. Anyone can create N number of fashionable accessories using a duct tape. Moreover, a growing selection of colors is another huge advantage. Crafting beautiful flower rings out of duct tape is very simple.



2. Duct Tape Drawer Units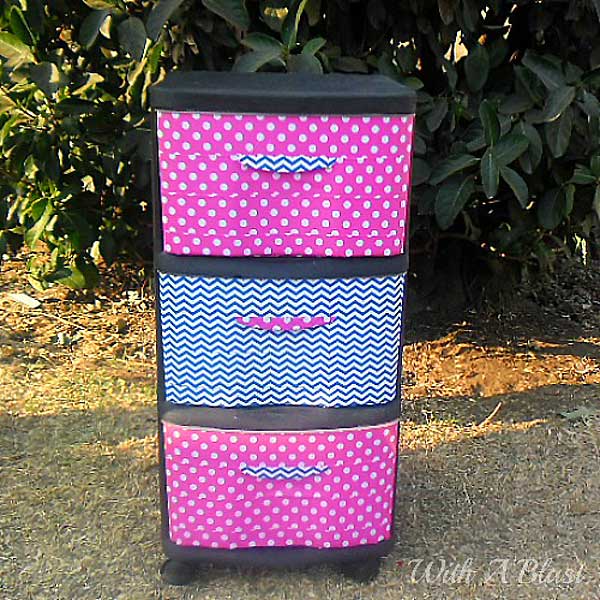 The need for storage drawers is quite high in most households. Shopping these drawers is definitely easy but also leaves a hole in your pockets, right? So why not put your little creative minds into use and create a drawer unit using duct tapes? If you already have a storage unit from before, it's great! Don't worry if not.
The purpose is to recycle containers and storage units. Once you have your hands on the right set of storage units, wrap them up using patterns of duct tapes that you like. Use a differently patterned duct tape for the handles for a more defined look. Apart from showing your creative skills, self-crafting a duct tape drawer can also save you big bucks. Try this tacky duct tape idea!
Reference: With A Blast.


3. Duct Tape Ideas: Tablet Cover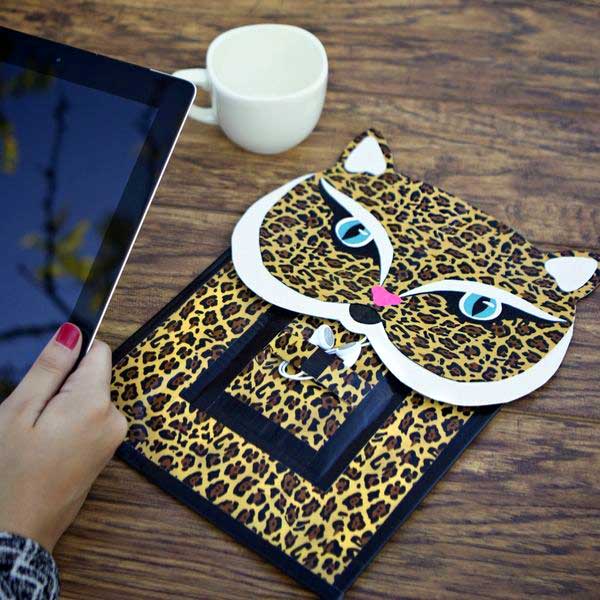 Tablets, iPad and other advanced widgets are best friends of youngsters these days. These gadgets also rope in need of accessories like a good quality cover. Now, buying the original company covers charge big bucks and young people consider static to be boring. So, what's the solution?
Well, did you know that you could create fantastic tablet covers using stationery as simple as duct tape? And to your advantage, crafting this takes as less as 10 minutes. Now, isn't it amazing? You don't have to shell out ritzy amounts as you just require some duct tape and duct tape sheets.
Reference: Duck Brand.


4. Duct Tape Bags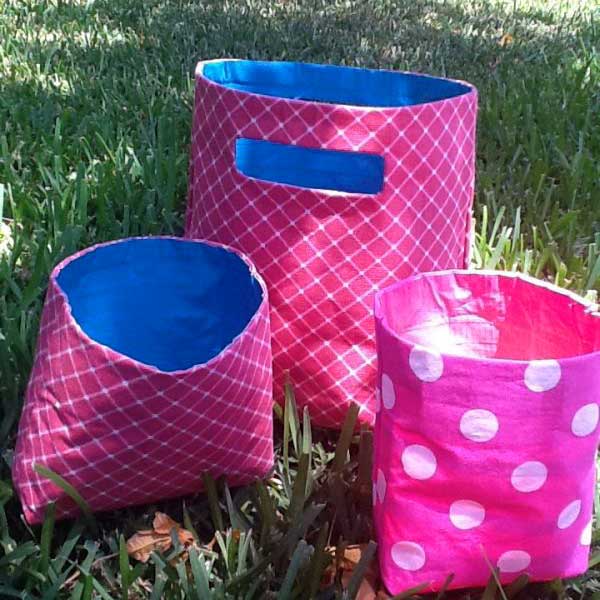 The craze for duct tape totes are widely increasing. Be it for shopping or casual outings, bags and totes are favored by almost all and sundry. Here's the good news: These beautiful colorful totes can now be crafted at home. All you need to buy are patterns of duct tapes that appeal to you the most. The best part – totes made of duct tapes are also waterproof.
Reference: My Wish Berry Blossoms.


5. Witch Hats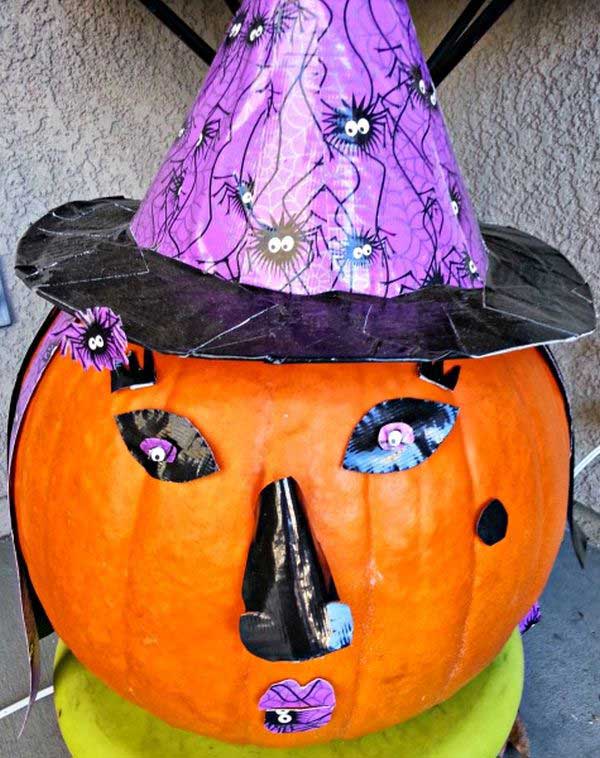 Are the Halloweens heading near? Why freeze upon the same boring ideas like carving out pumpkin? How about perking up the look of your pumpkin face with some stunning witch hats? It's Halloween-y for sure, but it is also a fresh idea. Thanks to the availability of printed colorful duct tapes. The work has become so much easier. Simply shape and cut a cereal box forming a cone. Carve out an additional circular base for the hat and finally wrap the whole thing with printed duct tape. It's that simple!
Reference: Clever Housewife.


6. Flower Hair Clip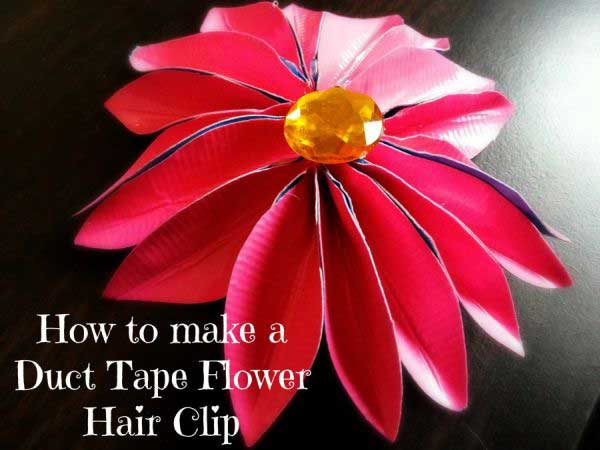 Do you love donning on colorful hair clips pretty often? Great! Here's your chance of making some fabulous hair clips on your own. Luckily, there are plenary of patterns and colors to choose from when considering a duct tape. To accessorize it even further, you can shop a few rhinestones or buttons. A little hot glue is used to secure these stones well in place. That's it! A unique flower hair clip is ready in minutes.
Reference: This Mama Loves.


7. Homemade Bracelets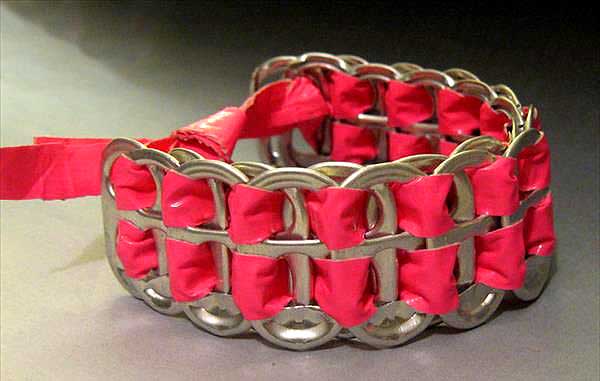 Accessories like bracelets are always in demand, especially if you have youngsters at home. Every year, hundreds and thousands of dollars are shelled out only for accessories. What if you could make some equally beautiful and funky? Try out the duct tape soda can tab bracelet. All you need to gather are a few soda can tabs and duct tape to pass and hold them together.
Reference: 101 Duct Tape Crafts – Bracelets.


8. A Bouquet of Roses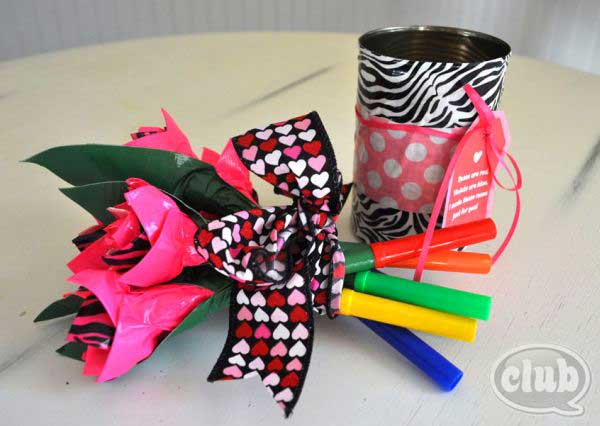 Flower bouquets are valued in almost every occasion, be it a birthday, teacher's day or the very special Mother's day. This time try experimenting a little. Create bright red roses using duct tapes. You could even pick a fantastic pink patterned duct tape and some green for the leaves. A pair of scissors and a marker is all you need to craft a beautiful bouquet of red roses.
Reference: China Circle.


9. Wallets For Women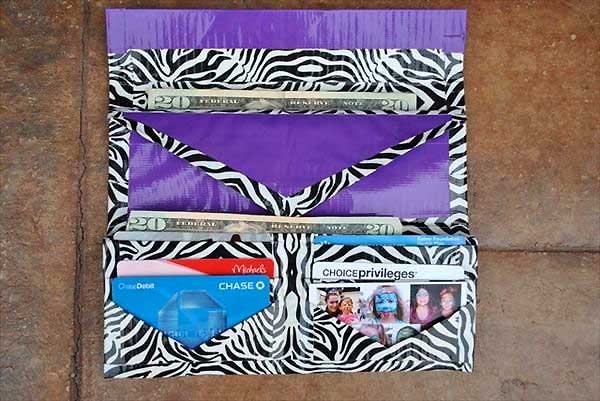 Wallets are one of the original accessories for any women. Now, all women can create a wallet of their own in just a couple of hours. The best part – no one needs to shell out riches by buying items needed to construct a beautiful wallet. All that is required primarily is duct tape of one's liking. The rest depends on the design and pattern of the purse you have in mind.
Reference: 101 Duct Tape Crafts – Cool Wallets.


10. Fringe Pillows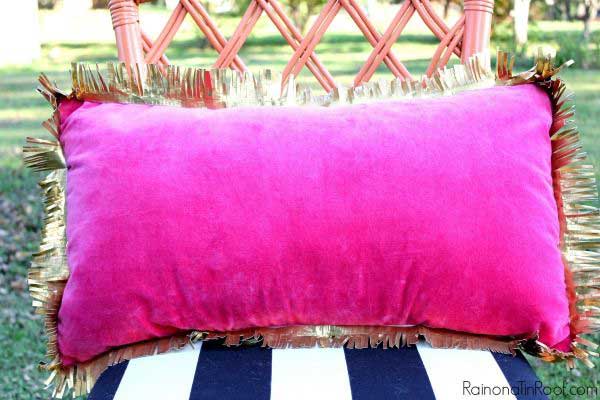 Uni-colored pillows are very run of the mill, don't you think? Well, if you are eager to perk up the boring and dull look of a usual pillow, try crafting some fringes on it using duct tape. Cut-up strips of duct tape and ensures that there's no one sticky side. Now, using sharp scissors, make a pattern of your choice or simply cut the strip into multiple other fine strips. Paste these fringes to the edges of a regular pillow, and that's all done. A vibrant and funky fringe pillow is ready to be used.
Reference: Rain On A Tin Roof.


11. Trash Cans for Car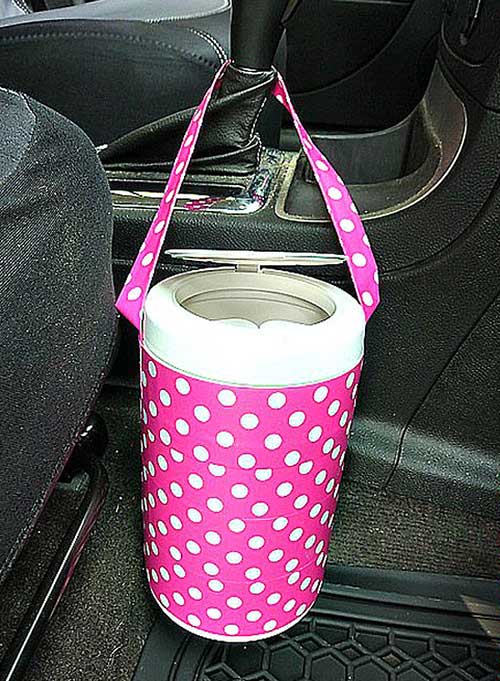 Do you often see trash cans in car? Pretty rare, right? Well, why dispose of waste stuff anywhere when you can easily place a trash can inside your vehicle? Making a trash can is easier done than thought. All you need is colorful duct tape. No glue or no measuring is required to make this. Of course, a pair of scissors is required to cut up the duct tape.
Reference: Cottage Gal Style.


12. Car Caddie
Are you very bad at keeping your stuffs organized? Well, no problem! Here's one cool way to craft your very own car caddie. To start with, grab the tape and measure the width between the two poles of the headrest. Now taking a duct tape fabric, create a base. Craft some pockets to stock your stationery, again using duct tape. Finally stick the pockets on the base and voila! A stunning new car caddie is ready in minutes.



13. Duct Tape Wreath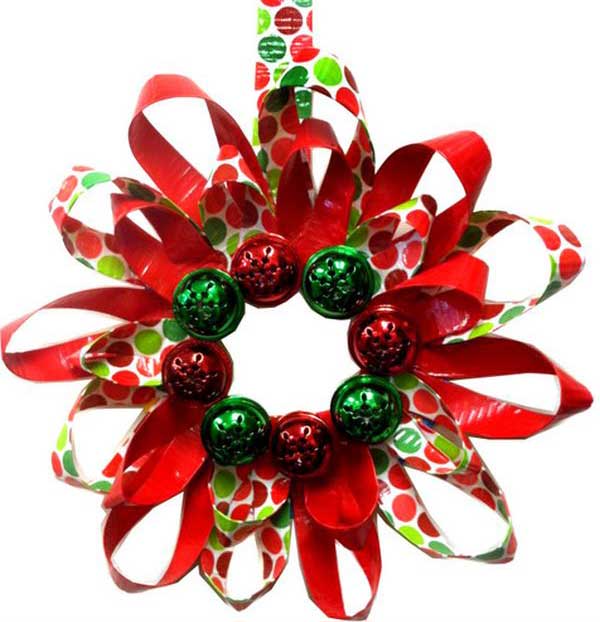 When Christmas is around the corner, the markets become flooded with a whole new variety of decorative items, right? How does the idea of making some beautiful wreath sound? Making a wreath is no back-breaking job. All you need to arrange for are items like duct tape (preferably patterned), some scrapbook paper and solid tape.
Reference: Lancaster Online.


14. Knife Sheath
Happy times are here! No more worrying about making useless expenditures buying ready-made knife sheath, up for grabs in the market. You can easily craft one for your own. Things you need are a duct sheet and a duct tape. Create a pattern of the knife sheath and that's it! Your investment is done and now it's all about your creative talent.



15. Pot with Frills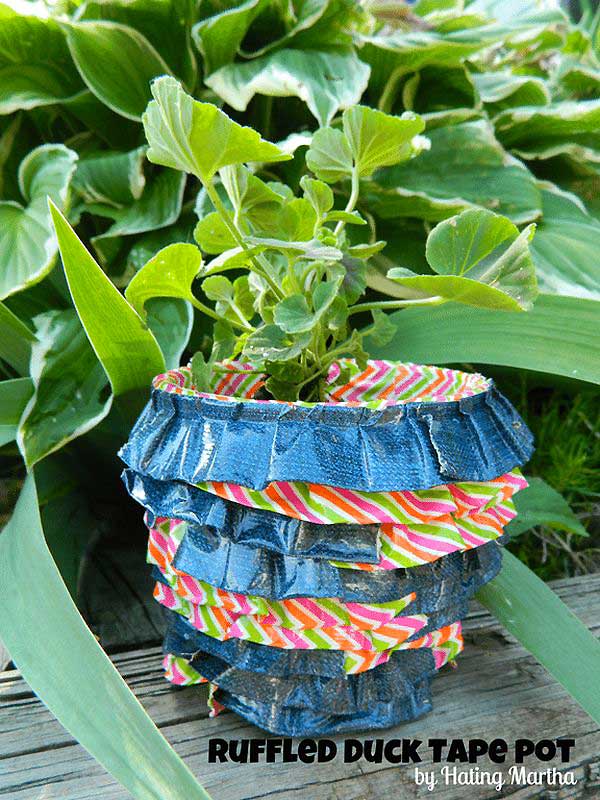 Sick of setting up plants in usual pots? How about breathing some color to your green area? Duct tapes are an immensely useful resource. Now you can even use it to decorate a regular pot and transform it into a funky pot. Create ruffles using duct tapes and tape it onto the pots using the stick side of it. Sure making a ruffled duct tape pot is no hard work.
Reference: Nellie Bellie.


Share your duct tape craft ideas here!