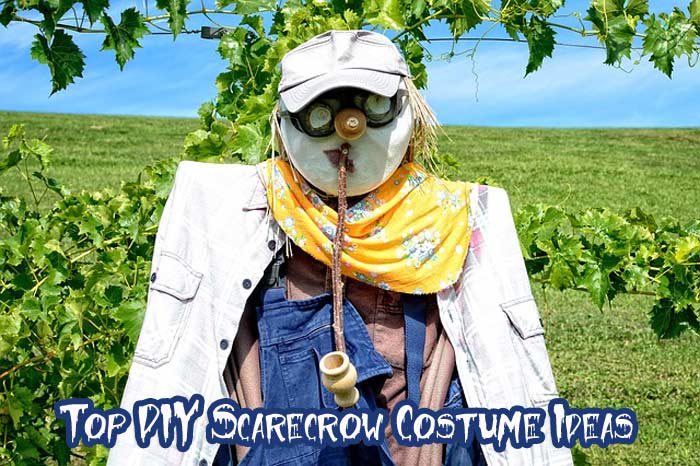 Scarecrow Costume Ideas: Choosing a costume can be hard, and pre-made store costumes can take a real toll on your bank account, as well as being just like every other ready-made store costume.
We ♥ honesty! Tacky Living earns a commission through the following hand-picked links at no extra cost to you.
Sale
Pumpkin Patch Scarecrow Child Costume
Best Choice
This Halloween Scarecrow costume will make your little one cuter than ever. You can dress up your little girl with the Pumpkin Patch Scarecrow child costume. The ensemble features a lovely brown dress with stitched patchwork and tiny red buttons. The charming straw collar and lace belt certainly give this outfit its authenticity while the hat and flower top off the entire outfit.
Creepy Scarecrow Women's Costume
Best Choice
This well-designed scarecrow costume features a brown tunic with one burlap sleeve and a full burlap collar. In this spooky scarecrow costume, you're sure to harvest some screams. - Tunic - Collar - Hat - Rope belt - Scythe - Make-up tutorial booklet - Rope belt ties around the waist.
Making your own scarecrow costume is easy, and will guarantee you will stand out.
A DIY scarecrow costume has a lot of variations, from no-stitch options to projects that feed your inner crafty.
No matter what you choose, here are ten top scarecrow costume DIY methods.
Other Halloween Costume Ideas:
Top 10 DIY Scarecrow Costume Ideas For Halloween
1. Easy Scarecrow Costume
Not everyone has a weathered straw hat on hand, but Abraidedblonde has an excellent DIY for a cute Scarecrow costume on a budget.
Much of the costume could be sourced from items you probably already own, but if you have to shop, the whole outfit is a Wal-Mart budget costume for $25.
As Abraidedblonde shows, this costume is can also be adapted to be maternity friendly.
She included a thorough makeup and costume assembly tutorial video, making this costume so easy it is almost irresistible.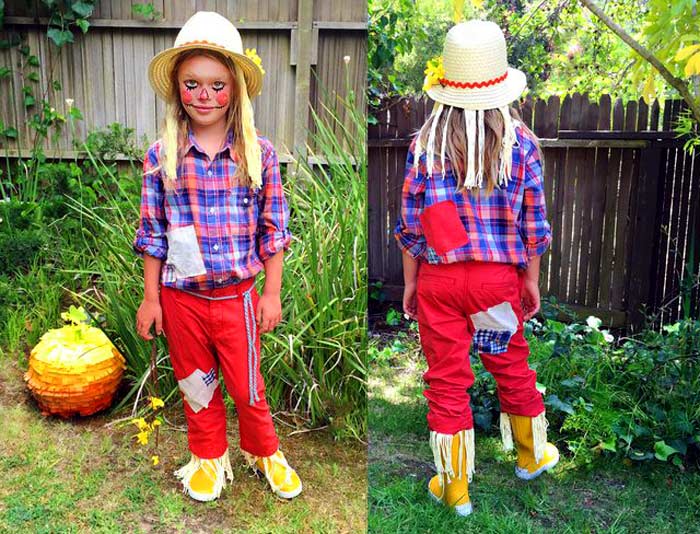 If you are not friends with a needle and thread, this is the scarecrow costume for you. Jessica Begum's Easy Homemade Scarecrow Costume is versatile and can easily be adapted to your personal tastes.
The tip box suggests picking a color scheme, and suggest sizing up to leave room for layers under your costume.
The first section walks you through dressing your hat with yarn hair, rickrack, and flowers.
The next part focuses on adding patches to your outfit for that worn scarecrow look. Jessica recommends using fabric glue, rather than hot glue, to secure the patches.
In section three she adds yarn to the scarecrow pants, for that overflowing straw look. Finishing details in section four use face paint for the scarecrow makeup.

3. Make your own hat out of felt (Stitchless!)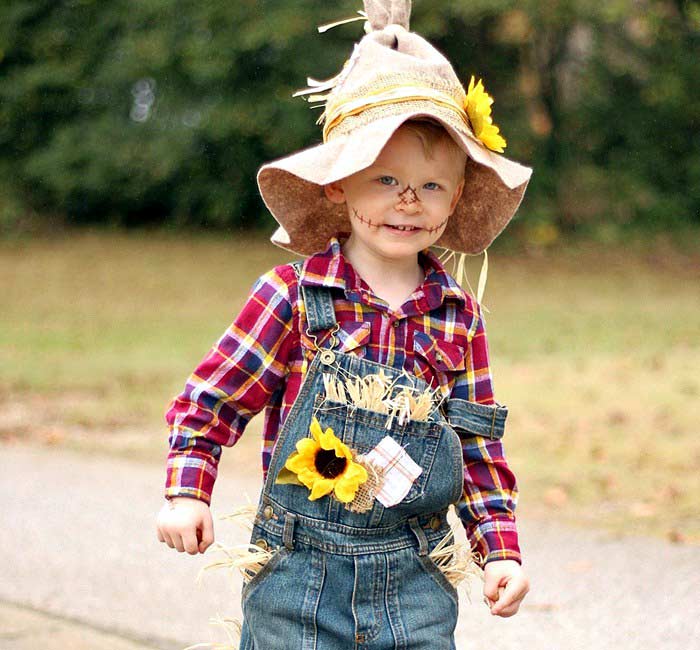 This how-to article at Where the Smiles Have Been, has a super cute scarecrow costume, with a detailed how-to on a homemade felt scarecrow hat.
The post starts with the overalls and the shirt for the outfit, using hot glue, fabric patches, and raffia.
The main course though is the hat, and it details the trial and error process for you.
She does use straight pins to hold everything in place, but the hat is assembled with hot glue.
The final product is a super easy felt scarecrow hat, and the article is finished up with some adorable scarecrow photos.

4. Make your own burlap scarecrow hat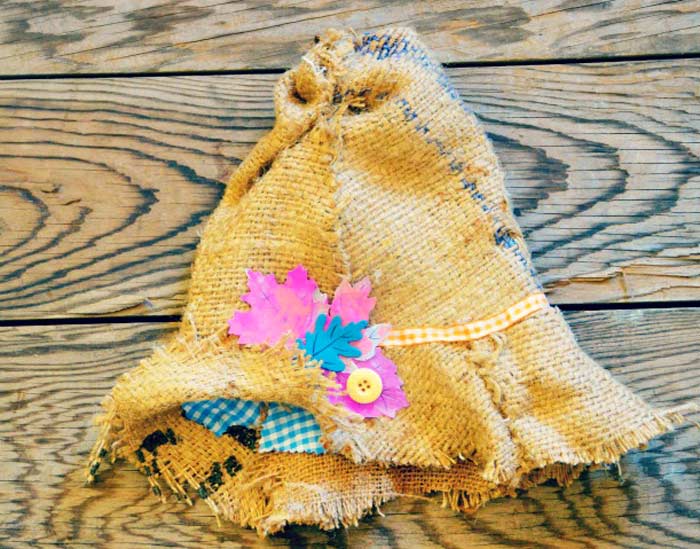 Burlap is a favorite fabric for scarecrow costumes because it has a rough look but is easy to work with.
Paint-A-Sign's No-Sew Burlap Scarecrow Hats are adorable. The page is full of beautiful, detailed photographs of the process.
The supply list is short, and there is a tutorial for making leaves to add to the final product.
Especially fun for getting kids involved in creating a hat. The hat assembly is easy, using a paper templet, and assembling with hot glue.
Dressing the hats up with handmade leaves, adding ribbon and buttons are all great customizations.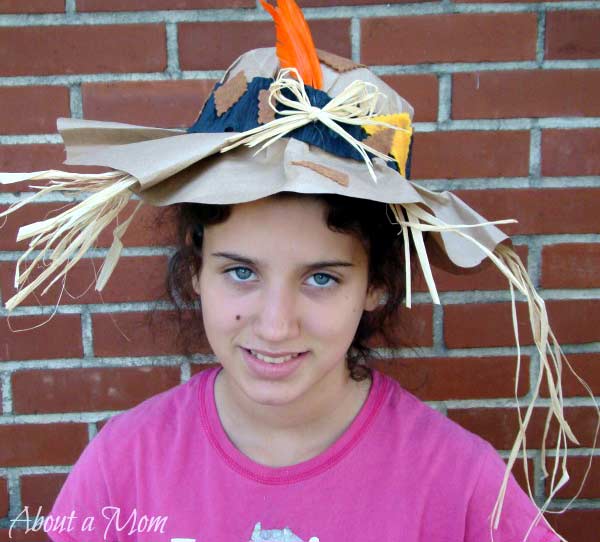 Laura at About a Mom gives us what may be the most comfortable scarecrow hat you could ever make. It might be the cheapest hat you can make too!.
Her list of items needed is short, and the primary thing on the list is a paper bag (or brow shipping paper).
The directions are just five steps, using a bowel or ball to shape the paper, and masking tape to secure it.
An extra pair of hands for help is optional, and then you have a quick hat that is ready to be embellished.

6. Pair Your Scarecrow Costume with a Farmer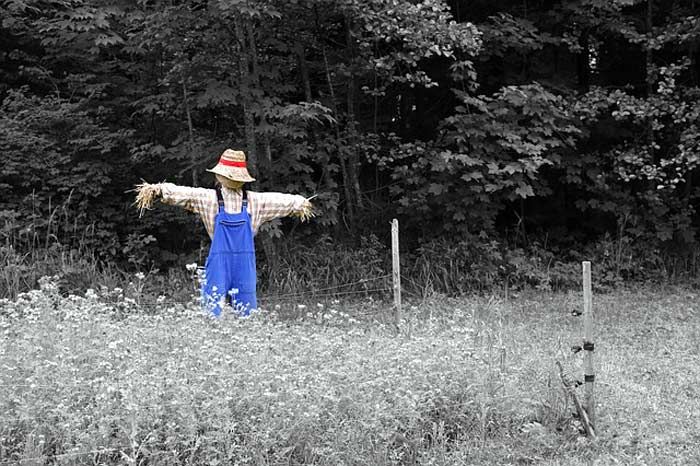 Scarecrows are made by farmers, so if your scarecrow needs something more, add a farmer. I great idea for couples, parent and child, or friends to do, and super easy to put together.
Follow the simple steps in this article by Cindy Blankenship and your scarecrow will have the final detail to its costume: a farmer. (Bonus points if the scarecrow costume can use old clothes that belonged to your farmer candidate. ).
Cindy hits all the high points in her list of things your farmer will need, and goes into more detail for each item. Shirts reflect the temperature, and coats are a great addition to the look.
Blue jeans to denim coveralls for bottoms and a range of boots to choose from will have your costume partner ready to go.
She suggests adding details like a hat, a bandanna, and patches or logos of farming-related companies.
Cindy also explains how to use blush to create a 'farmers tan' and freckles.
The last detail she suggests is a bit of grass or hay to chew on for that final look.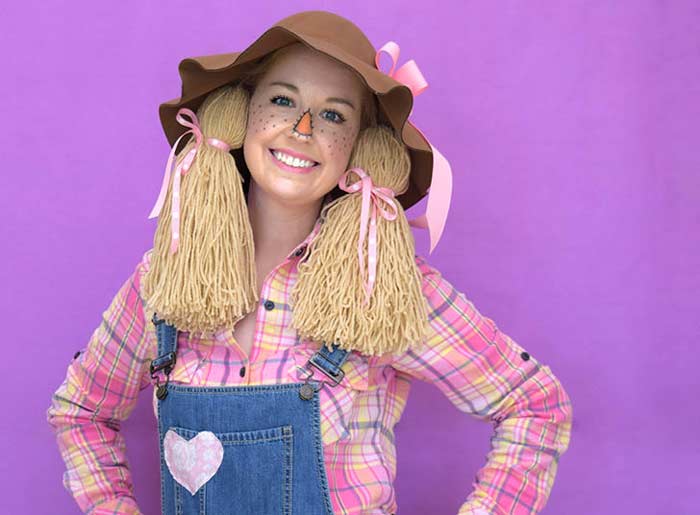 Dream A Little Bigger's Allison Murray shows how easy it is to pick up a few last minute items from Wal-Mart and transform your rain boots and plaid shirt into a full-on scarecrow.
It does call for some basic sewing skills, but it is simple enough she was able to put her costume together in one night.
She outlines a straightforward list and describes how she basted the patches on to preserve her coveralls for regular wear, but still get that worn look for the scarecrow costume.
Allison points out that stitching corn husk to old socks and mittens, or whichever material you decide to use, for your scarecrow stuffing will keep you from losing it.
There are no photos for how to make the yarn hair for your costume, but she explains using your arm to wind the yarn into a bunch, cutting and binding it clearly.
Allison gives directions for dressing up a felt hat without damaging it and finishes up with a basic makeup idea.

8. Non-Permanente costume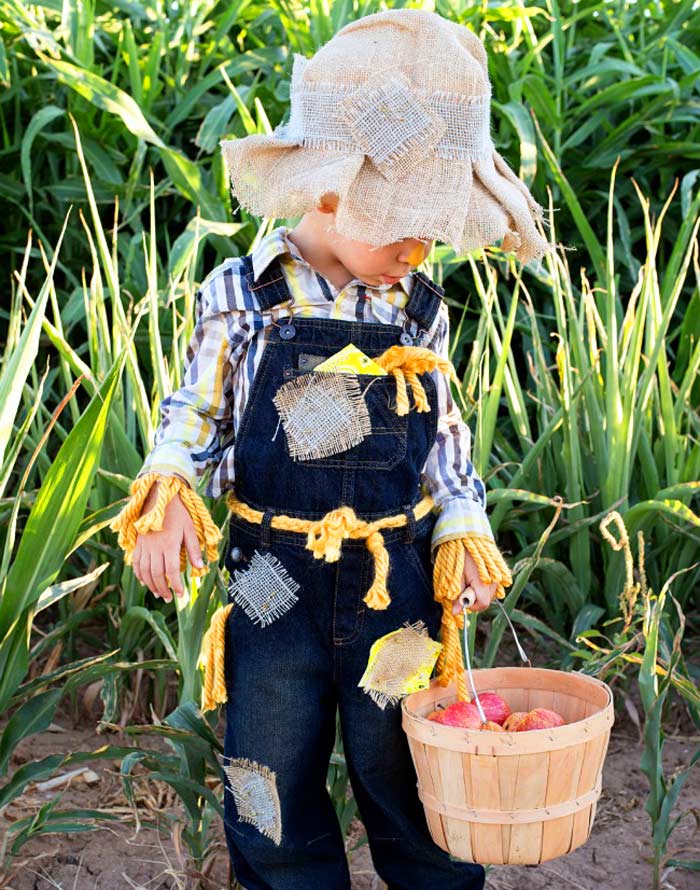 Kimberly Sneed at A Night Owl Blog gives a thorough rundown of putting together a no-sew DIY costume idea that uses safety pins rather than hot glue.
That cute set of overalls and your favorite flannel shirt will be unrecognizable, but you won't have to undo stitches on all your decorations afterward.
The site gives a list of what you will need, including handy tools for the job. Using burlap and bandanas provides texture and color.
The straw cuffs are made from yarn and secured with Velcro around the wrist – no attaching it to the sleeves!.
The straw hat is built on a foam hat base with burlap and hot glue, giving shape and stability to it.
Braided yarn works excellent on this costume for a belt too.
This costume could be adapted to so many base outfits and works a great last-minute DIY idea.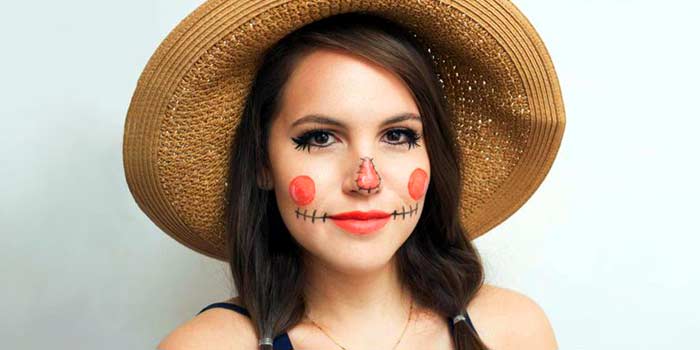 If you already have the costume, but you need the finishing touches, Cosmopolitan can help you out.
This eight-step DIY Scarecrow makeup tutorial will have you ready in no time.
Photos for each step make it easy, and each level is in written detail, including what product they used.
Start by adding liquid lipstick, in orange, to your nose, cheeks, and lips.
Cosmo shows how to enhance your eyes with gold eyeshadow.
They show how to use black eyeliner to tie your cat eye in with the scarecrow stitches around nose and mouth.
With all that color you might want a pop, and they suggest false lashes.
Finishing details include using a white eye pencil to highlight your cheeks and nose, giving you a doll-like look.

10. A Non-Toxic Makeup Scarecrow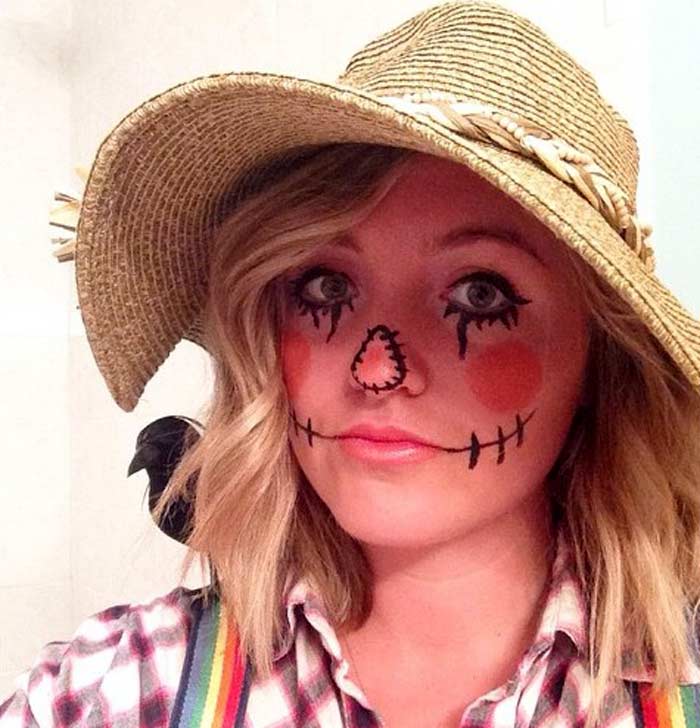 If the Cosmo makeup tutorial doesn't fit for you, check out this non-toxic makeup scarecrow costume at Ambrosia.
Brit gives the rundown for a quick costume, with a skin-friendly makeup by starting with a great detailed list of makeup, and a super simple outfit: Jeans, plaid shirt and a hat. (This one should fall under super last-minute costumes as well!).
She explained how to apply the eyeliner and painted on eyelashes, emphasizing that imperfections just add to the scarecrow look.
She gives us the rundown for coloring the tip of your nose with lip gloss and adding the stitch marks with eyeliner.
After that, you add color to your cheeks and lips and extend your mouth with eyeliner and stitches.
She finishes up with three simple steps for the outfit.

There are no limits to how much you put into your costume, but there is no denying that having a quick option for last minute events is a great idea.
Adding makeup or having a companion dressed as a farmer is not necessary for a great costume, but are easy details to add, with the added bonus of getting your companion dressed up too.
With so many options to make your scarecrow costume ideas you can mix and match, or stick to just one idea, but your costume will be unique no matter where you go.