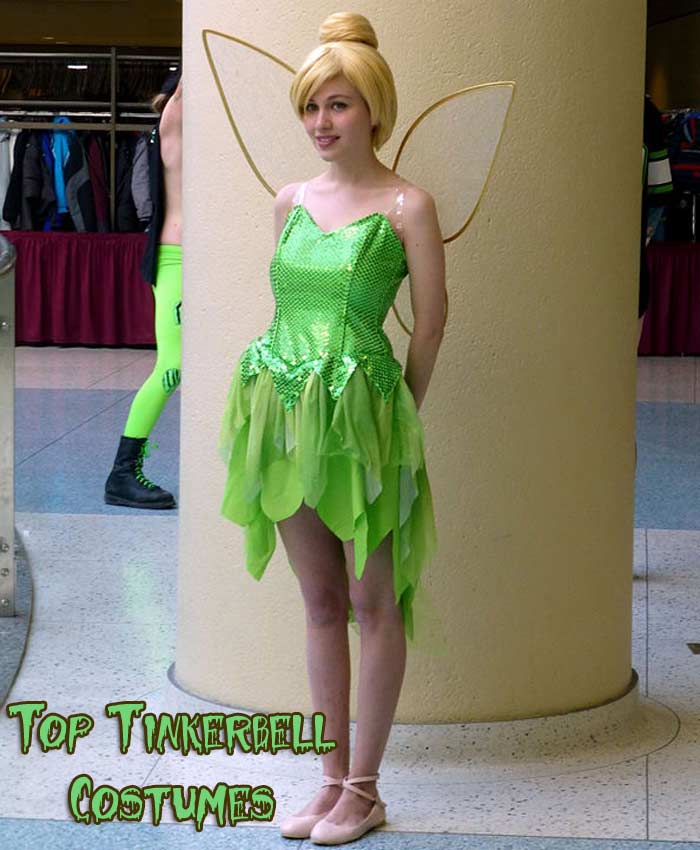 Tinkerbell Costume Ideas: Pixie dust and fairy wings make the world go 'round! For generations, the funny, sassy, and beautiful Tinkerbell has been captivating audiences by making them shout "I do believe in fairies! I do! I do!"
We ♥ honesty! Tacky Living earns a commission through the following hand-picked links at no extra cost to you.
Sale
Sale
Best Tinker Bell Costume for Toddler
Best Choice
You can bring a sprinkle of magic for your toddler daughter this Halloween with this tinker bell costume. The Classic Kids Costume comes with a beautiful green dress and a pair of wings to wear on her back.
Best Women's Tinker Bell Costume
Best Choice
This magical Halloween costume features a shimmering green bodysuit with a gold sequin neckline, clear spaghetti straps, a back zipper closure, a petal skirt, a snap crotch, matching fairy wings, and a green hair ribbon. It will be perfect for any costume party!
Tinkerbell has the perfect blend of whimsy and beauty to make your next costume event magical! From tutus to t-shirt dresses we have compiled the ten best places to find the Tinkerbell costume of your dreams!
Other Halloween Costume Ideas:
10 Best Tinkerbell Costume Ideas
1. Sweet and Sassy Tinkerbell Costume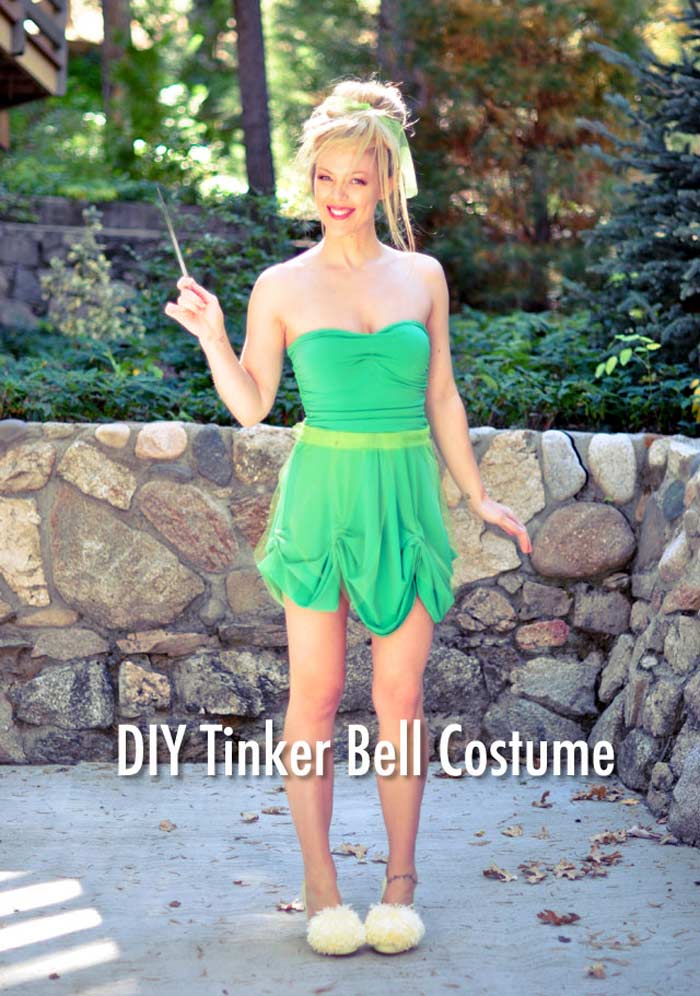 This costume was created by Maegan Tintari and while it does take a little time and some basic sewing skills the final look is the epitome of the Tinkerbell we all know and love.
One thing that I love about this costume is that you can use a basic green dress from your closet without having to go buy the perfect dress. She shows how to taper the dress up without cutting to resemble the leaf-like effect from the classic Tinkerbell.
This way after your event you can easily return the dress to its normal state. She used green tulle, scissors, and a needle and thread to create a leafy fairy skirt to tie around the waist of the costume.
Finally, she used yarn to make the puff balls for the shoes to complete the ensemble. While she did not include wings in her costume you can easily pick these up from a costume store and add it if you desire.
This costume is cute, sassy, and great for those who like to look good on a budget!

2. T-Shirt Transformed Tinkerbell Costume
GiannyL is known for her How-To Style tutorial videos, and she delivered yet again with this cheap and easy way to transform an over-sized t-shirt into a Tinkerbell dress.
The shirt she uses was two sizes bigger to be able to create a form-fitting dress. Basic sewing machine knowledge is required to create this costume, but the rest is so simple!
She also includes a way to make wings using craft wire, white tights, elastic, and a white feather boa but if you do not like her end result once again it would be very simple to buy a cheap pair of wings from a costume store.
This costume is cheap and easy while still looking absolutely adorable!

3. No Sew Tinkerbell Tulle Dress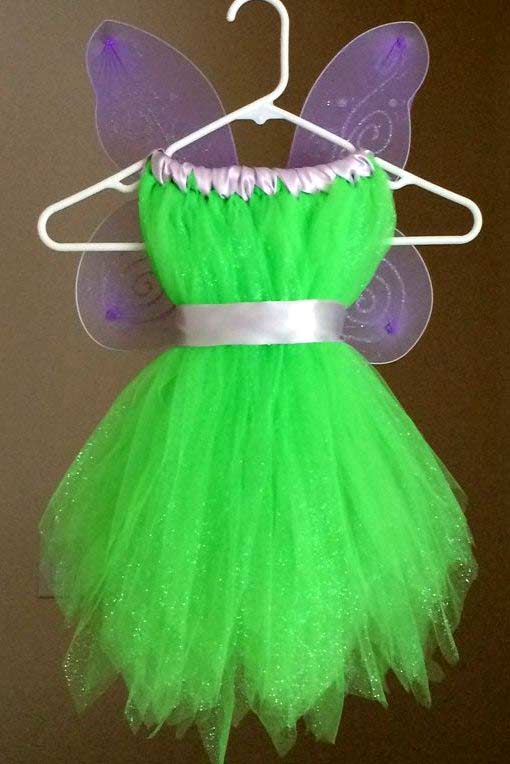 This costume was made for a child but can easily be adapted for an adult by increasing the amount of elastic and tulle! It tells you exactly how to measure, so you know how much elastic and tulle you will need for your own dress.
The blog provides step-by-step instructions along with pictures to help you along the way.
The finished product is so cute, and it can all be purchased at any craft store for a pretty low price!
The author also gives very helpful tips at the bottom to help you purchase the correct products and create the costume of your dreams!

4. No Sew Tulle Skirt Adapted for Tinkerbell Costume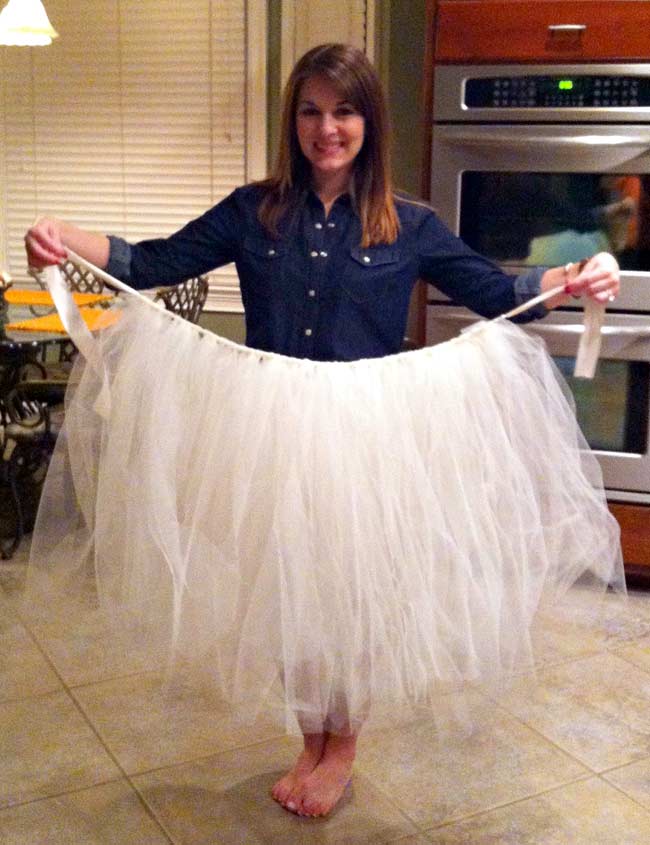 For those who are not skilled in sewing, a simple tulle skirt is always a great option for any costume!
On this blog, Ashley created a beautiful tulle skirt for only $17 using tulle, scissors, and ribbon.
My favorite thing about this skirt (besides the fact that it is so beautiful) is that it allows for more coverage than what you see on the average tulle skirt tutorial. This could be used for Tinkerbell by simple using green tulle or alternating green and white!
Pair it with a green tank top or shirt, some leggings, and some wings, and you have your costume! Easy, affordable, and it looks great!

5. Tinkerbell Winter Woods Costume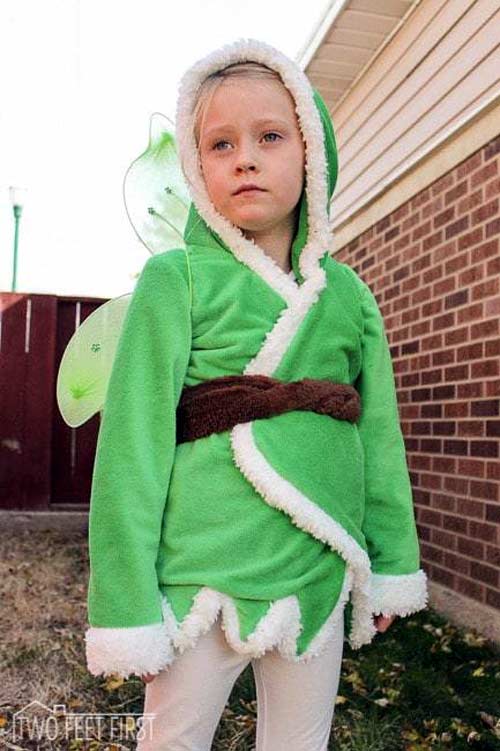 While the original Tinkerbell costume is a fan favorite, sometimes it is far too cold to bare all that skin.
Thankfully Disney created the movie Secret of the Wings which featured Tinkerbell inside the Winter Woods in an adorable furry green outfit.
For this costume, you will need extensive sewing knowledge as this is created completely on its own. In this tutorial, Megan creates the entire outfit from a t-shirt pattern for children.
Keep in mind that you will need to adjust the fabric and pattern if you are using this for an adult but the rest of the steps are easy to follow with many pictures.
With this costume, you will look amazing and be cozy and warm at your event!

6. Tinkerbell Costume Makeup
This makeup tutorial is the PERFECT addition to any Tinkerbell costume! Not only does it keep a lot of natural beauty as the focal point of the makeup, but it perfectly pairs a vibrant eye with a subtle lip.
This tutorial is very easy to follow, and if you would like to use the exact same products as the artist in the video, she gives you that option by posting links in the information section below the video.
This takes out all the guesswork of having to look up each individual product. This would pair well with any costume as it perfectly captures Tinkerbell and lets everyone know who you are.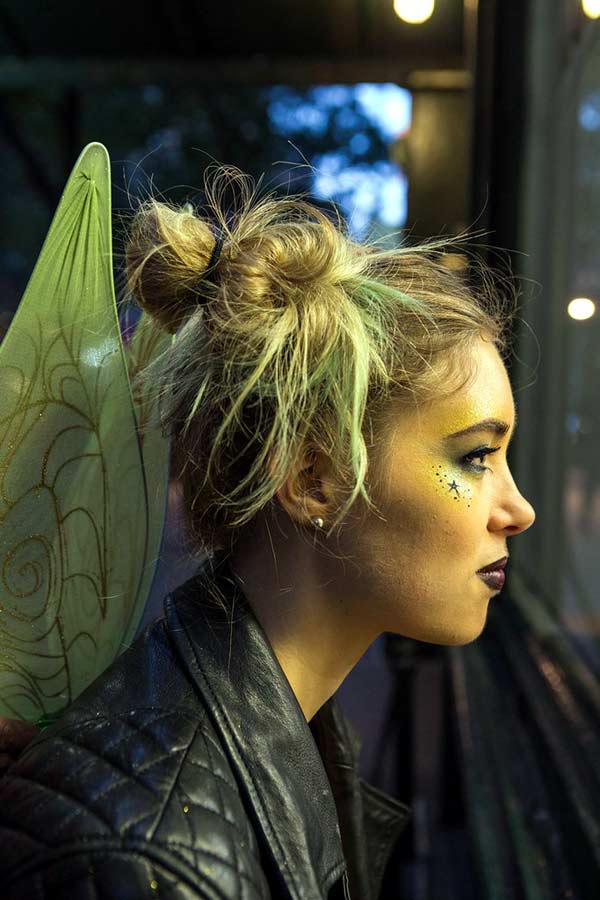 Sometimes the best costumes are ones that take a character and completely transform them into something different!
The experts at POPSUGAR Beauty took the idea of Tinkerbell and decided to make her into a sassy punk rock babe.
The make-up is pretty intricate so you will definitely want to practice this a few times before your event but the payoff is amazing!
There are links to all makeup used if you want to stay true to the tutorial or you can pick and choose what you like and don't like.
The finishing touches of punk rock double buns and a leather jacket give you a version of Tinkerbell that will turn heads!

If you want your costume to be completely handcrafted, then these wings are the perfect addition to your ensemble!
U&I DIY posted this video that creates a beautiful set of wings by using items you probably already have around your house such as coat hangers, pantyhose, wire cutters, green spray paint, etc.
The video is very easy to follow with step by step instructions on how to create these phenomenal wings! This does require a bit of time and a good work space, but the result is totally worth the hard work!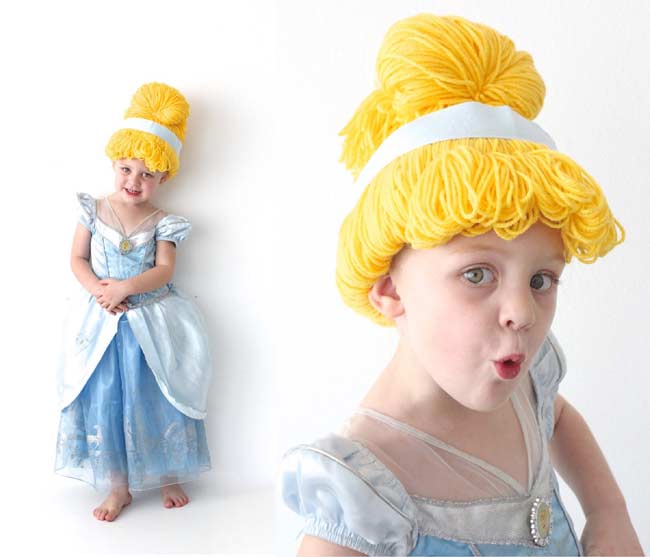 This blog shows how to create various wigs out of yarn! While there isn't a wig specifically for Tinkerbell, the Cinderella one looks identical to a Tinkerbell wig.
This will require some sewing machine knowledge to complete the look. The wig itself is made out of a fitted cap or beanie and yellow yarn.
Dana creates many different looks by using different colors of yarn and styling them once they are sewn onto the cap.
The pictures and step-by-step instructions ensure that you will be rocking your completely homemade Tinkerbell wig in no time!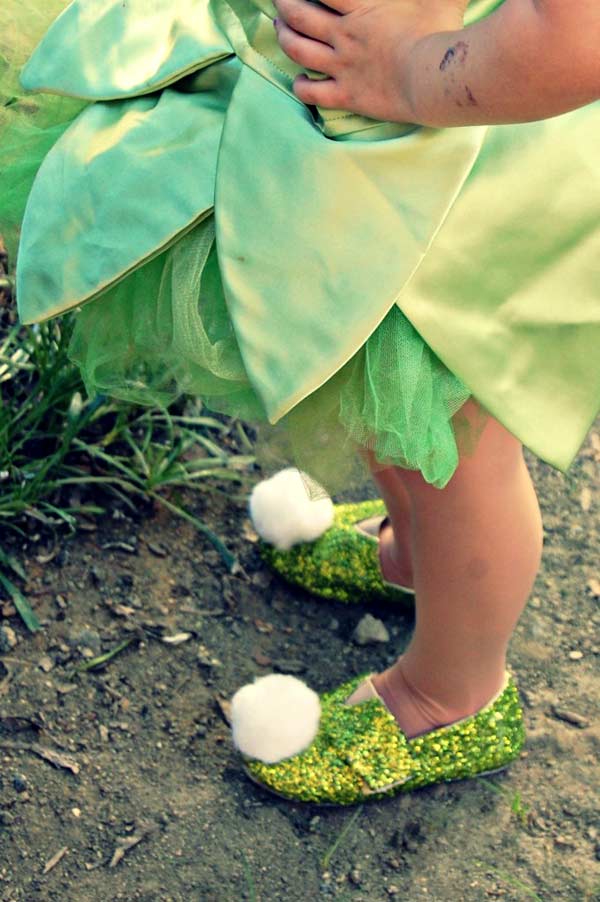 These shoes are so fun and perfect for your Tinkerbell costume! In this blog, Berta used a pair of plain canvas shoes, Mod Podge, foam brushes, green glitter, and pom poms to create these fairy dust shoes to compliment your costume!
The great thing about these shoes is that you will comfortable standing or walking while looking stunning!
These can be cheaply made with materials that are at your local craft store.

Tinkerbell is known for granting wishes through the belief in magic for audiences of all ages! Whether you are a DIY Diva or a Sewing Machine Prodigy, you will be able to stand out at your next event in any of these costumes.
You'll be able to look fabulous while making everyone want to fly off to Neverland with you!