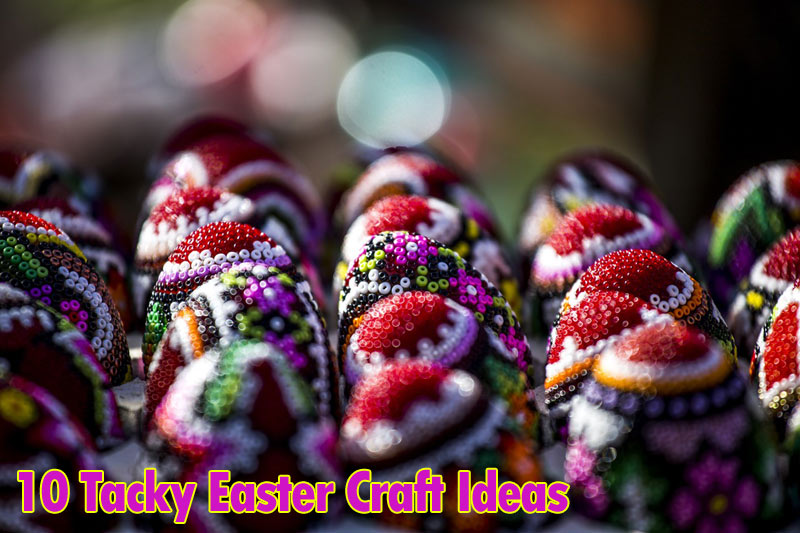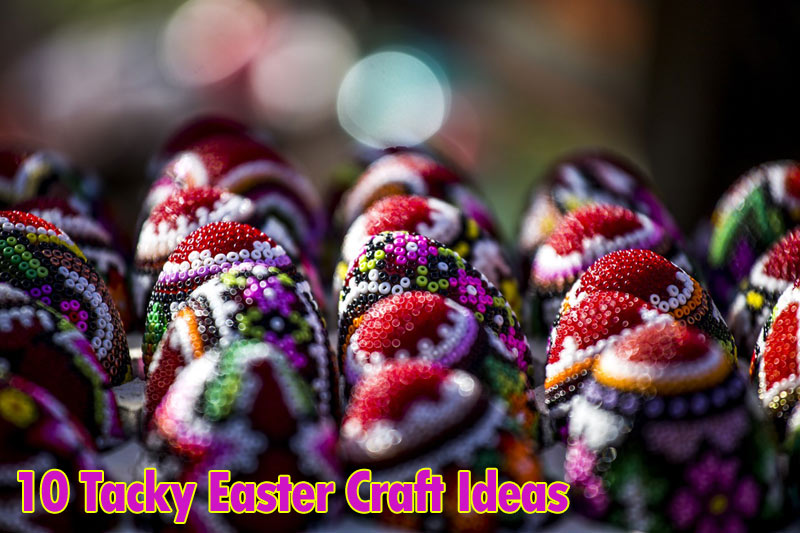 So, is Easter in the offing? Great! You should be ready with your craft skills now. Do you know why Easter is celebrated on such a grand scale almost everywhere around the globe? Well because this festival honors and celebrates new beginnings and new births. This is when Lord Jesus resurrected from the dead and according to Christian beliefs, Easter marks the end of a very holy week. Therefore the celebration is much needed, isn't it? Deck up your homes on this holy occasion and start doing your Easter eggs for the hunt. Not to forget, the lavish buffets and decorations using ribbons and flowers – everything symbolizes the spirit of Easter.
What's on your mind this season? Have you planned anything modish yet unique? Don't worry if not because here's a list of 10 Easter craft ideas that are inexpensive and easy to be carried out.
1. Garland of Easter Eggs with Googly Eyes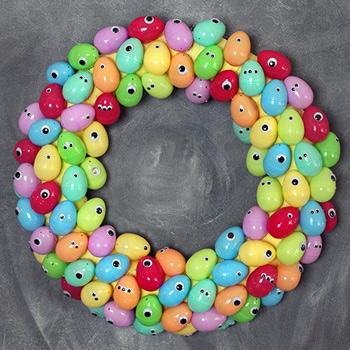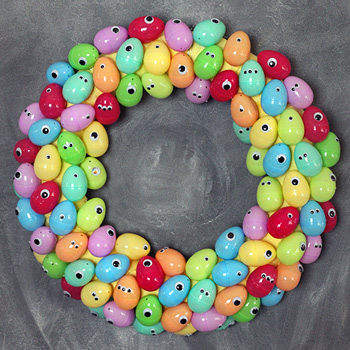 Do you have preschoolers at home? Believe it or not but Easter craft for kids like making googly eyed Easter eggs is much more fun in their company. You don't have to spend riches to get this done. Some ready-made Easter eggs, googly eyes, hot glue to stick them, some straw and strips of ribbon to form these colorful eggs into a garland is just enough. It takes just a couple of minutes to create these little-multicolored egg personas. A garland of googly-eyed Easter eggs is surely a trendy addition to your Easter décor at home. Try it out!
2. Chick Pom Poms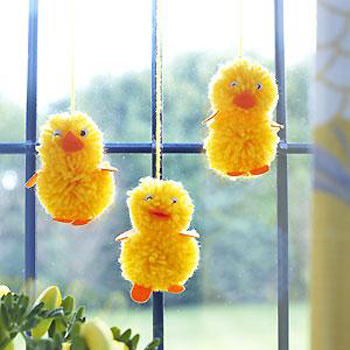 Use pom-poms to celebrate the jovial festivity all around and what better than Chick pom-poms for Easter, right? The only challenging part in making a pom-pom is getting the disc shapes and diameters correct. The rest is just plain-sailing. Wrap the discs in wool, trim off the outer edge and combine the same with some more wool. Pick a shape of your choice and when the pom-pom is done, accessorize it with beaks and eyes to finish the cute chick look.
3. Crochet Flower Bouquets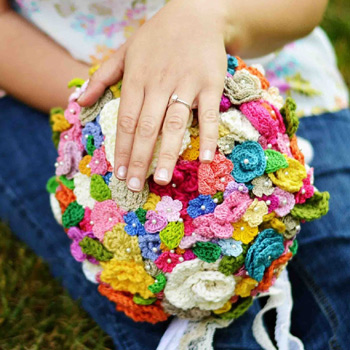 No Easter decoration is complete without the addition of flowers. Why just Easter? Any occasion, be it Christmas, a birthday or a marriage, nothing beats the importance of flowers and bouquets in particular. This season, make room for some new cutting-edge idea – a crochet flower bouquet. Wondering whether you need to be a pro at crafts to make such a marvelous bouquet of crocheted flowers? Surprisingly the answer is 'NO'. Scrape-off the tops of Styrofoam balls and decorate it with curled laces using hot glue. Your work is done!
4. Wax Paper Chandelier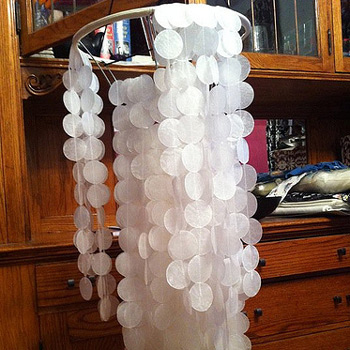 Have you ever been to a royal occasion and not see an chandelier? Rare for sure! This time, take pleasure in bedecking your own living room with a cute, and an inexpensive chandelier made at home. Try the wax paper chandelier instead. Easter ideas are supposed to be inexpensive and ones that can be enjoyed by kids as well. So, drop by at some nearby marketplace and fetch things like boxes of wax paper, a hole punch, and basic lampshade structure. Although this craft is a bit too laborious it's all worth the effort. Make your very own customized chandelier for Easter now.
5. Knitted Bunny Covers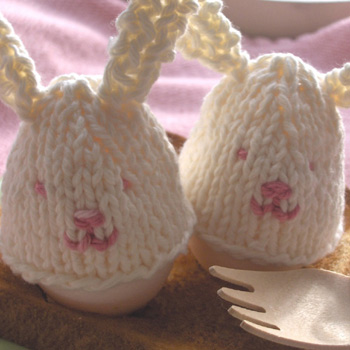 Easter eggs play a pivotal role on this auspicious day. Planning of doing something extraordinary? Well, try and knit some cozy bunny patterns for your Easter eggs. Bear in mind, knitting is no cakewalk. From doing ribs to sewing ears, you need to be a pro at knitting for this item. Once you've mastered the craft, nothing could be more sweet and cheap that this fabulous knitted bunny covers.
6. Egg Candles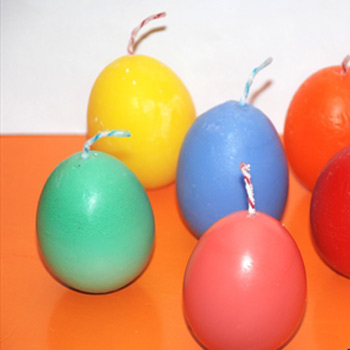 Easter decoration reveals one's creative talent. What's your take on doing some gorgeous Easter egg candles all by yourself? This item is inexpensive, exclusive and sure to blow minds of others. To make these Easter egg candles, gather up some useless egg shells and keep them clean. Use some dough to seal them and crayons to color the shells. A homemade wick and a can to help melt wax is all you need to create these little colorful candles.
7. Decorated Sewing Machine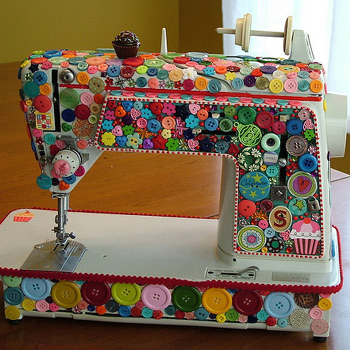 Now that your house is getting all refurbishing and decoration done due to Easter why not dress up that very useful sewing machine of yours and bring it to life? Easter ideas are not restricted to living spaces only. Collect buttons of varying colors and sizes. Now assemble them in no particular order, giving the machine an impression of an abstract décor. A commendable transformation is brought to a regular sewing machine. Try it!
8. Naturally Dyed Easter Eggs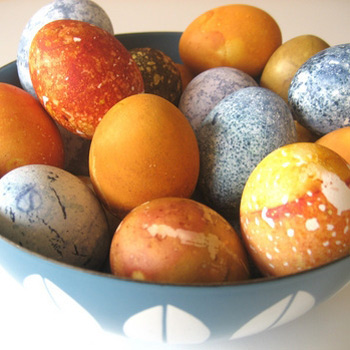 The sight of various natural pebbles or rocks lying together looks spectacular, isn't it? Try alternating the pebbles with Easter eggs. Wondering what to do with the color? Well get the eggs naturally dyed using spices, vinegar, coffee and veggies like beetroot, spinach, red cabbage, onions peels etc.
9. Napkin Rings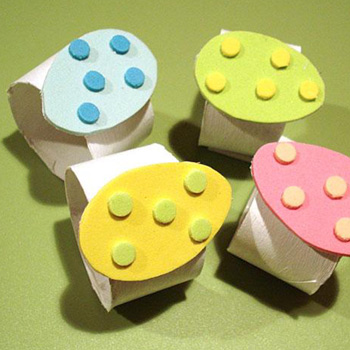 Do you come across Easter egg napkin rings every year? Well, this Easter decoration item is banging and very exclusive. Paper towels are commonly found in the homes of all and sundry, right? Take off the paper tube from these towels and create rings out of it. Now, using foam, craft little egg like structures, paint them with a color of your choice and decorate it with some dots or other good-looking patterns. Paste these eggs onto the rings and voila…. Some colorful gorgeous napkin rings are ready to be used.
10. Paper Flower Easter Eggs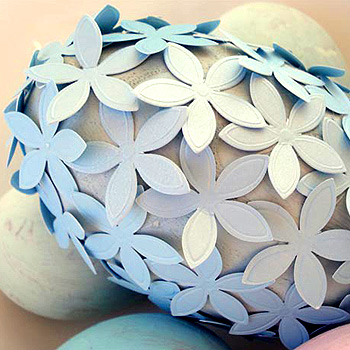 Easter eggs play a big-league role during this season of fresh new beginning. Hence, an egg symbolizing new life. If you are eager to craft and have some new pattern of Easter eggs then the paper flower ones is sure to spellbind you hard. Pick select papers from scrapbooks, wall papers or other vintage varieties and cut them up into little floral shapes. Dye your Easter eggs in a color of your choice like usual and accessorize them with these blinging and beautiful paper flowers. No Easter egg could have looked more appealing than this.
Put these 10 Easter craft ideas into use and witness the wow factor yourself!