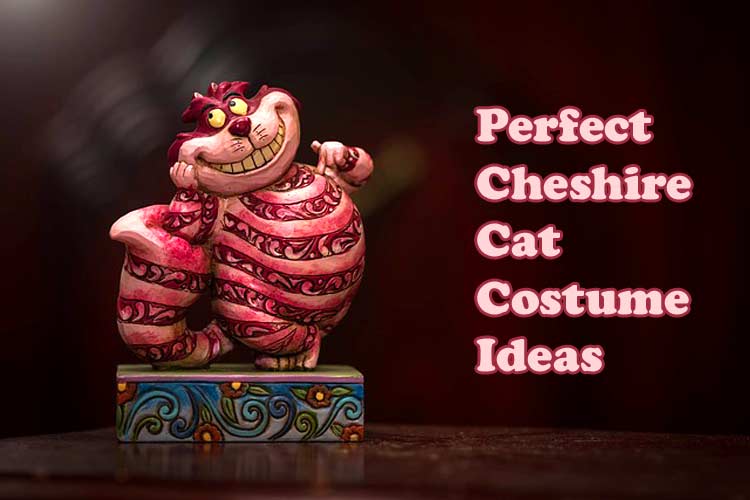 Cheshire Cat costume Ideas: If the quote "We are all mad here" speaks to you then you have come to the right place to find the perfect Cheshire Cat costume for your next get together! Costume events allow you to get in touch with your creative side while having a ball!
We ♥ honesty! Tacky Living earns a commission through the following hand-picked links at no extra cost to you.
Sale
Best Cheshire Cat Costume Ideas For Halloween
Best Choice
This Cheshire Cat Costume set is made of soft long faux fur and fleece. The tail is stuffed with love, care and premium non-allergenic 100% polyester fiberfill. The costume is all soft, fluffy and light to wear!
Whether you're on a budget or a dazzling makeup artist, this article will give you ten ideas for the Cheshire Cat costume that we all know and love.
Other Halloween Costume Ideas:
1. Cheshire Cat Costume on a Budget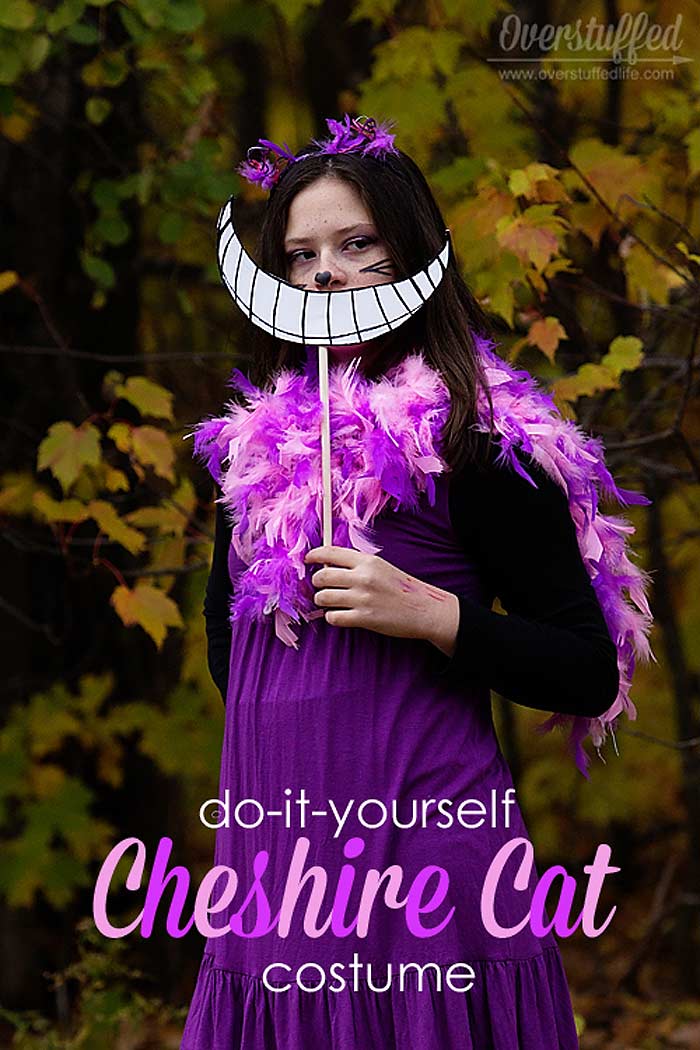 For many, an outrageously priced costume is just not in the budget. This DIY costume is made of materials that you may already have around your house OR can be picked up on the cheap!.
I really like costumes that can take clothes that are already in your closet and morph them into something that you will be comfortable in a while still looking great for your occasion! While this costume is simple, I believe it is awesome without breaking the bank. Check out the Lara's step-by-step DIY tutorial on Cheshire cat costumes!

2. Comfy Cheshire Cat Sweatsuit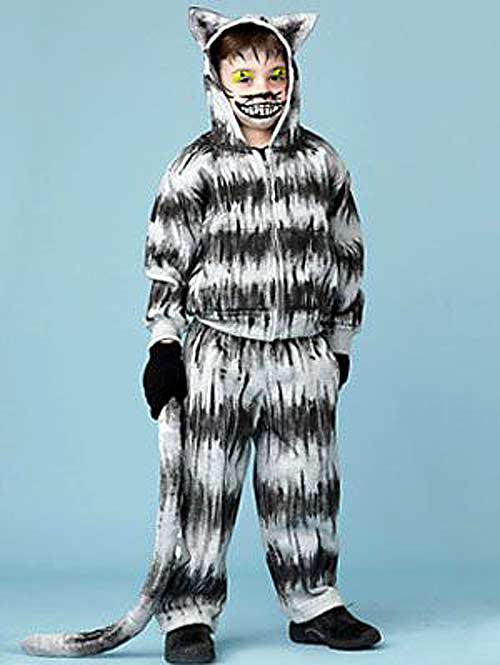 What I love the most about this version of the Cheshire Cat is that it looks SO comfy! There have been many times whereby the end of the party my costume is gone, and I've changed because I was so uncomfortable I couldn't wear it anymore.
This costume would be adorable and can easily be modified depending on which Cheshire Cat you are going for. You could change the grey sweatsuit out easily for purple with pink paint if you prefer the animated Cheshire Cat as opposed to the Tim Burton one.

3. DIY Versatile Cheshire Cat Makeup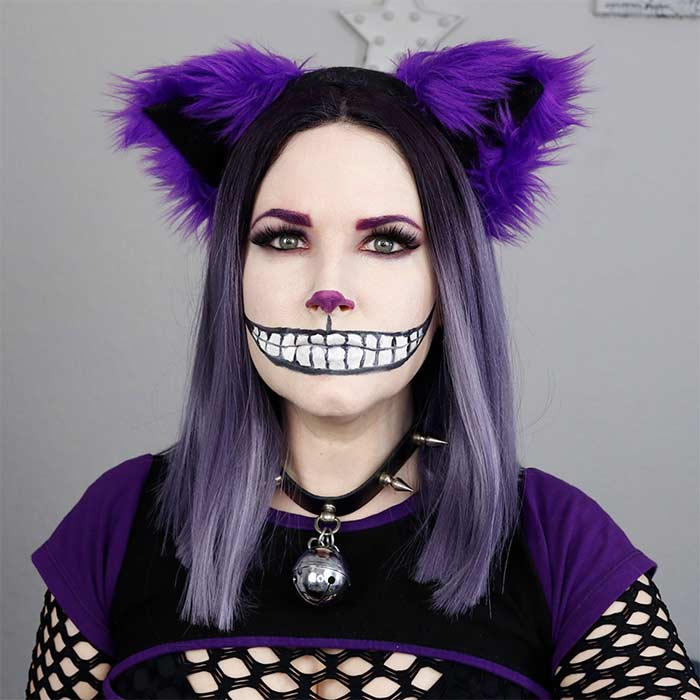 I believe that unusual/creative makeup is a staple for any good costume party. What I love about this version of the Cheshire Cat costume is that it is versatile for any color while allowing you to showcase your creativity!.
There is a fantastic makeup tutorial to achieve that perfect look and outfit suggestions that are interesting enough to fit your look but also gives you the opportunity to incorporate different aspects of other costumes.

4. Tim Burton-esque Cheshire Cat Makeup Tutorial
If you haven't seen the Tim Burton version of Alice In Wonderland and you are considering the Cheshire Cat as a costume, you need to rent it right now! Seriously though, this makeup tutorial is easy to follow while allowing you to be creative with your makeup for your event.
Add a turquoise wig and some cat ears, and you are ready to go! This can also be adapted for the animated version of the Cheshire Cat by adding purple and pink makeup rather than the turquoise and black!

5. Girly Cheshire Cat Costume
If you're looking for a feminine touch on your costume, look no further! This costume has the sweet, flirty look that will be showcased at your next event.With the step-by-step makeup tutorial, viewers will easily be able to replicate the look.
The featured makeup artist created DIY ears out of felt while rocking a denim vest and star necklace to keep with the wonderland theme. She also paired a pink romper with purple and pink tights to tie together the ensemble! This is the perfect look for a Cheshire Cat who is on the prowl!

6. Cheshire Cat DIY No Sew Tutu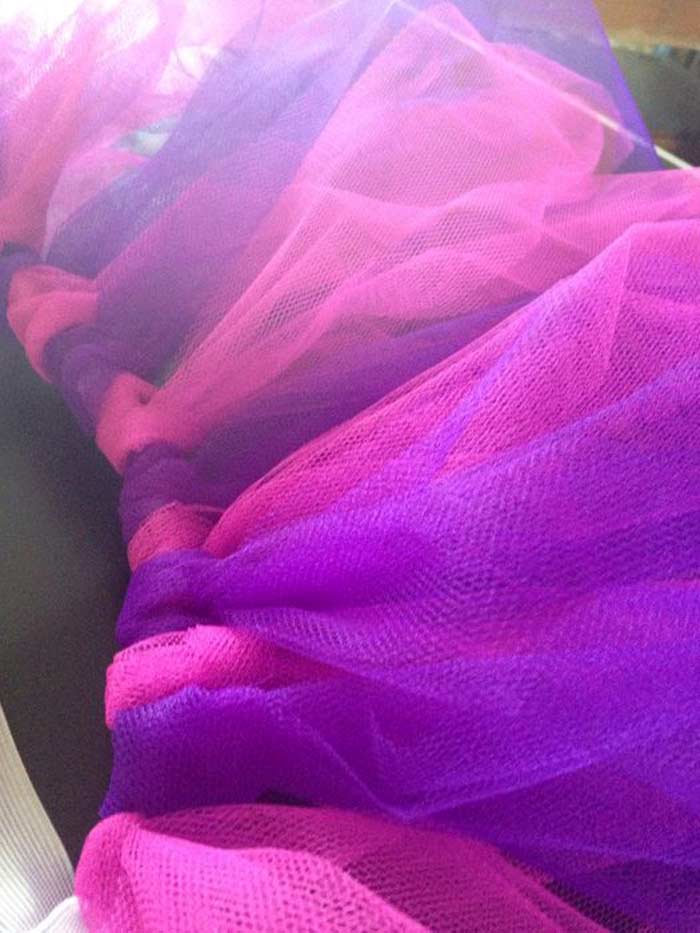 Tutus have become a staple for an easy but fabulous costume! This website provides a step-by-step tutorial on creating a simple Cheshire Cat tutu without having to get out that pesky sewing kit.
For an easy add-on, you can simply use some purple eyeshadow with a black eyeliner cat eye and a simple dress with black, purple, and/or pink. This costume is perfect for those on a budget and short on time!

7. Split-Face Cheshire Cat
.
For those who are both fans of the original animated Disney classic while also being fans of the Tim Burton remake, there is a perfect solution for your costume! This makeup tutorial is an insanely creative option that allows for both examples of the Cheshire Cat to be represented as equals.
This easy-to-follow makeup tutorial lets you use your creativity to showcase your favorite character in different lights.

8. Optical Illusion Cheshire Cat Makeup
For those who want a spooky aspect of their Cheshire Cat costume, look no further! This makeup showcases an illusion makeup that makes the person's head seem to be floating in a very "Cheshire Cat-esque" way.
While the effect is insane, the tutorial is pretty easy to follow. This is the perfect blend of costume and illusion!

9. Faux Fur Tail and Ears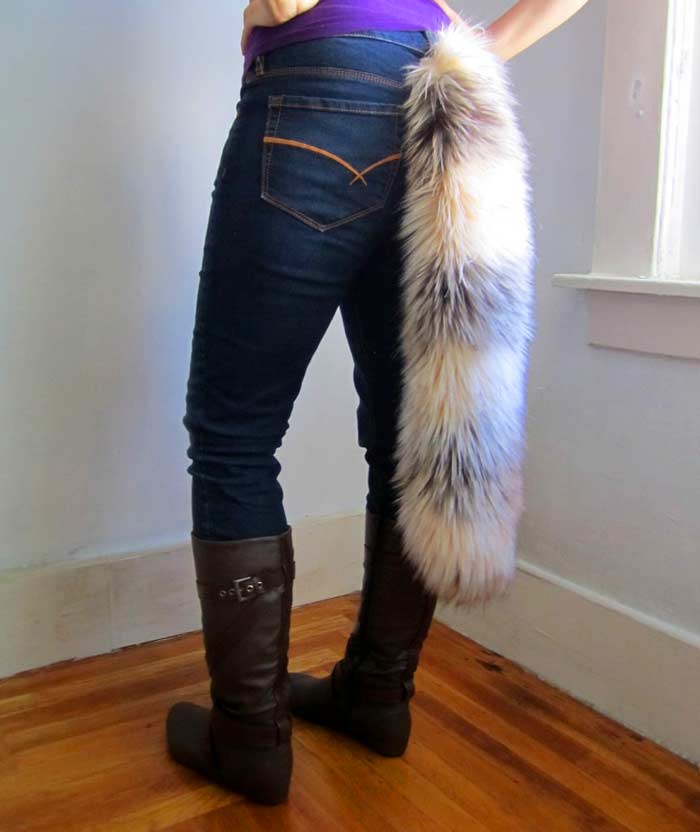 While this is not specifically tailored to those who love the Cheshire Cat costume, this is for those who are adventurous in the art of sewing!.
This faux fur tail and ears set can easily be modified to fit the Cheshire Cat costume while giving the realistic impression of cat fur!

10. Crochet Cheshire Cat Scoodie Costume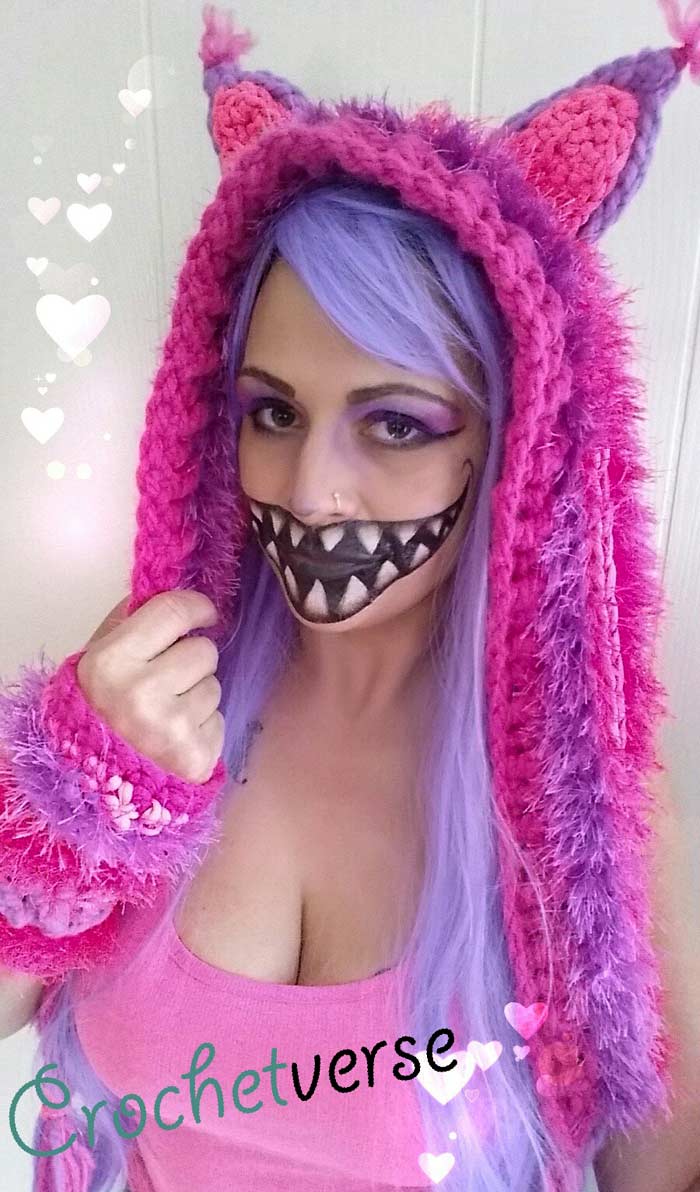 This amazing website by Stephanie includes a pattern for those who are familiar with crocheting and want to create their own costume from scratch. The colors can be modified based on which Cheshire Cat you would like to be and is adorable enough to wear anytime in the cold weather!.
Just add some cat-eye makeup and a coordinating outfit, and you are ready to go!

Alice in Wonderland has entertained generations while allowing them to think outside the box. To accurately portray the Cheshire Cat, one needs to be able to channel their inner madness.
By picking any of the Cheshire cat costumes above, you will be able to be best dressed at your event! So the question is dear reader…are you mad enough or not?